The Beehive, Beverley – Restaurant Review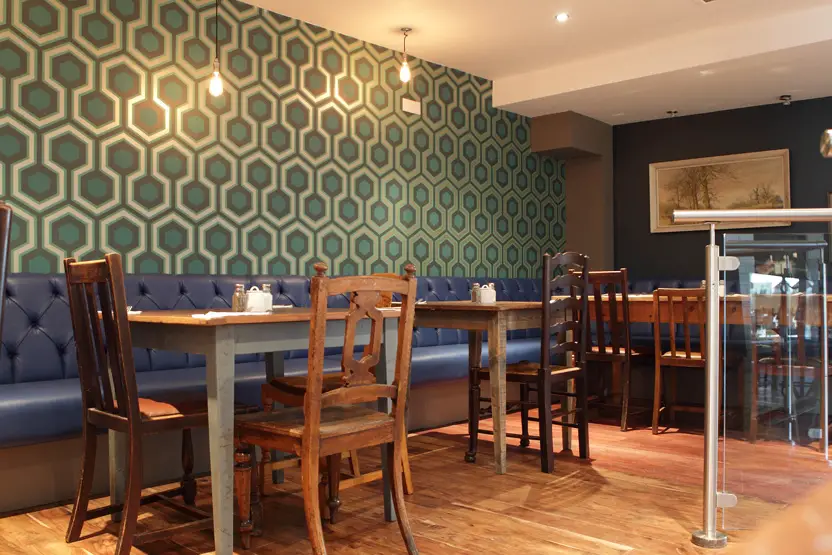 The Beehive, Beverley
Restaurant Review
by Emily Lawley
The Beehive opened in September 2014 in Wednesday Market in the centre of Beverley. The bistro bar's food and drink menus feature a large range of dishes using good quality ingredients along with 15 different beers (draught and bottles). There's also a nice selection of wines and cocktails making it the ideal place for going out for lunch with family or meeting friends for a catch-up over a drink and nibbles.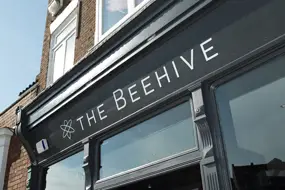 With its smart black sign and distinctive geometric bee logo, The Beehive catches your attention immediately. It looks trendy and upmarket in the small square. Just be careful not to leave your car outside in what looks like a car park in the middle – it isn't! One of the waitresses helpfully lets me know when I arrive and directs me to a nearby pay and display. There are tables and chairs out the front that will be nice for al fresco dining in the summer, but we don't fancy it on a cold Sunday in March. Inside the atmosphere is friendly and relaxed with mis-matched recycled tables and chairs dotted around. There's a raised dining area across from the bar that looks a little more formal and well-suited to evening dining.
The menu offers a mixture of sharing dishes like a Cheese or Charcuterie board (£6 each), sandwiches and salads for quick lunches. There's a good selection of more classic starters. Plus, hearty homemade pies and burgers for those looking for a more substantial meal. I choose the Homemade Chicken Liver Pate (£5) to start. My companion goes for a portion of the Nachos (£6).
"The succulent meat in the pie is cooked really well"
Chicken liver pate is one of my favourite starters and I frequently order it if it is on the menu – especially if it has a nice chutney or relish with it. It comes in slices with toast bread and a fantastic sweet, caramel onion chutney that I feel overshadows the pate. It isn't as full in flavour as I had hoped and a little dry and grainy, more like a terrine, rather than rich and smooth. The portion of Nachos is generous and the guacamole and salsa are nice but we could do with a little more of all of the toppings. A few plain tortilla chips remain at the end.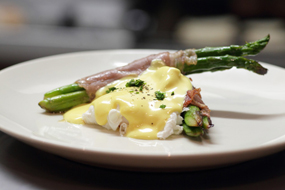 Homemade pie is one of my ultimate comfort foods. So I choose the interesting-sounding Cider Braised Rabbit Pie (£10). The filling is chunks of rabbit in a creamy wholegrain mustard and cider sauce that has small pieces of melt-in-the-mouth carrot through it. I do like game, but my past experience with eating rabbit is that it has an overwhelmingly strong taste and can be a little tough. But the succulent meat in the pie is just the opposite and is cooked really well. Even my game-phobic companion enjoys it. The pie is topped with a crispy puff pastry lid and comes with chips and peas and a side of gravy for dunking.
"An appealing sharp lemon tart"
We think the chips are double cooked as they are quite dark. They could maybe have done with a couple of minutes less in the fryer to make them a little more fluffy. My companion has the Halloumi Burger with a baked Portobello mushroom, iceberg lettuce and mint yoghurt on a brioche bun (£8 plus £2.50 for doubling-up on her Halloumi). All the ingredients of the burger complement each other really well. The Halloumi has a delicious smoky flavour from the griddle. But the arrangement of the yoghurt dressing topped with a tomato then the mushroom under the halloumi does unfortunately make for a slightly soggy bottom bun.
With the help of the waiter I enjoy a glass of the Malbec (£6.40 for a large glass) which he tells me is his personal favourite. We must share the same taste in wine as it is a fantastic, full-bodied red that goes well with my homely main course.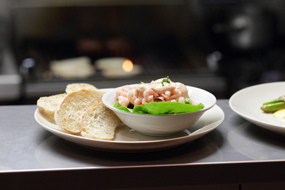 For pudding we share the retro Knickerbocker Glory (£5) and the Lemon Tart (£5) from the specials board. We do struggle a bit with our dessert choice as they all sound a little too sweet for our tastes. There's a Nutella tart, Banana Split and Ice Cream or Sorbet as the other options. Hence the sharp lemon tart appealing to us to end our meal with.
"Set apart from the usual market town bar and bistro"
The tart is expertly made. The buttery, short pastry case is filled with a sweet – not tart – lemon filling. It tastes like a mixture between sherbet lemons and lemon curd. It comes with a vivid berry sorbet that goes amazingly with the tart. Eating them together simply elevates the flavour of both elements making it the highlight of the meal. We enjoy the Knickerbocker Glory with its hidden chunks of chocolate-coated honeycomb and chopped nuts cutting through the ice cream, even though the raw redcurrants and raspberries are surprisingly sharp.
As the atmosphere was so welcoming we stay for a Vanilla Latte each (£2.10). We listen to the Jazz Trio that plays at the front of the bistro as we are eating. The live music is a lovely addition – if a touch loud at times due to the trumpet. From posters around the bar they seem to host different music events each month. The Beehive's selection of well-prepared food, quality beers, wines and cocktails and fun entertainment make it suitable for all occasions. It definitely sets it apart from your usual market town bar and bistro.
The Beehive, 8 Wednesday Market, Beverley, East Riding of Yorkshire, HU17 0DG
T: 01482 861 375
Opening Hours:
Monday – Closed
Tuesday to Friday – 11am – late
Saturday – 10am – late
Sunday – 10am – late