Toyota Hilux Invincible – Review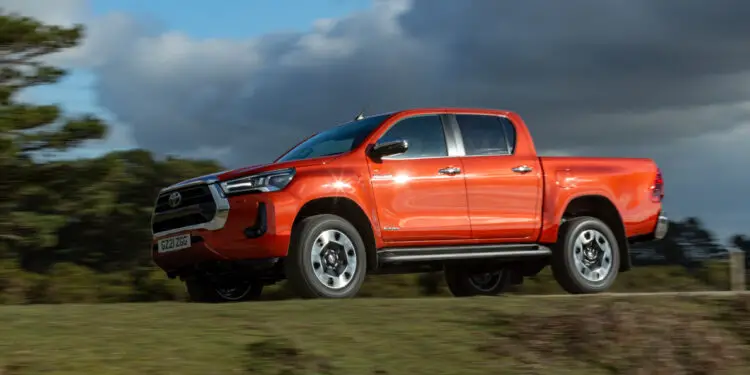 By Liam Bird
My first encounter with a Toyota Hilux pick-up – the point at which I consciously became aware of such a thing – happened somewhere around 1981. The date is a bit sketchy, but the location is a definite, so too the colour, and bizarrely the manufacturer of said Hilux. It wasn't a Toyota that caught my attention that Saturday afternoon in the Shrewsbury Model Centre, but rather the Tamiya Plastic Model Corporation's radio-controlled version of it. That tenth scale Hilux was red, it sat on all-metal ladder chassis and leaf springs, it was four-wheel drive, it had low range. It was just like the real thing – and as I was just eight years old at the time, it was way beyond my price range. I had to save-up my pocket money so as I could afford Tamiya's glossy catalogue; I still have it to this day.
Little did I know then that it would be another 40 years until I'd get my hands on a Hilux – a full scale one that is. Little did I know either, that in 1981, the Toyota Hilux pick-up was already 13 years old.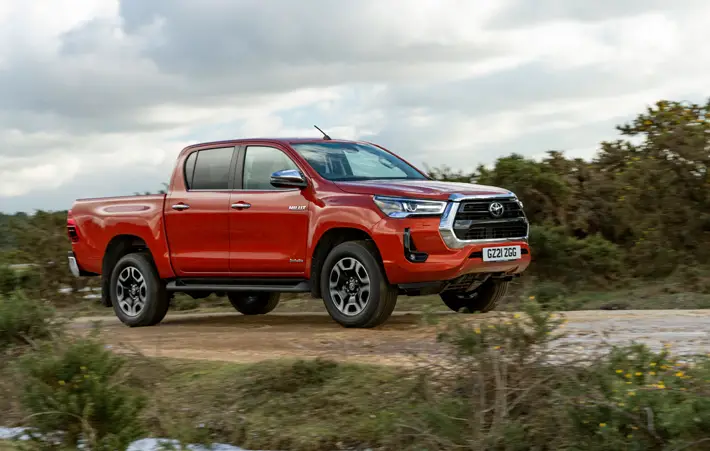 "Reliability is legendary"
If you don't count the ever-faithful American sales of the Ford Ranger, the Toyota Hilux is the world's best-selling pick-up. It's Europe's best-selling flat-bed. But I suppose if you've been around since 1968 you must've been doing something right, eh? Hilux's are what builders use to carry gravel, boat-owners use to tow their RIBS, adventurous off-roader types use to plunder the tundra, and madmen use to transport rocket launchers; they really are that ubiquitous. And for good reason: they're reliability is legendary. Wherever you are the world, it won't be long before you spot a Hilux.
Now Toyota want you to spot their Hilux Invincible in, well… shall we say the more upmarket and leisurely parts of town? You see, the Hilux Invincible, with its double-cab, heated leather seats, LED lights, privacy glass, headlamp washers, mud flaps, and 18-inch alloy wheels, is aimed directly at the lifestyle crowd. Forget dumpy-bags, sheep, or AK47s, this is a truck for mountain-bikers, jet-skiers, surfers, weekend warriors (should that be weekend walkers?), and the kind of people who'll rarely use that truck-bed or its 1,015kg payload at all and instead just like the idea of owning, and better still being seen in, a pick-up. Toyota have even gone to great lengths to soften the rear leaf springs and shock absorbers in a bid to help reduce the trademark bouncy and slightly harsh pick-up ride quality, and make things altogether more comfortable.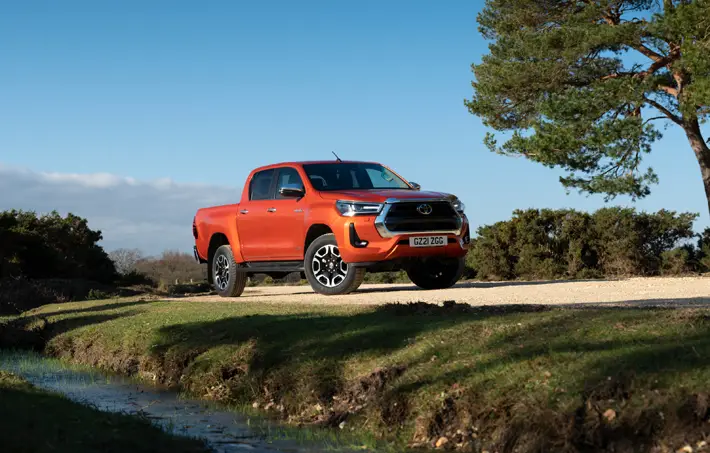 "Easy to see the appeal"
The tax-breaks available to company car users are also perhaps a powerful incentive towards Hilux Invincible ownership. All pick-ups with a payload of 1000kg or above are classed as Light Commercial Vehicles. That means fixed road tax, and a benefit-in-kind (BIK) price based on age, regardless of size, Mpg, or purchase price – in this case £29,553 + the dreaded VAT. Put like that, it's easy (or at least easier), to see the appeal.
That might also help explain why the Hilux is now available with a 2.8 litre 4 –cylinder turbodiesel that produces 201bhp – a third more power than that of the "regular" 2.4 litre diesel Toyota traditionally slip under the Hilux's square-sided bonnet. The larger motor is available with either a 6-speed manual or a 6-speed automatic gearbox in accompaniment, produces 310lbft of torque (369lb ft if you've plumped for the auto) from barely above tick-over, and pumps out 224-236 g/km of CO2. Based on my driving, it'll do around 34 Mpg unladen.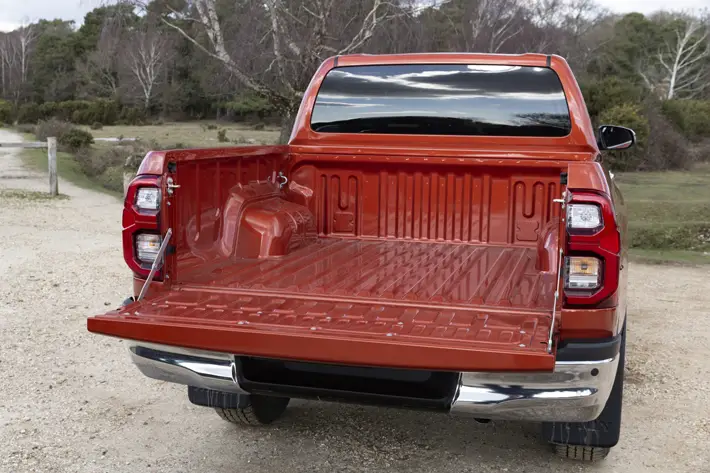 "Feels unstoppable"
What it won't do, is drive like a car. It won't drive like a big SUV either. Underneath all the new shiny bits the Hilux Invincible is still very much a rugged old pick-up truck. Road imperfections send shimmies through-out the cabin, the steering, though much improved thanks to a new 'variable flow control' pump is still somewhat vague and slow, and if you put five people in the cab, where do you put their luggage and still keep it dry? Off road the Hilux feels unstoppable and virtually unbreakable, but on road, although not a bad motorway cruiser in fact, it still manages to feel like a compromise. It's not the easiest thing to tackle the Tesco car park in either (although I had less trouble backing in my space than the little old lady in the Yaris did hers).
After a week in its company, I can see the appeal of the Hilux Invincible. From its lofty driving seat you feel that you could conquer just about anything – you do indeed feel, err, invincible (perhaps the 5 year / 100,000 mile warranty helps). Nevertheless, the fact of the matter is, unless you really need a pick-up and you're prepared to put up with all that that brings, many an SUV will do the family and daily driving duties far better, and probably use far less fuel whilst doing so.
There are still occasions though when only a Hilux can satisfy certain desires, (and if anyone out there a has a Tamiya One they'd like to sell…).
Toyota Hilux Invincible 2.8 Manual
Engine: 2,755cc 4Cyl 16 valve, turbo-diesel
Transmission: 6-speed manual with selectable high and low range 4×4
Power: 201 bhp @ 3,000 – 3,400 rpm
Torque: 310 lbft at 1,400 – 3,400 rpm
0-62 Mph: 10.13 Seconds
Max Speed: 109 mph
CO2: 224 – 236 g/km
MPG: 31.3 – 33.2 (WLTP combined)
Towing capacity: 3,500 kg
Payload: 1,015 kg
Kerb Weight: 2,120 – 2,335 kg
Price: from £29,553.33 (Ex. VAT)