Tamiya Wild One Off-Roader – Build Review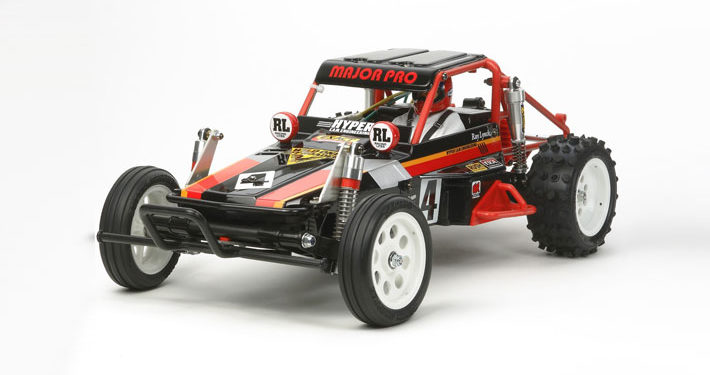 by Liam Bird
I barely touched my computer over the Christmas break. In fact, I can't even remember switching it on. For me that's pretty unusual, there's usually a little bit of online shopping that "needs" to be done – you know, the that one-off never to be had again Ebay bargain – or there's a route to somewhere that has to be planned; I'm a sucker for Google Maps. This year was different though, this year was like old times. And it was more altogether analogue, significantly less digital. I barely touched my iPhone either.

That's because this year I spent the Christmas holidays building a car; a fully functioning electric one, rechargeable from my mains supply, and with not a drop of any nasty fossil fuel in sight. And to top it all… I built it on my kitchen table. I assembled the rear differential in less than an hour, I hand-built all four oil-filled shock-absorbers with little more than a pair of long-nosed pliers and a couple of sheets of kitchen roll, and I spray-painted the bodywork one Sunday morning in the back garden. And even if I do say so myself, it turned-out alright too.
There is a catch though. You see I can drive my new car, it's quick, it's immediately responsive, and it's surprisingly good off-road, but I can't actually sit it in. The truth is I can't actually fit in it. That's because my new car is a Tamiya Wild One. It's radio-controlled, and fully built it's only about 18 inches long.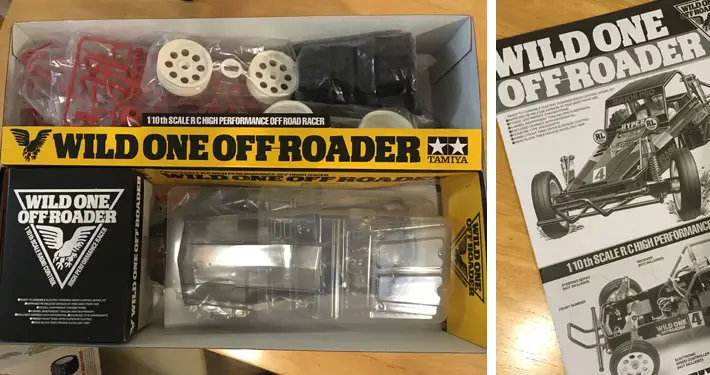 "Fascinated"
If you've never heard of Tamiya radio-controlled cars, well, where exactly have you been? I first got into them in the very early '80s when my cousin built their version of the ultra-rare Lamborghini Cheetah. I must've been around 7 at the time and I can distinctly remember being fascinated by how what appeared to be little more than box small parts all went together and gradually built-up into something that worked. I still am, in fact. That's probably why I studied engineering. My cousin then went on to build Tamiya's beautiful Porsche 934. The rest as they say… I was hooked.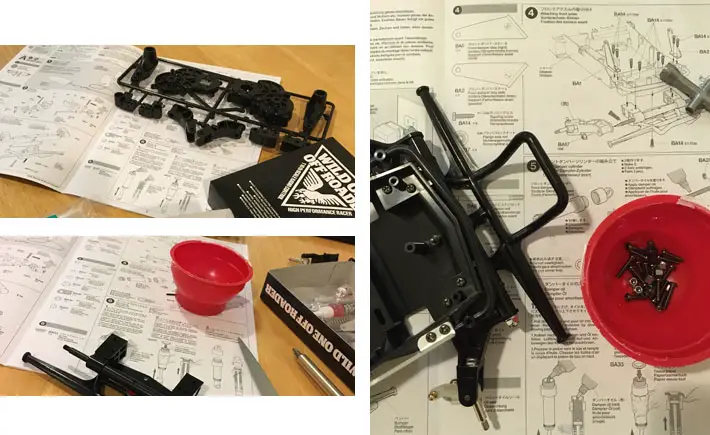 A year or two later, and after no-doubt some serous nagging and countless visits to the local model shop (we must've lost days, probably weeks, in there) my parents bought me a Tamiya Holiday Buggy for Christmas. My older brother Sean received a Sand Scorcher. Together, and with help from our now-expert cousin, plus our respective dads, and a number of our other uncles – all of whom always visited over Christmas and always showed an interest in our new toys, especially so if they were cars – we built them, painted them, applied the decals as carefully as we could, and then raced to within an inch of their little motor's lives around the village hall car park.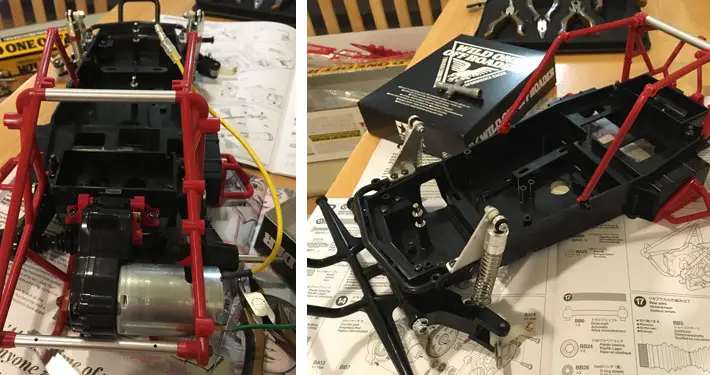 "World famous"
We've still got them somewhere, and their boxes. We've got the catalogues and the annual Tamiya Radio Control Guide Books too – they're in the dresser in my parent's house, filed chronologically of course, from 1983-1989. We're not letting those go!
As considerably larger cars, and the places they could take me, began to capture my interest more and more, inevitably my Tamiya building bug began to wane a little. The last, a scale replica of Didier Auriol's Monte Carlo rally winning works Lancia Delta HF Integrale – in the world famous Martini colour scheme, of course – I built when I was in my early twenties. Needless to say though, I know where it's kept.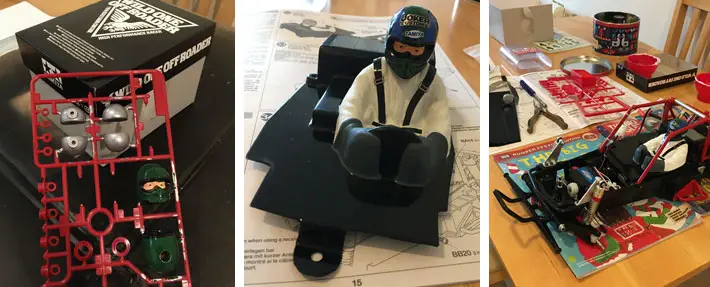 Many a full-size car has passed this way, been painted and polished (and probably raced around the village hall car park too) since then. But, it's been nearly 25 years since I last built a car on the kitchen table.
And then one day, recently, I found myself with a little time to kill, online Christmas shopping, bank card in one hand, computer mouse in the other. What was that website called again? modelsport.co.uk. Yeah, that's it. They're in Otley, aren't they, Yorkshire? Tap-tap. Click. Ooh! Click. Look at that! Click, tap-tap, click. Thank you Mr Bird, your order is confirmed. A few days later a rather large box showed-up, by courier, and almost instantly my computer was forgotten.

"Push all the right nostalgia buttons"
The Tamiya Wild One is a two-wheel drive 1/10th scale off-road racing buggy – Tamiya almost invented the genre. Originally launched in 1985 along with its sister car, The Fast Attack Vehicle, it's recently been re-released and updated, albeit only slightly, for the 21st century. Tamiya clearly know their market; if you're of a certain age like me, its black and red bodywork and its knobbly off-road tyres have an ability to push all the right nostalgia buttons as soon as you clap eyes on it.
Or should I say, the picture of it on the box? Before your Wild One's bodywork takes on any colour at all you've got to build the chassis, charge the battery, fit the radio gear (supplied separately to the kit) and paint the thing. And you'll need the right tools – think of them as an essential, an investment.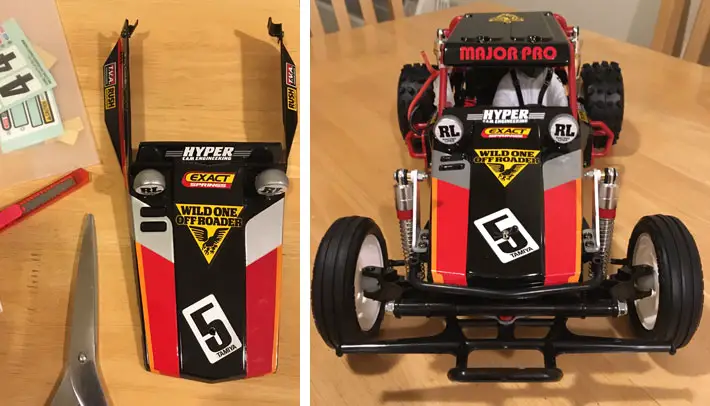 The work of a moment it isn't. What it is though, is enormously satisfying. And in its own way it's relaxing too – even if you do take four attempts to assemble those fiddly front dampers correctly, and your eyesight isn't what it once was – blame the computer shall I?
Like a cross between Meccano, Lego Technic, and a beginner's course in car maintenance, building a Tamiya radio controlled kit teaches you what all different components of a car are called, and perhaps more and most importantly, how they work. You'll apply grease to gears, fit bearings on axles, fill dampers with oil – there are even different grades to choose from depending on terrain – check tracking, fit tyres (I even painted the lettering on the sidewalls on mine – easy, use a paint marker pen), and do all the electrics – don't worry they're easier than expected. And as long as you carefully read and follow the very comprehensive instruction book, by the time you reach the last page you should have a fully functioning car that, resembles the one on the box. Tamiya's box art incidentally is beautiful. And, you can say you built it yourself.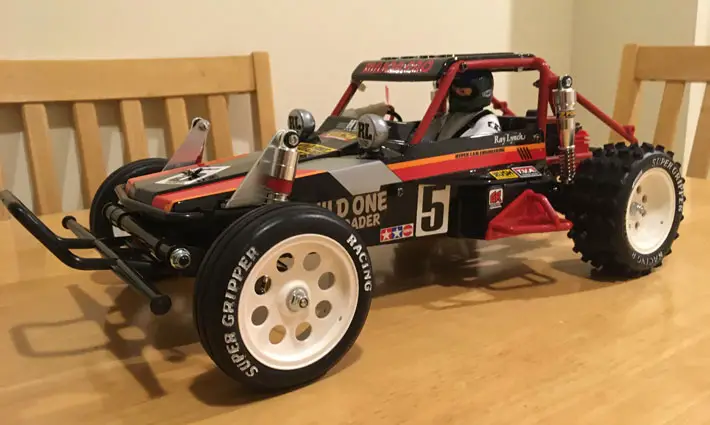 And then you get to drive it!
Be careful though. If you're anything like me, building one Tamiya won't be enough. I'm writing this as quickly as I can, while my Wild One is on charge downstairs. As soon as I've finished, I'll be building The Grasshopper; it just happened to arrive this morning. The Tamiya bug has quite literally bitten again.
Tamiya Wild One
• Scale: 1/10 scale
• Construction type: assembly kit
• Terrain use: off-road
• Drive-train: 2WD
• Drive type: gearbox
• Suspension: fully independent double wishbone
• Steering mechanism: bell-crank
• Shock damper: Aluminium, oil-filled
• Body material: Clear Polycarbonate
• ESC included: Yes
• Motor type: 540-brushed type
• Chassis material: FRP
Required for completion; 2 Channel Radio System, 1 Servo, Battery and Charger, Polycarbonate Paint for the Body, Tools for assembly and Glue for the Tyres
Price: Kit only. approx. £159
Kit with radio system battery and charger, approx. £225
Sundries: paint, masking tape, tools, craft knife, £20
Tamiya Grasshopper deal (Kit, radio, servo, battery, battery charger) From £136