Clarence Dock Leeds – A Profile and History
Leeds Waterfront Hits the Jackpot
The Clarence Dock development has transformed the Leeds waterfront. As it nears completion, Keith Spence looks at what Leeds's exciting new development has to offer.
Spending £250m transforming an industrial wasteland in a derelict part of Leeds in to a superb state-of-the-art waterfront development must have been a bit of a gamble. Clarence Dock, built on the car park of the Royal Armouries, is a mixture of modern apartments, shops and offices. Punters will be hoping that they will have a similar slice of luck to those who put the money in to this Crosby development, which looks set to hit the jackpot.
Recession? What recession. Those shoving money by the bucket load into the Royal Armouries car park site certainly have vision. How much property magnate Manoj Raithatha made from his £35m investment in securing 209 apartments in the development remains a mystery. But it was then the biggest single deal in the Yorkshire residential market.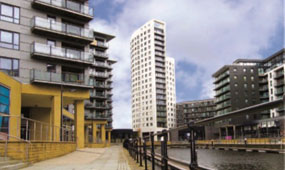 It took only a week to put together. His off-plan deal got him a tower block of one and two bedroom flats. They went on the market at between £140,000 and £300,000 each. The flats featured quality finishes from power showers to wooden floors and granite worktops. He soon sold them on and moved on to his next deal. All 1,124 apartments have now been sold, except for a handful waiting for contracts to be signed. The rentals they are commanding are healthy.
Surprising, considering the gloomy reports of thousands of city centre flats being on the market. 'Earn £16,000 a year and buy an apartment for £420 a month', says the poster invitingly. These homes have obviously been targeted at a wide variety of earners, from top to bottom.
"A place to meet the aspirations and dreams of those working in the city"
"The classic test of any new apartment block is to look up at the balconies," says Alex Munro of Knight-Frank, agents fort he development. "If you see tables and chairs occupied you know it's a sign of success. We've been very pleased with the sales. Usually when flats are bought off-plan investors pull out before completion. But in this case I can only recall one who didn't follow through. Despite turbulence in the residential market, Clarence Dock has done very well. We need a bit more life on the ground floor. But that's on its way. Crosby always had people down at Clarence Dock. This gave life to the site and meant that it hadn't got that ghostly, empty look."
A far cry from semi-detached suburbia, Clarence Dock is a symbol of the new Leeds. It houses young, single and professional couples from mid-twenties to mid-thirties with wide-ranging incomes and high aspirations. It supplies their answer to modern living.
Years ago planners used to dream of pumping life back in to the city centre and utilising its waterways. The prosperity of Leeds as a financial centre and place of commerce has brought wealth to the city. This has enabled development to take place to meet the aspirations and dreams of those working in the city. But it's not only the apartments that have attracted massive investment. There is 100,000 sq ft of waterside office space.
"A hit with apartment residents"
Livingstone House, which stands at the heart of the space overlooking the dock, has already been bought by GE Real Estate. It's a hefty lump of money to put down. 21,000 sq feet in Stanley House, which sits on the central boulevard running through the site, has been bought by Places for People, a property management and development company. It will use half of it for its own staff and will let the other half.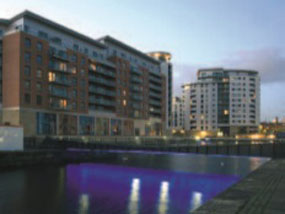 Twelve retail units have been bought by retail lettings agent Markham Vaughan Gillingham, part of Knight Frank. A Tesco Express store has been up and running since February and is increasing sales month on month. Starbucks, located on the ground floor of Stanley House, has been open since March and has proved a hit with apartment residents.
Claire Hobson says: "Having lived at Clarence Dock for about six month sit is wonderful now to see it alive with activity. Having a coffee bar on your doorstep is a real bonus."
Three fashion brands have signed up for retail units: All Saints, Rock Couture and G-Star and are due to open anytime. The developers targeted retailers of cutting edge brands, having identified a gap in the Leeds fashion market.
Simon Kidd, Commercial Lettings Director, says the site is attracting retailers more usually found in Carnaby Street. According to a recent survey 60 percent of the apartment residents in this self-contained island are young professionals aged between 20 and 30. Half go out more than once a week and just under a quarter enjoy going out for a meal or a drink most nights of the week.
"We haven't had this concentration of urban fashion in Leeds"
"Leeds is a great city for shopping. The Victoria Quarter caters for high-end designer brands. But there is a gap in the market for more cutting-edge brands with attitude to satisfy the cool, modern and independent shopper. As a city, Leeds is very cosmopolitan with huge fashion directions. The market is there but until now we haven't had this concentration of urban fashion in Leeds," says Kidd.
Clarence Dock will anchor a total of eight restaurants and cafes. The first to open was Larocca, the new brand in Leeds for the Lancashire-based Tiggis chain, which specialises in Italian food. The£2.5m restaurant specialises in Tuscan food. Café Aagrah opened its doors recently with its unusual central theatre kitchen where diners are able to watch chefs prepare their meals from a state-of-the-art island. The focus is on Kashmiri cuisine tapas-style.
Further restaurants are on the way including Pizza Express, the Bradford-based Indian restaurant, Mumtaz, and the Roast, known for its Yorkshire tapas and bacon sandwiches.
The whole site with its sky-high apartment blocks benefits from being near the Royal Armouries. The former tourist attraction of the year last year had 356,440 visitors and Saviles Hall, the new exhibition and conference centre, also attracts large numbers. Ironically, as the huge new luxury casino is launched residents and investors will be glad they backed a winner by putting their money on Clarence Dock, a far better gamble in life's game of chance.
Clarence Dock: History
Originally Clarence Dock was built for transporting goods to and from Leeds city centre. It used the Leeds and Liverpool Canal and Aire and Calder Navigation. Like the Middleton Light Railway it was mainly used to bring coal from collieries around Rothwell and Wakefield. They supplied the heavy industry in Hunslet and the business and commerce in Leeds city centre.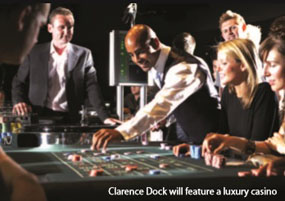 The western side of the dock (the side of Livingstone House) used to site a large crane on movable tracks along the side of the dock. It was used for loading and unloading barges. Until recently the surrounding area was made up of Victorian industrial buildings, for many years derelict. Throughout the second half of the 20th century, the area suffered industrial decline. The mills and many of the heavier engineering works began either to close, move further out of town or to downscale. The docks managed to survive the Victorian canal decline after the introduction of rail freight. But the move to road freight in the 20th century killed trade.
By the 1990s the docks were barely used for the movement of any freight. Most of the industrial buildings were derelict. It was a dank, seedy area attracting only the undesirables in to an area of Leeds most people were wary of. The building of the Royal Armouries marked the start of the redevelopment of the area. The museum opened in 1996 and no further development took place until 2001 with the opening of a hotel and multi-storey car park.
"A unique stamp"
The regeneration of Clarence Dock was a slow process. For the first five years after opening, the Armouries was in a run-down derelict area,. This made it difficult to attract visitors. It was threatened with closure on more than one occasion. Clarence Dock is a bold and brave development surrounded by a classy casino and swish restaurants. The waterfront has style and the white facades of the tall buildings give it a unique stamp. It will be plain sailing if it can weather the choppy waters of Britain in recession.
Editor's Note: Since this article was written, the Clarence Dock development has been beset by problems. Shops have mostly disappeared and the area never took off as a retail destination. However, most of the apartments were taken and the Royal Armouries, Pizza Express and Tesco survive. The mission to further develop the area goes on.
You can read about some of the issues in these articles from The Guardian, The Yorkshire Post and The Evening Post.