The Dresser – Review – Bradford Alhambra
By Richard Mansfield, February 2022
This play, written by Ronald Harwood and first performed in 1980 to great acclaim in London's West End, has since become a firm favourite among stage, film and television audiences across the decades. Having hosted such notables as Tom Courtenay, Albert Finney, Anthony Hopkins and Ian McKellen among its various casts, one might have speculated how leads, better known perhaps for their personalities and roles in light entertainment, might cope with a play of such pedigree. Happily they did a wonderful job, their endeavours and accomplishment maybe reflecting the fact that each had either studied drama or trained as an actor very early on in their careers and have credits within 'serious' acting over the years.
The Dresser, focuses on the relationship between the lead actor 'Sir' (Matthew Kelly), who is to give his 227th performance of King Lear, and his dresser 'Norman' (Julian Clary). It is set very dramatically in 1942 during the blitz. The sounds of exploding bombs are heard distinctly nearby and promote an inherent spirit of 'the show must go on' as the troupe of actors prepare for that evening's performance. 'Sir' is the actor-manager in the narrative, but the one person among all the characters really holding it together is 'Norman', whose motivations become much clearer as the second half progresses.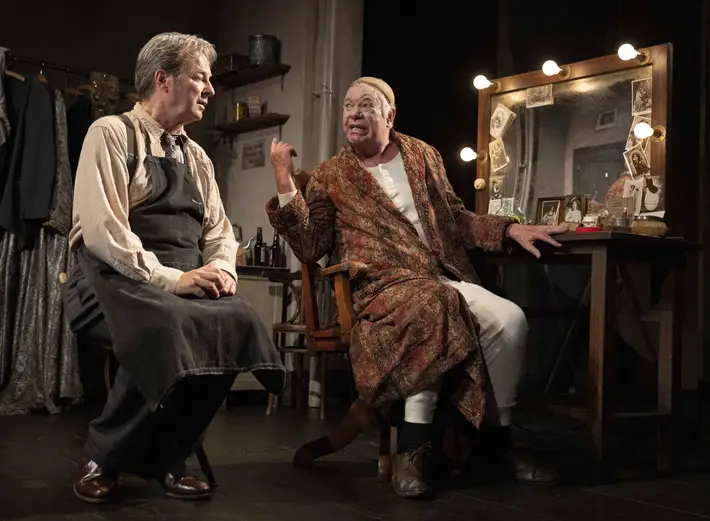 "Frequent crisis"
The action is set mostly in Sir's dressing room, which is progressively visited by other members of the cast and crew, and explores the fact that he, an ageing thespian with a failing memory and fragile ego, has suffered what appears to have been some kind of breakdown which threatens that the show will not, after all, 'go on'. He is in frequent crisis and panic upon realising he cannot remember those first lines or gets the dialogue confused with the wrong play.
The supporting cast of actors and stage manager seem prepared to accept the reality of the situation and the impending cancellation of the performance. Crucially though, Norman is not so fatalistic and determinedly, if not desperately, cajoles Sir, whom he has been serving for 16 years, into fulfilling his performance against the odds and perhaps reality. It is this relationship and its underlying nuances, particularly one of 'dependence', which provides the kernel of what the play is essentially about: How things within a long-standing and close association can unravel in hurt, resentment and bitterness.
From another viewpoint this story might potentially have offered a very heavy and serious psychological drama focussing morbidly on such bruised feelings and insecurities. However such is avoided with humorous exchanges and the involvement of subsidiary characters excellently portrayed by the supporting cast. The dramatist himself was a dresser to a notable Shakespearean actor over several years and so those experiences provide the necessary inside edge to the script, the scenarios we encounter and its humanity.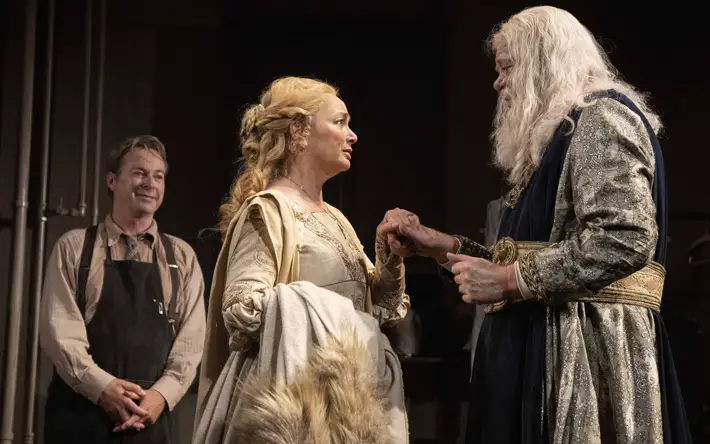 "Modern resonances"
There are numerous laughs, more than one may have anticipated, and, for the most part, Julian Clary delivers a subtle performance, much in contrast to the flamboyance we have come to associate with him. His timing seemed perfectly delivered throughout and similarly so with his telling gestures and glances.
Matthew Kelly portrays the more foolish and florid self-regard we sometimes see in the arena of stars and personalities very convincingly and the story still has modern resonances 40 years on when one cringes at witnessing the sexual harassment by Sir towards a very much younger female in the cast.
In many ways this play suggests a kind of genre of its own, one of the theatre world looking in upon itself, be it through this one particular scenario. A reminder perhaps of Bradford's own, one J.B Priestley whose statue stands within hundred yards of the Alhambra and who wrote The Good Companions, with its story of the travails of a travelling theatre group and its various characters. Another little coincidence is that some of the filming in the 1983 presentation of The Dresser used the then un-rejuvenated Alhambra for some of its scenes and settings. No wonder perhaps that this excellent and vibrant performance carried extra meaning for a very enthusiastic and appreciative audience.