Westlife, supported by Keelie Walker – Live Review – Leeds Arena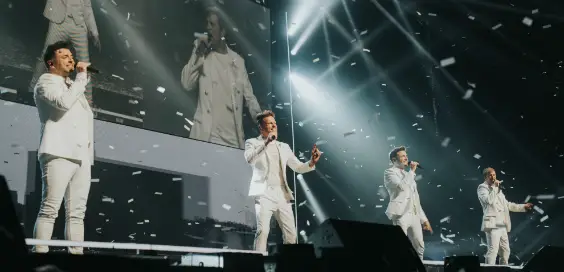 By @Steve Crabtree, June 2019
Every now and again there's an announcement that sends some people's excitement levels to overdrive. When Westlife told the world that they were reforming for a tour, it was one of those times.
At 9am on the day tickets went on sale, people were clicking the refresh button on websites, eager to get the best seats.  And the First Direct Arena in Leeds was one of the venues earmarked for a two night stint from the boys (who are no longer boys!) from Ireland.
On the night, through torrential rain, people were arriving at the arena in their droves. There was a nice atmosphere building despite the elements, and it looked like we were in for a good time.
"Great support"
Now, I must admit I wasn't ever a fan of the 90s boy-band craze.  I was a teenage-lad hitting his early twenties and at the time, I thought (nearly) every boy-band had the odd good song. But as far as timeless classics go it was an era that wasn't going to produce much that'd make you turn up the car stereo 20 years later. So coming along to a Westlife gig on their Twenty Tour, I really wasn't sure how I'd find it. But I was going to enjoy it the best I could…
Before the lads came on stage, we were treated to a bit of up and coming talent with a couple of great support acts that I couldn't possibly not mention.
Kicking off the night was Tennessee girl Keelie Walker. At only 15 years old, this tour is big news for Keelie and she didn't let anybody down. With energy and a high-tempo way of getting around the stage she proved just why she'd been chosen to open the show.
She gave us her own tunes such as 'Hit Me Up', 'Pieces' and her forthcoming single 'Not You', and being a Nashville girl it's no surprise she came with a stunning voice.  The crowd warmed to her, and despite being the first support act of the night there were already a lot of people who'd taken their seat to enjoy her performance.
Then more was to come with a brilliant three-piece called The Rua. A brother and two-sister outfit from England with Irish roots, they gave us seven of their own songs. 'Gasoline' and 'Without You' stood out from an impressive set and they definitely got the crowd going.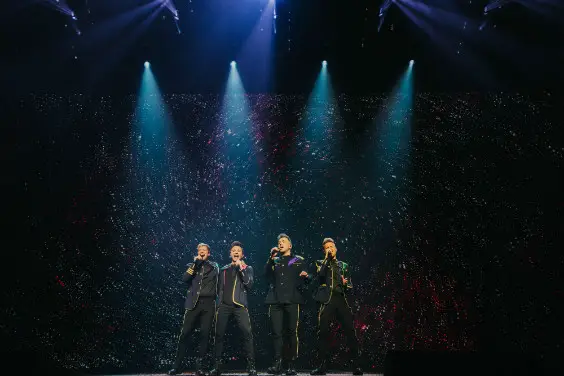 "Westlife-mania"
But it was Westlife that we'd come to see. And after some entertaining camera close-ups of the crowd on the big screens, the group made their big entrance in between the huge LED backdrop.
Cheers and whoops almost drowned out opener 'Hello My Love' as Westlife-mania took its hold on the FD Arena. Bring 'Swear It Again' and 'When You're Looking Like That' in to the mix, and you've got thousands of people singing along and well in to the spirit.
I suppose my mind had played a trick on me. I was expecting a crowd full of teenage girls to vastly make up the audience. But it's easy to forget that everyone grows up.  There were excited groups of women re-living their youth, and many males too, of course. But there we were in with a clan who were around when Westlife were in their heyday. It was a great vibe.
And with a more mature audience came a more mature show.  Where I thought we might have a concert that was going to be good, it was actually turning out to be brilliant.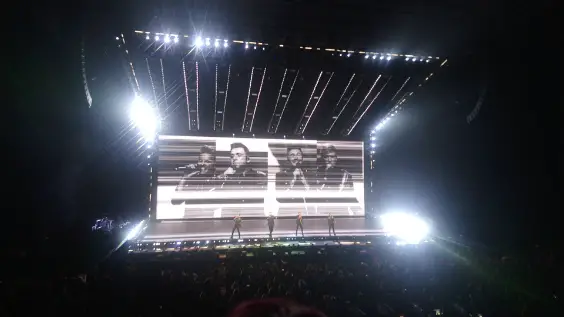 "A few bangers"
Westlife powered through their hits, and their 14 number ones. We were treated to 'My Love' and 'If I Ever Let You Go', as well as 'Better Man'. As a live act, they certainly put on a really good show. And despite how I remembered the boy-band era, tonight showed me that Westlife actually did come out with a few bangers! My nostalgic side had definitely over-ridden my cynical one.
That said, a tune I really wish they didn't get to spoil all those years ago was 'Uptown Girl'– the Billy Joel classic that I loved as a young kid. And I wish they'd left that off the set. For me, they don't the song justice, and it was the only element of the show I couldn't enjoy. But they pulled it back with an energetic Queen medley which went down really well.
There was some memorable interaction between the band members. That good ol' Irish craic was more than evident in the way they chatted between songs.  It seemed genuine off-the-cuff banter between the group, and you couldn't help but warm to them if you weren't one of the hardcore thousands in the audience. One or two members of the crowd in the front row were included in the fun as well.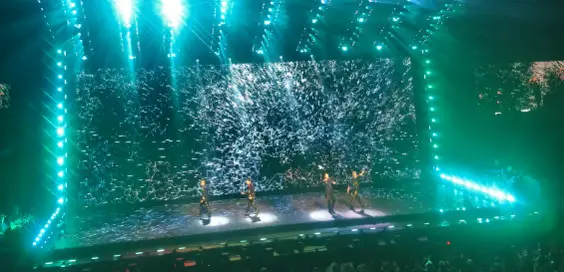 "A well deserved celebration"
The whole night was good. The FD Arena has given Leeds some great gigs in the past, and this one was no different. Stage wise, the set-up was great – LED walls and floors, some great lights and that was it.  The video that ran through the floor and wall was all they needed and it made for great viewing. And the band were tastefully tucked away to either side of the stage, but weren't hidden away.  They got their recognition.
With an encore of 'Flying Without Wings' and 'World Of Our Own', Westlife had well and truly delivered a fantastic night, and had won this semi-doubter over.  Especially where Markus Feehily was concerned. He seemed to well and truly be the leader of the group, and his voice was something else.
So all in all, the TwentyTour from Westlife is a well-deserved celebration of all they've done in music.  They can sing, they're entertainers and they have no airs and graces about them. And the four of them rightfully sold the FD Arena out for two nights.
I came away from the show with that feel-good factor that you want to leave a gig venue with. And would I see Westlife again? Absolutely.