A Gothic twist on Norwegian black metal… here's Stein from Minneriket
What's the title of your latest release, and what does it mean to you?
It's called 'Gjennom meg går ingen til hvile' (transl: Through me no one will find peace).
What was the hardest part about putting this release together, and why?
It's been an evolving puzzle for many years, putting together all the pieces and re-creating that vision I had in my head was definitely the hardest part. There's no room for improvisation, and once I have an idea I have to do it that exact way.
What do enjoy most about producing your own material?
The production is as important as the compositions and the lyrics – it's part of the whole vision. That is why I have to do it all myself. After the production and mixing, I had help in mastering it to give it the right punch.
What do you want the listener to take away from listening to your music?
The darkness belongs to us all.
How does a track normally come together? Can you tell us something about the process?
I usually start with either a word, or maybe a colour or just a feeling. Then I expand on what this means to me. How does it make me feel, what can I relate to it, etc. I try transferring an idea to different mediums, trying to map up what it is I wish to say. I visualize it, trying to become it. A sharpened word. A concept. And then I translate it into music in my mind, starting with how I want it to start and how I want it to end – and how I want the listener to feel. Then I create the main melodies and rhythms, first on an acoustic guitar as a blueprint for the song, before I separate it into all the different instruments and record a demo of the whole thing to keep working on.
What band/artists have influenced you the most since you started this project, and why?
As a Norwegian artist I of course stand on the shoulder of giants. Trying to carve through the stone and finding the flesh inside.
What countries would you like to tour? Are there any standout venues you'd like to play in?
None, and absolutely not.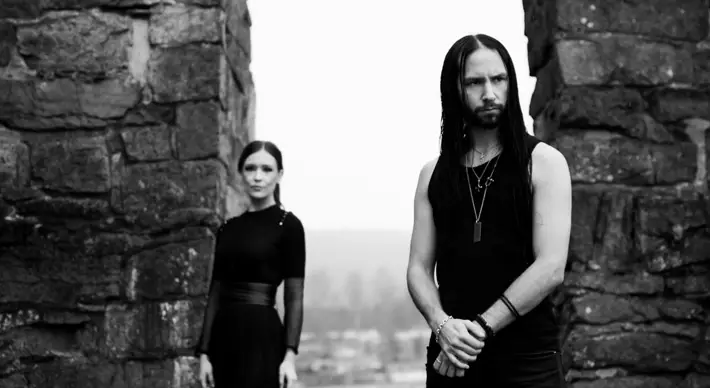 If you could pick one track for our readers to listen to in order to get a taste of your music, what would you pick, and why?
At the moment I would recommend the song 'Regnbuer i gråtoner' from the new album Gjennom meg går ingen til hvile. That represents a lot of the diversity within the music, and has an atmosphere I am proud of.
What ambitions do you have for the band/your career?
None. I just do what I want to do, and create what I want to create.
Finally, as you leave the stage, what are your parting words?
The album artwork has unfortunately been censored on all major streaming services, but you can buy the limited CD or the digital download from the bandcamp page without the censorship. Consider supporting Minneriket with buying a shirt or something, and don't be afraid to reach out and tell me what you think of the new album.
For more info visit: minneriket.com