Honest Life by Courtney Marie Andrews – Album Review
by Matt Callard
Still only 26 but with a bulging session CV that runs the gamut from hideous U.S snot-rockers Jimmy Eat World all the way to accomplished singer-songwriter Damien Jurado. And no-less than five solo albums already in the bag, stretching back to 2008's virtually unobtainable Urban Myths. Courtney Marie Andrews is certainly no wide-eye naïf blinking in the musical spotlight – "This ain't no rookie dreaming," she sings in the opener.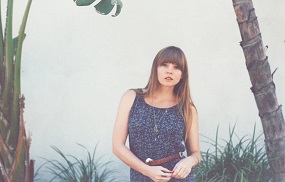 Honest Life looks likely to be her breakout release, and not just because the new smooth country sound massages the mainstream.
'Rookie Dreaming' sets the tone, a plaintive European travelogue of sunsets and penury that recalls Joni Mitchell's Hejira-era wanderlust (no less), not just in the yearning delivery, but in the gorgeous pedal steel chords framing the background against a sleepy acoustic strum. It's a heart-tugger, a show-stopper and isn't alone on an album full of great songs and great moments.
'Not the End' is as trad country as the album gets – all empty hotel rooms and lovelorn laments against a sweet, swinging Nashville backing.
"Soul music for lost souls"
'Irene' continues the journey, encompassing her ability to combine folk, pop and country with an effortless glide. Except this time it's Andrews dispensing advice to a fellow troubled soul. As a beautiful, burbling Hammond organ makes its welcome, whirring entrance towards the end, she sings:  'Sometimes good people draw troublesome things'. Indeed, being old and wise before her time is a recurring theme.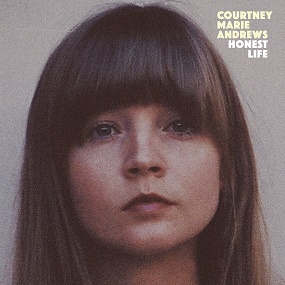 In 'How Quickly Your Heart Mends' she imagines a jukebox playing tunes for 'all the ugly Americans'. But it's set against an uplifting melody, with soaring pedal steel that take the song into the clouds and the realms of pure pop. She wallows, sure, but really flies when she wants to too.
Elsewhere, 'Let the Good One Go' should be covered by Adele, 'Put the Fire Out' continues the displaced travel theme ("There's a place for everything/And I think I know mine now/Now that I'm off this plane I think I'm ready to stay.") and 'Only in My Mind' recalls Cowboy Junkies at their most wracked, her voice even managing to echo the peerless Margo Timmins.
Frank, authentic and finally in full bloom, this is redemptive soul music for lost souls.
9/10
'Honest Life' is out now on 180g turquoise vinyl, CD & download, via Loose