Columbia by The Blinders – Album Review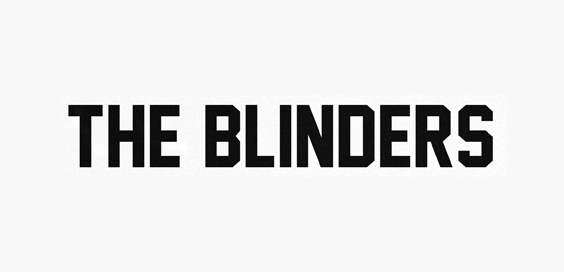 By Ceri Saunders
It's difficult to believe that Columbia is The Blinders' debut album. The Doncaster-born trio have taken their angry sound and ran with it – all the way to Manchester, via Liverpool and Wolverhampton – and have mastered a triumphant 12-track political tirade in the process.
From the thumping opener 'Gotta Get Through', it's clear that these lads have an agenda, taking aim at politics, TV culture and the increasingly dystopian world we're living in as they hammer out track after track of relentless rock 'n' roll.
Impassioned cries of 'gotta get through' from Thomas Heywood (via his Blinders alter ego, Johnny Dream) lead into 'gotta stay alive' – it's clear that the next 40 minutes or so are going to be a focus on surviving in today's post-modern society. And it's this repetition and ferocity of their rallying call that really sets the tone for the rest of the album.
"No holds barred attack"
'Gotta Get Through' crashes into 'L'etat c'est moi (The State Is Me)', 'Hate Song' and 'Where No Man Comes', each track punching you round the face with explosive lyrics and, it would seem, the band's raison d'être.
Short poem 'Free The Slave' offers the perfect lull in pace as the album's fifth track before the boys get right back to it with 'I Can't Breathe Blues'.
The acoustic 'Ballad of Winston Smith' slows things down once more, its lyrics (hoodwinked society, hang the Manson family, foxhunt the refugee) poignant and showcasing the band's intertwining of literary classics and post-modern references with hard cold reality as inspiration for their impressive songwriting.
And although – for the most part, anyway – Columbia is a blatant, no holds barred attack on those with a hold on society, the latter part of the album surprisingly offers the occasional glimmer of hope.
"A new political awakening"
After another banger in the way of 'Et Tu', the seven minute-long 'Brutus' and 'Brave New World', 'Rat in a Cage' brings you to the album's full attention, issuing another call for listeners to 'come together, we need each other'.
The album's finale comes in the way of 'Orbit (Salmon of Alaska)', with quivering, impassioned vocals bringing things down to a slowing halt after a relentless 45 or so minutes.
Though arguably repetitive in parts both musically and lyrically, the band has made a clear effort to change pace and offer a different sound throughout this terrific first album.
For a young generation on the cusp of a new political awakening, their debut will no doubt act as an accompanying soundtrack to their cause.
After a few years of honing their craft and some impressive slots on the UK festival scene this year, Columbia will be taking The Blinders places – so catch them while you can.
8/10