Valerian and the City of a Thousand Planets (2017) – Film Review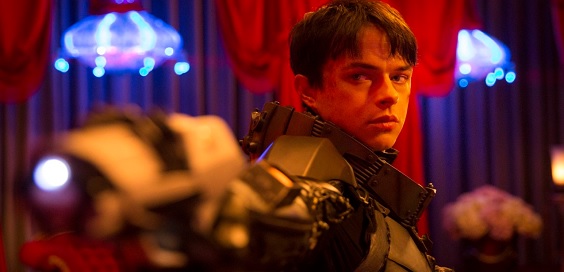 Director: Luc Besson
Cast: Cara Delevigne, Dane DeHaan, Clive Owen
Certificate: 12A
by Roger Crow
Arguably the most expensive indie movie ever made, Luc Besson's latest may as well be called 'The 10th Element'; it's twice as eye-popping as his 1997 Bruce Willis blockbuster, and twice as barking.
While America persists in strip-mining every Marvel and DC comic for the next big movie(s), France's rich history of graphic novels has largely been untapped. The work of Metal Hurlant geniuses Moebius and Druillet would make a dozen stunning movies, but it seems only Besson has the financial clout to make it happen thanks to all those Transporter and Taken flicks. And with Valerian and the City of a Thousand Planets, we get a hint of what could have been.
It's 137 minutes of stunning visuals, incredible ideas and a great cast wading through the treacle of an overly complex plot.
We open with a terrific prologue set to 'Space Oddity' in which the international space station receives many upgrades over the years, transforming into the drifting planet. Some valuable exposition sets the scene for the glorious array of creatures and settings that follow.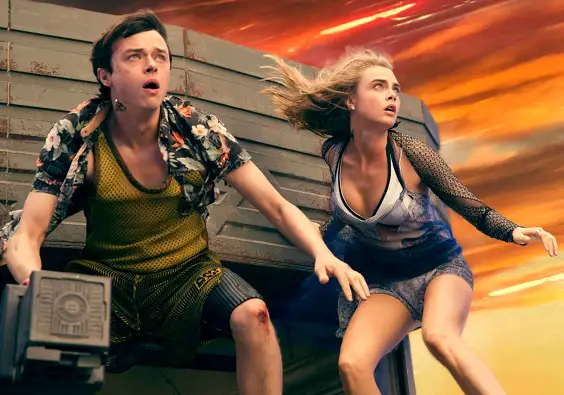 "An exhausting adventure"
Cut to an idyllic world where a race of androgynous Avatar-style pearl farmers exist in a state of bliss. And where there's an idyllic race at the start of a fantasy film, you can bet it's only a matter of minutes until disaster occurs.
Just before one of their race is killed, she sends out a message into the universe, which is picked up by Valerian, intergalactic agent. He and sexy colleague/on-off girlfriend Laureline are soon off on a mission to an alien planet where a mysterious item has to be retrieved from a virtual market.
So we have one lot of alien landscapes to contend with before being plunged into a VR world. This gives Besson and his army of effects technicians a chance to show off their skills. Some of them impressive, others a bit Blake's Seven on a budget. It's reminiscent of a dozen episodes of Doctor Who or Hellboy as the protagonists retrieve items and stage a daring escape.
As our heroes piece together fragments of the puzzle, the idyllic aliens invade the eponymous space station, kidnap VIP military type Commander Arun Filitt (Clive Owen) and scarper. What follows is an exhausting adventure which for the most part is a lot of fun.
Ethan Hawke outstays his glorified cameo as a seedy space cowboy/club owner, and shape-shifter Rihanna gets to show off with a Cabaret-inspired stage routine that goes on far too long. As does a segment involving an alien king and Laureline's fitting for a new dress.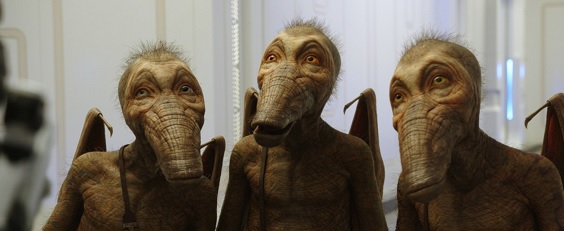 "Breathtaking spectacle"
Anything goes in Valerian and the City of a Thousand Planets. It's one of those movies where the Chuckle Brothers could turn up breakdancing to the work of Plastic Bertrand and it wouldn't seem out of place. Or music genius Herbie Hancock would have a cameo as an official. (The latter actually does happen).
Besson has packed his movie with so many cool, weird, extraordinary characters that it's a tribute to Dane DeHaan and Cara Delevigne's screen presence that they are not overshadowed by it all. Okay, they won't win any BAFTAs for Best Actor/Actress, but they are far from the bland double act I'd feared. Cara's eyebrows alone are as mesmerising as the spacesuit which makes her look like a walking action figure. And yes, I'll quite happily buy one along with assorted other Valerian merch.
Slated by many critics and a costly flop at the box office, this is one of those movies that will attract a cult following on TV in the months and years to come. It's too big a film to process in one sitting, and while not all of it works, Besson deserves high marks for delivering an often breathtaking spectacle.
As Marvel and Transformers fatigue set in a while ago, it's good to see one of cinema's most daring auteurs has the spaceballs to put his money where his mouth is and dare to fail on a galactic scale.
It's an epic flop for now, and 20 minutes too long, but like Jupiter Ascending, it's also one of those waking dream experiences best seen on the big screen at least once before most of its effect is lost forever on TV.
7/10