The Cockleshell Heroes (1955) – Film Review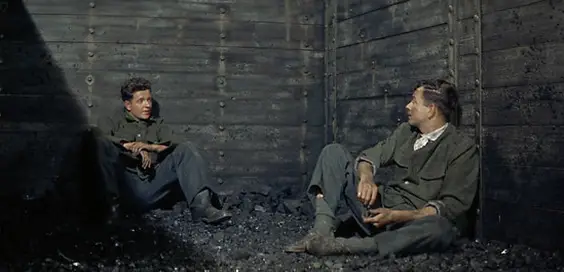 Director: José Ferrer
Cast:  José Ferrer, Trevor Howard, Dora Bryan
Certificate: U
by Sarah Morgan
We tend to associate films such as The Sound of Music, Scrooge or The Great Escape with Christmas, but in recent years, it's The Cockleshell Heroes that has appeared on the small screen more often than not. Why TV schedulers associate it with Christmas is anybody's guess; perhaps we simply love tales of derring-do during the festive season.
However, we're now getting an opportunity to see it at any time of the year thanks to a bluray release, which makes the film look as wonderful as it did on its cinema release in 1955.
Action thrillers celebrating Britain's wartime exploits were commonplace at the time. Many of them were based on true stories. What is perhaps most extraordinary about this one is that it was co-produced by American Albert R Broccoli, who would find greater film as the maker of the James Bond movies, was co-written by future Bond screenwriter and Broccoli's fellow US citizen Richard Maibaum (Bryan Forbes lent a hand) and both starred and was directed by the Puerto Rican José Ferrer.
"Seemingly impossible mission"
On paper Ferrer appears to be an odd choice to play a very British naval officer, but he acquits himself well, supported by a collection of very recognisable character actors, including Trevor Howard, Anthony Newley, Dora Bryan and, very briefly, a young Christopher Lee.
Readers of a certain age – or who are students of classic comedy – may remember Spike Milligan's Q series in which David Lodge regularly appeared. A running joke involved either Milligan or the Lodge himself pointing out the actor's participation in The Cockleshell Heroes – so look out for him too in his film debut.
Ferrer's character is the leader of a group of marines who have volunteered to undertake a seemingly impossible mission – to paddle collapsible canoes 70 miles up river to the port of Bordeaux. It's the only way they can reach and blow up the German warships that have been wreaking havoc for some time.
"Fine heroic tale"
We follow the men in training before they embark on their task. By this time, we've got to know and like their characters, which gives the tale a more emotional aspect than you might otherwise expect.
Don't Google the mission to find out how it all plays out – let Ferrer's tale unfold instead and you will be rewarded with a fine heroic tale.
Special features a scarce, but an interview with Sheffield Hallam University's Sheldon Hall about the making of the film is very revealing indeed.
7/10
'The Cockleshell Heroes' is released on Blu-ray by Eureka, £15.99