Maroc 7 (1966) – Film Review
Director: Gerry O'Hara
Cast: Gene Barry, Elsa Martinelli, Leslie Phillips
Certificate: PG
by Sarah Morgan
James Bond has a lot to answer for. After the 007 movies became hugely popular in the 1960s, a heap of copycats popped up to capitalise on their success.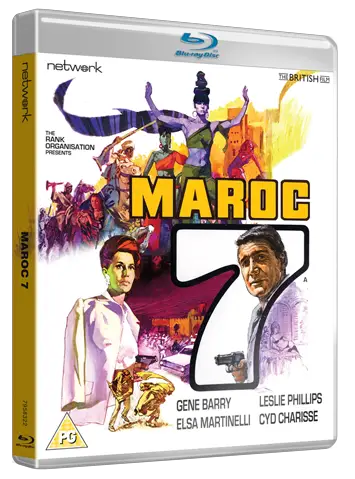 Indeed, the Maroc 7 disc begins with trailers for two of them – updated adaptations of Bulldog Drummond tales, with Richard Johnson as a rather over-the-hill incarnation of Sapper's character, a gentleman adventurer.
Maroc 7 itself is another globe-trotting caper featuring a supposedly handsome man surrounded by a bevy of beautiful women. This time it's American TV star Gene Barry who's the lucky chap. He plays Simon Grant, who's stealing some fabulous jewels when we first meet him.
"Nefarious activities"
It turns out the items had previously been purloined by somebody else, and Grant – who's really a secret agent – was taking them as an elaborate means of instigating a meeting with the criminal mastermind involved, Louise Henderson, who uses her position as a fashion magazine editor as a front for her nefarious activities. Let's hope Anna Wintour doesn't start getting ideas…
Grant then follows Louise on her next escapade to Morocco, where he gets close to the models who think they're on a legitimate assignment while keeping an eye on the editor and her photographer Raymond.
The latter is played by Leslie Phillips, who was also one of the film's producers. Despite being surrounded by a gaggle of girls, there's no sign of his trademark sauciness here. Instead, he plays it completely straight as a posh bloke hiding behind a camera – imagine if Patrick Litchfield had had a shady sideline in robbery and you get the idea.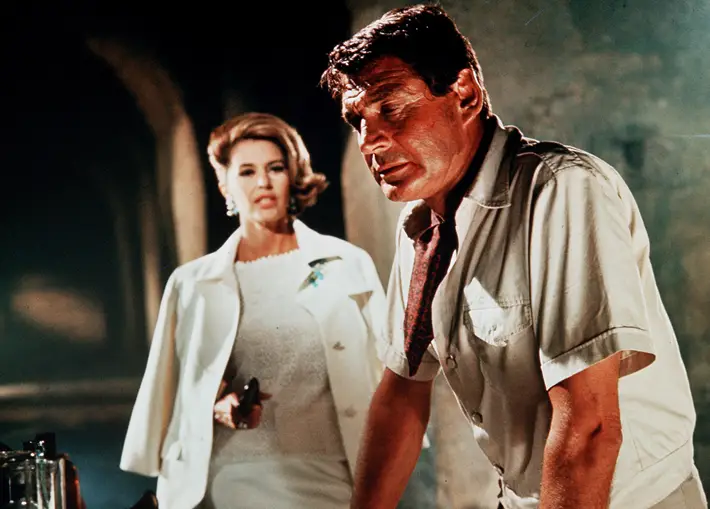 "Whips along nicely"
Denholm Elliott pops up as the local chief of police who isn't sure whether or not he can trust Grant, so assigns his assistant, the sickeningly attractive Alexandra Stewart, to keep an eye on him.
It's all very light and frothy and without ever being a masterpiece, it's oddly entertaining. If Barry was 10 years younger it might have worked better – he'd have seemed less like a sex pest if nothing else – but at a brief 91 minutes, everything whips along nicely so there's no time to get bored.
The supporting cast, which includes various real-life models as well as Cyd Charisse, Angela Douglas, Eric Barker and Lionel Blair, is pretty accomplished too.
SPECIAL FEATURES:
• Theatrical trailer
• Music Promo
• Image galleries
Maroc 7 is released on Blu-ray by Network, £17.99