Jules et Jim (1962) – Film Review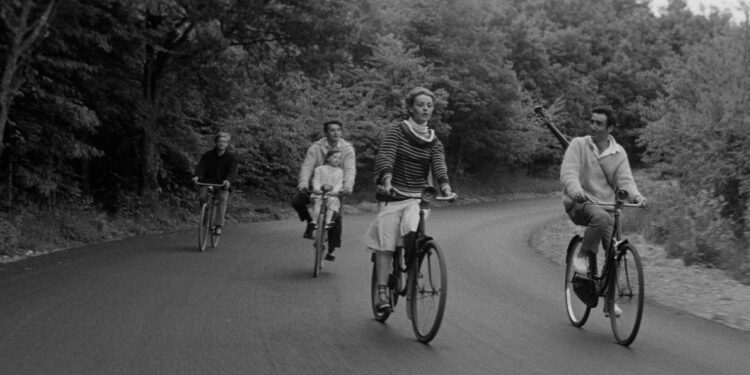 Director: François Truffaut
Cast: Jeanne Moreau, Oskar Werner, Henri Serre
Certificate: 12
By Sarah Morgan
Having spent the early part of his working life as a critic on esteemed French journal Cahiers du Cinema, François Truffaut had studied film closely for years before directing his first film.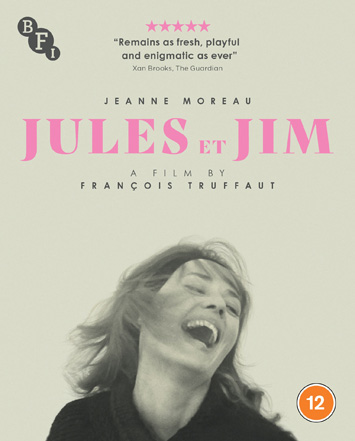 The 400 Blows was a huge critical and popular success, but while some movie-makers burst onto the scene and then struggle to reach the heights again, he did not. Okay, so his follow-up, Shoot the Piano Player, wasn't a hit (although it's still rather good), but his third film, Jules et Jim, re-established Truffaut as one of the leading auteurs of his generation, both at home and abroad.
"Strong bond"
It's a romantic drama based on a semi-autobiographical novel by Henri-Pierre Roché, adapted for the screen by Truffaut and Jean Gruault, and tells of the love triangle between two best friends and a free-spirited woman.
Oskar Werner and Henri Serre play the titular pals. Jules is Austrian and befriends Jim on his arrival in Paris. They develop a strong bond that even the First World War (they fight on opposite sides) and Jules's love affair with Catherine (Jeanne Moreau) cannot break.
After the conflict, Jim visits Jules and his now wife and daughter, but discovers that Catherine is planning to leave his friend for another pre-war acquaintance. She has become bored and longs for excitement, which is perhaps why she and Jim find themselves drawn closer together.
With Jules' blessing they embark on an affair which appears to bring neither of them joy, leading to tragedy.
At the time the film was made, Moreau was at the peak of her powers, well on her way to becoming a French cinematic legend. Unfortunately, I find the character of Catherine to be irritating, selfish and flighty – all the things that seem to attract men to her are aspects of her personality I dislike.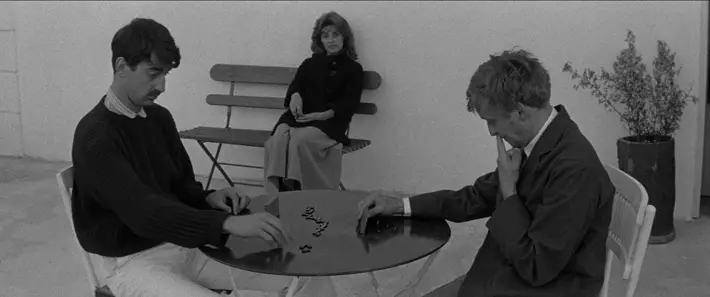 "Hugely influential"
Although I feel sympathy for her general unhappiness, her self-centred actions only threaten to pour misery on those who don't deserve it, particularly her young daughter. Other characters seem slightly smug in their bohemian approach to life too – everyone involved in the menage-a-trois is oh-so sophisticated in a world where the sun is always shining and money is of no importance – so I found it hard to warm to them.
Nevertheless, there's no denying the power of the denouement, which will shock anyone who hasn't seen it before. And, let's face it, even a relatively disappointing Truffaut movie contains more delights than the best of some other film-makers.
Jules et Jim remains hugely influential 60 years on from its release, but for me, the director would go on to produce far more interesting works before his untimely death in 1984.
Special features:
• Presented in High Definition from a new 2K restoration
• Audio commentary with Jeanne Moreau and Serge Toubiana (106 mins, 2000)
• François Truffaut panel discussion (2022, 54 mins): film scholars Pasquale Iannone, Marilyn Mallia, Sonali Joshi, Ginette Vincendeau and Catherine Wheatley discuss key themes and influences in Truffaut's work
• The John Player Lecture: François Truffaut (c1972, 53 mins, audio): the director discusses his films
• Jeanne Moreau in Conversation (1982, 83 mins, audio): the Jules et Jim star talks with Don Allen about her life and career
• Screen Epiphanies: John Hurt on Jules et Jim (2010, 8 mins): the actor on his first viewing of the film and the lasting impression it has left on him
Trailers
• Stills gallery
• First pressing only: Illustrated booklet with essays by Pasquale Iannone and Lillian Crawford; a contemporary review from Monthly Film Bulletin, a biography of François Truffaut, credits and notes on the special features
Jules et Jim is released on Blu-ray by the BFI, £14.99