Dark City (1950) – Film Review
Director: William Dieterle
Cast: Charlton Heston, Lizabeth Scott, Mike Mazurki
Certificate: PG
by Sarah Morgan
Think of Charlton Heston and what probably springs to mind is the muscular, tall star of such epics as The Ten Commandments, Ben-Hur, El Cid and The Greatest Story Ever Told.
But as an actor, he could be far more interesting than some of his roles suggest. It's easy to forget that he tackled Shakespeare, played Michelangelo, and took the central role in a highly successful West End revival of A Man For All Seasons during the 1980s.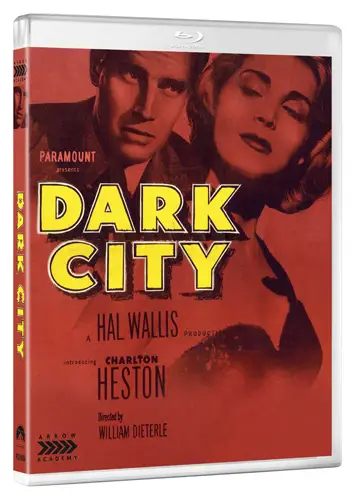 His big screen career started out pretty impressively too. After featuring in a couple of amateur movies, Heston made his official debut in Dark City, which he later described as "not an A picture, but a pretty good B."
"Excellent example of film noir"
He's doing it something of a disservice – there are plenty of A movies that are nowhere near as good as this, but then again, they didn't have the great William Diertele behind the camera.
Like many European film-makers of his generation, Diertele fled Germany's worsening political situation during the 1930s and headed for Hollywood. By the time he directed Dark City, he'd already made such classics as The Hunchback of Notre Dame, The Life of Emile Zola, Portrait of Jennie and The Devil and Daniel Webster.
The plot of Dark City – an excellent example of film noir – is simple: a group of hustlers set up a poker game in which they fleece a hapless man out of $5,000. Their victim then commits suicide, and his thuggish brother begins hunting them down, intending to kill the group one by one.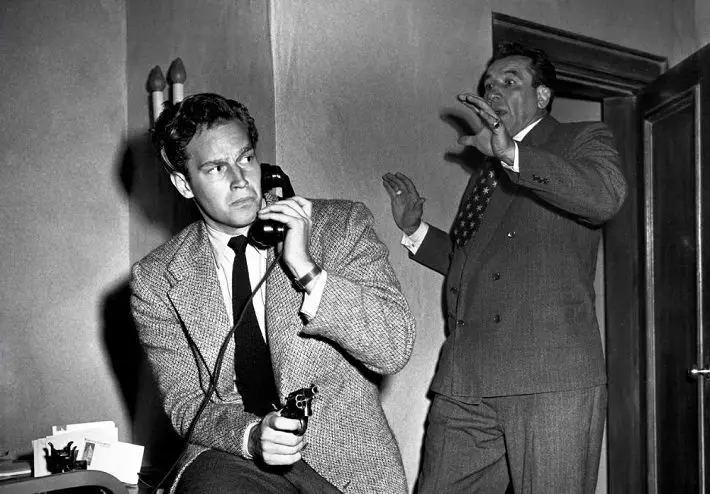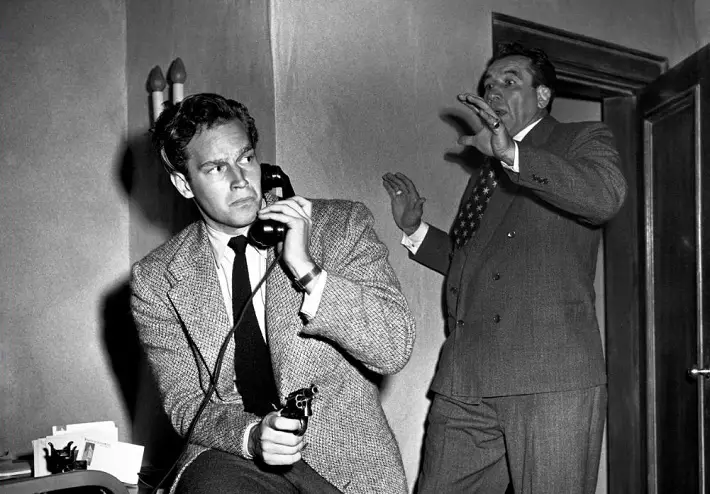 "Utterly believable"
Heston plays one of the gamblers, disgraced ex-US Air Force officer Danny Haley. Unlike some of his colleagues, Danny has a conscience and, after meeting the dead man's widow and child, tries to make up for his part in the tragedy.
You can already see, at this early stage, that Heston has what it takes to be a star. He dominates whenever he's on screen and is utterly believable as a rogue with a heart.
Excellent support comes from Harry Morgan and Jack Webb (who would later team up in the popular US TV series Dragnet), while Lizabeth Scott and Viveca Lindfors play potential love interests and Dean Jagger is the cop tracking down the possibly psychopathic sibling.
Special features include a newly filmed appreciation by critic Philip Kemp.
High Definition (1080p) Blu-ray presentation
Original uncompressed mono audio
Optional English subtitles for the deaf and hard of hearing
Audio commentary by writer, historian and film programmer Alan K. Rode
Newly filmed appreciation by critic Philip Kemp
Theatrical trailer
Image gallery
Reversible sleeve featuring original and newly commissioned artwork by Tonci Zonjic
'Dark City' is released on Blu-ray by Arrow, £24.99