Bad Candy (2020) – Film Review
Directors: Scott B. Hansen, Desiree Connell
Cast: Zach Galligan, Corey Taylor, Derek Russo
Certificate: 18
By Sarah Morgan
Johnny Depp would hate the horror movie Bad Candy. In fact, he would be utterly terrified by it.
That's because he suffers from coulrophobia – better known as a fear of clowns – and they feature quite a few times in this horror anthology, which is heading our way just in time for Halloween.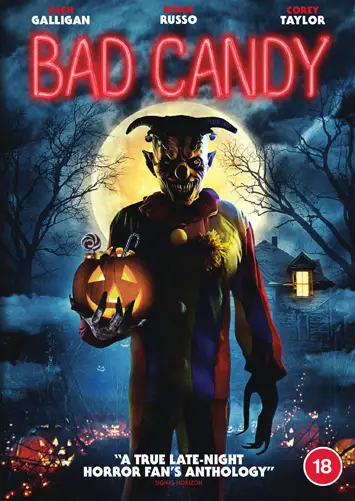 There's also a revenge killing, bad folks getting what they deserve, a girl whose drawings seem to come to true and a shocking dose of necrophilia among the 'treats' (or should that be tricks?) we get to see.
"Spooky stories"
Actually, the necrophilia tale is probably the strongest of the lot. It involves a mortuary attendant who, after being dumped by her boyfriend, gets a little frisky with the corpse of a once-handsome man. Of course, she regrets her actions due to a turn of events which, although somewhat telegraphed, is well-shot and gruesome enough to keep horror fans interested.
There's also a brief tale involving a toilet so hideous, it makes the one depicted in Trainspotting look luxurious by comparison.
Each tale is told by the film's two stars – Zach Galligan, still instantly recognisable as Billy from Gremlins, and Slipknot frontman Corey Taylor, without the mask. They play Psychotronic FM DJs Paul and Chilly Billy, who are spending Halloween recalling various spooky stories for their listeners.
They're rather underused, just sitting around chewing the fat in their studio. Galligan barely speaks at all, uttering a few words here and there while smoking a cigarette. I was convinced it was all building up to something incredible in which his character would eventually let rip – be prepared to be disappointed if you get the same feeling while watching the film.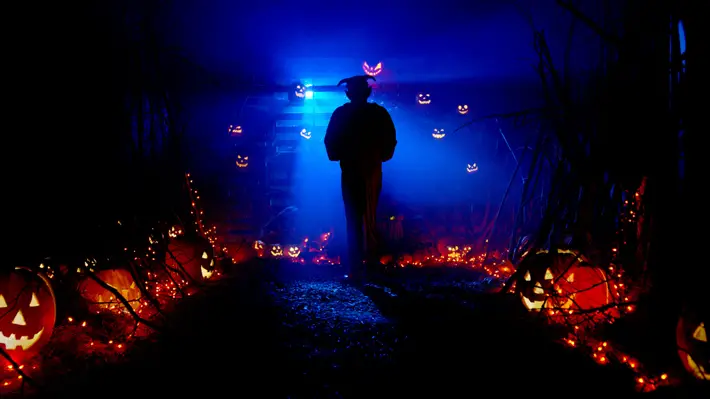 "Atmospheric"
Having said that, the director-writing team of Scott B Hansen and Desiree Connell (they've been working together since 2014) manage to make the most of a meagre budget; it certainly looks like a far more expensive project than it really was.
And even if it isn't as scary as it should be – and will never be described in the same breath as such wonderful horror anthologies as Dead of Night, Tales from the Crypt or Dr Terror's House of Horrors – they've made an atmospheric offering that should go down well with bloodthirsty teens come October 31st.
Just remember to steer clear of those clowns…
Bad Candy is on DVD and Digital 4 October from Kaleidoscope Entertainment