Ant-Man (2015) – Film Review
Director: Peyton Reed
Cast: Paul Rudd, Michael Douglas, Corey Stoll
Certificate: 12A

by Anel Blazevic
Peyton Reed, best known for lightweight comedy vehicles and even lighter-weight rom-coms, might not have been the obvious choice to direct this latest Marvel screen conversion. But then the choice of bit-part everyman Paul Rudd in the title role was hardly a bolt-on dead cert either.
What's even more surprising is that both deliver. Reed with a primary colour, tongue-in-cheek take on what he obviously realises is a marginal Marvel superhero. Rudd with a subtle turn in a potentially daft role where he manages to balance his penchant for humour with the requisite amount of full-blooded superhero commitment.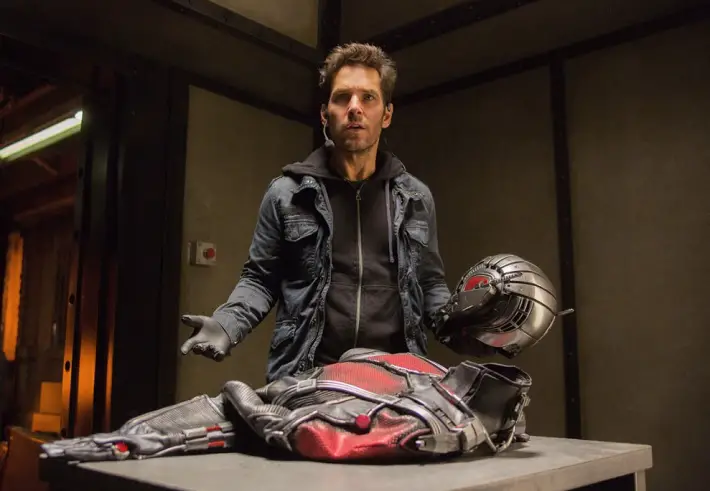 "Some terrific standout moments"
It's a fairly standard action plot. Rudd plays a down-on-his-luck ex-convict-with-a-heart, determined to reform and do his best for his young daughter. Then, via a tight bit of plotting, his reformed character job hunting leads him towards Michael Douglas, who plays the inventor of the famous ant suit. The rest is superhero history.
What ensues is a welcome departure from the mostly po-faced, half-arsed or just plain awful glut of recent superhero movies. Deliberately slight and underplayed but underscored by a great cast and some terrific standout moments, Ant-Man proves once and for all that size really isn't that important.
For Peyton Reed and Paul Rudd, this may just be their first class ticket to the Hollywood Big League.
8/10