Ted 2 (2015) – Film Review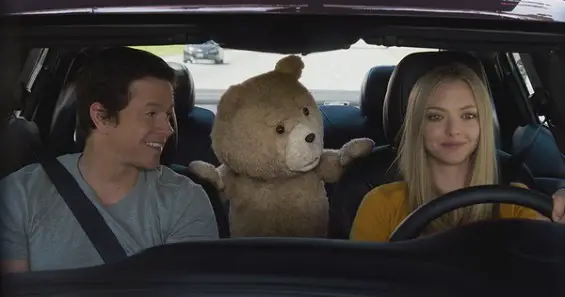 Director: Seth MacFarlane
Cast: Mark Wahlberg, Seth MacFarlane, Amanda Seyfried
Certificate: 15

by Anel Blazevic
Given the brilliance of the first, mega-grossing Ted movie, Seth MacFarlane had one hell of a challenge on his hands to match it without the film coming across like a tagged-on cash-in. Thankfully, MacFarlane's way too smart to resort to comedic filler – and probably because the bad language/bad etiquette surprises of the original are no longer viable, in this sequel the comedy writing definitely steps up a notch.
So here, Ted 2 gets married to the love of his life. They go through a rough patch and they decide they need to have a family in order to save their marriage. It's as straightforward as narrative arcs can be – but it allows Macfarlane the scope to really let his foul-mouthed furry creation loose.
"No horses are spared"
Pound for pound there are more laughs here than in any movie you'll see in 2015. Mark Wahlberg ups the physical comedy quotient and Amanda Seyfried is a sassy delight (heck, she even gets to deliver a song that – seriously – might even bother the Oscar committee), but Ted is, naturally, the one and only star. Computer generated to a whole new level of adorable, believable perfection, I swear you might even switch off and forget that you are, in fact, watching a talking, stuffed teddy bear.
Nothing is off limits. No horses are spared. Sacred cows are dismantled. This is MacFarlane at his devilish best.
A movie that will keep you laughing throughout. Simple.
8/10