An Interview with Steven Houghton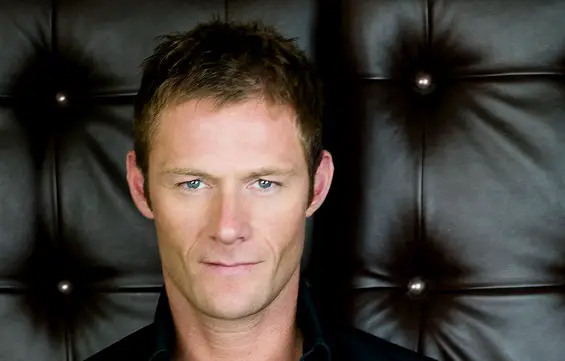 A well-known face on British television, Steven Houghton has appeared in Coronation Street, London's Burning and Bugs, as well as a host of other UK dramas. We spoke to him about his career and working with Simon Cowell on a short-lived pop career…
How did you get involved with The Sound of Music?
I got a call quite late on the night before I went to meet Bill Kenwright, and went in to see him and read some lines and muddled through a bit of a song and then got offered the part, so here I am! It was all very quick.
Are you a fan of the musical/film?
Everyone knows The Sound of Music, don't they? Everybody knows what it is and the wonderful songs that are in it. I think it's part of everyone's life.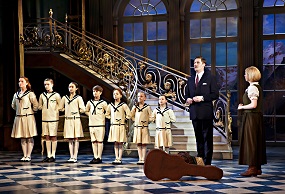 This is a very big and iconic role to take on – are you nervous?
Not really. With an acting career, things throw you all the time. One week it can be EastEnders, the next week it could be a film, the next week it could be Cats. So when something is thrown up at you and then you look at it, read the script, it's such a brilliant part, that I'd be a fool not to do it really.
"Powerful"
Are you basing your Captain on Christopher Plummer or making him your own?
I think Bill wants me to grow a moustache (laughs) so we'll see how that one pans out! You've got to play a part your way and be comfortable in your skin doing it. You can't pretend to be somebody else because if you try and copy a character, you're on a loser so you've got to make it your own.
What is your favourite song or scene from the musical?
I've really enjoyed listening to Danielle (Hope) sing the songs. Most of them everybody knows and most of them are so lovely. You've got 'Raindrops on Roses', and 'Edelweiss' that I sing, a lovely song. They're all such powerful melodies that when you hear them, you instantly remember them and it all comes back to you.
Do you know any of your cast mates? How are you all getting on?
No, I knew absolutely nobody. That's the funny thing, when you get the cast list through, it's quite nice when you don't know anybody. No baggage, no stories to tell (laughs). It's nice as well to get to know new people. I knew who Danielle was, I watched her on 'Over the Rainbow'. I didn't see her in The Wizard of Oz though, sadly, I've got two kids of 15 and 19 and I'm too busy running them around the place; school runs, ballet and everything else.
"Special musical"
Will they be coming to see you in this?
My daughter will, my other half will. My son's always iffy on that one, depends what else he's got on. In fact, the only thing he's ever liked me in was Blood Brothers, another one of Bill's shows. He came to see me in that about seven times. But everything else I've done he turns his nose up (laughs). Blood Brothers is a boys' show, and for him, he loves his football, he's a real boy. But he actually had the cast album which he played in his room and sang along to the words. And usually when he sees me in a musical, such as Seven Brides for Seven Brothers, he'll say, "that's rubbish", so Blood Brothers is a very special musical.
Most people will know you from London's Burning and Coronation Street, but theatre is actually where you started – which do you prefer?
I just think it is a really hard career but a really wonderful career. From when I started I still think I can't believe everything I have done. All the different jobs I've had, be it in theatre or TV or even a recording contract. When I was younger, all I wanted to be in was The Brian Rogers Connection (dance troupe who performed on the ITV '78-88 series 3-2-1). I've just done so much more than that, more than I ever thought I would. And if I never did anything else after this job, then it wouldn't matter.
"Singing fireman"
You also flirted with pop stardom, with a Top 3 single and gold-selling album – how did that happen and why did you stop?
I was in the cast of the musical Martin Guerre and two months into it I got a casting for London's Burning, my first telly casting. I got a regular role, it was amazing. And then in episode six or seven, the character sang a song. And Simon Cowell was friends with my agent and he thought it would be a really good idea to release the song. It then sold 600,000 copies. So then I did an album with him and a second single. Then I left London's Burning and I did a different TV series called Bugs on BBC1. That's when the singing fireman thing ended.
What was Simon Cowell like to work with?
He was amazing. We did Top of the Pops and in those days, as the head of RCA, he would come with me for meetings all day. And I'll never forget, the reception of a hotel or studios where the interviews were being held, which would go on for about three hours. But then we'd leave and he would always remember the lady on reception. What a skill to have. He was very switched on and very polite. Very amiable to everybody and made everybody feel important, which I think is amazing.
You've toured the UK before with Grease, Miss Saigon and Annie Get Your Gun. What are you looking forward to about this tour?
I'm just going to have fun and embrace it. I can go to the gym during the day and hang out, I'm just going to have a good time.