Jed Mercurio in Conversation at Theakston Old Peculier Crime Writing Festival, 2019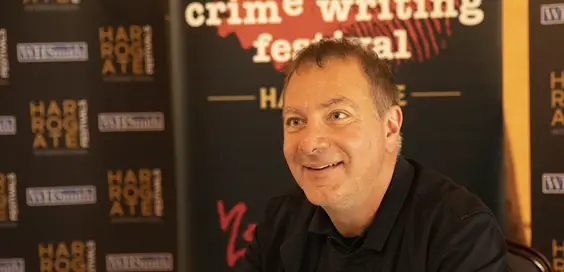 By Sarah Morgan
If variety is the spice of life, Jed Mercurio's existence must be pretty hot and tasty.
"My career's been pretty accidental," he says while attending the Theakstons Old Peculier Crime Writing Festival in Harrogate. "I had no idea I'd work in telly.
"I went to an ordinary comprehensive school and was interested in science, then aviation, so I joined the RAF. When the Cold War ended, so did my flying career, so I joined the NHS as a doctor.
"From there I was an advisor on a TV medical drama, then did storylining, then wrote a script that became Cardiac Arrest."
And the rest, as they say, is history.
These days, Mercurio is best known for creating Line of Duty and The Bodyguard, two of the BBC's biggest hits of recent years, and claims there's a common theme running through all his work.
"I'm interested in institutions. I was at school, medical school, then the RAF, hospitals and now the BBC. I'm interested in workplace relationships as well; put the two together and you have my work."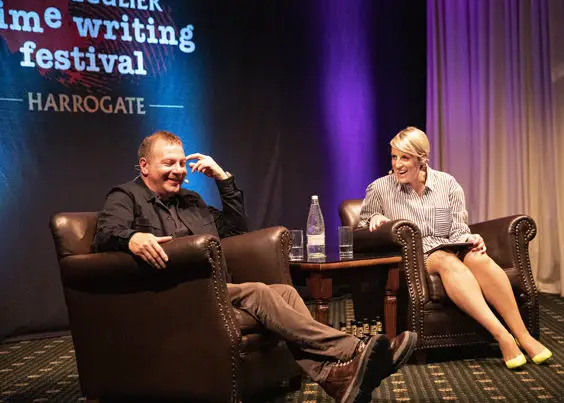 "All the characters are expendable"
After Cardiac Arrest, he made the ITV sitcom The Grimleys, which was inspired by his youth in the Black Country, then returned to medical drama with Bodies before coming up with the premise for Line of Duty. It's become infamous for killing off key characters, something Mercurio believes is one of the keys of its success.
"We have lots of significant guest roles, so the regular cast doesn't need to carry the story. The jeopardy is then real, whereas in many series it seems fake – in Doctor Who, you always know the Doctor will save the day.
"With Line of Duty, all the characters are expendable. It's what's important for the story that matters; the show comes first."
Thankfully that hasn't created tension between Mercurio and cast members Vicky McClure, Martin Compston and Adrian Dunbar. They have their own WhatsApp group and get together to discuss matters over a curry, during which the actors pitch ideas for their characters – that may or may not make it into the final script.
At the moment he's working on season six but, perhaps surprisingly, isn't feeling stressed about trying to outdo its predecessors: "I don't feel pressure from success. Failure is pressure," he says. "I really enjoy my work and I'm privileged that I'm given a lot of freedom."
As a vast number of the public are waiting for the next series to begin, it's time to let Mercurio go and get on with it. But is there one last question we all need the answer to: does he know who or what H is?
"Oh yes," he grins, but he's not telling – yet.
images: Harrogate International Festivals