Caging Skies by Christine Leunens – Review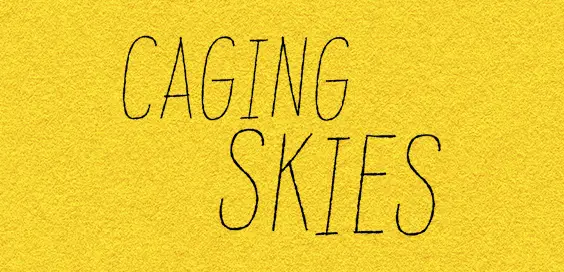 By Eve Luddington
The first words of Caging Skies, in the preface, intrigued me: 'The great danger of lying is not that lies are untruths, and thus unreal, but that they become real in other people's minds.'
Immediately, I thought of 'fake news' and its all-too-real consequences. The rest of the preface is dense and, for me, a bit off-putting. Needless to say, I persevered – and was glad I did.
First published more than 10 years ago, Caging Skies is a gripping and unusual psychological novel (the film version, JoJo Rabbit, is due to be released in the UK in 2020). It's set in the late 1930s and early '40s but, all the way through, thoughts of today weren't far from my mind: this is a novel about extremism.
The narrator, Johannes, is recalling his childhood and early adulthood in Vienna before, during and shortly after World War II. Born in 1927, he's 're-educated' by Nazi propagandists when Hitler annexes Austria. He delights in joining the juvenile wing of the Hitler Youth and is thrilled to take part in burning books deemed by the regime 'to promote decadence or perversity'. As the child becomes a youth, he grows away from his family values: his father's overt antipathy to Hitler does nothing to sway his belief that the Aryan dream is sacrosanct.
Early in the war, Johannes' new life as a Nazi soldier is cut short when he's badly injured and facially disfigured. Confined to his house, he discovers a young Jewish woman, Elsa, hidden behind a false wall in the guest room. That's how he knows his parents are harbouring an enemy of the state. Johannes is guiltily fascinated by this 'Jew in a cage'. Instead of reporting his find to anyone, he visits Elsa secretly and is increasingly attracted to her.
"Black humour"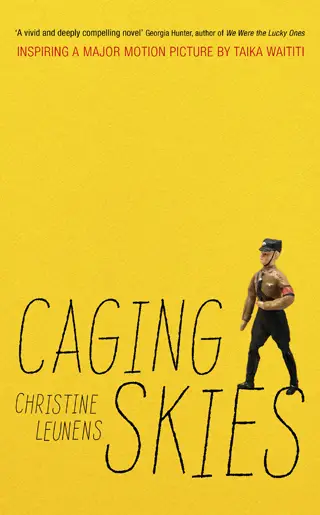 Johannes' parents disappear, leaving the young woman's fate entirely in his hands. His growing infatuation with Elsa and the power dynamics between them, as described by Johannes, form the bulk of Caging Skies. He becomes blind to the outside world and the earth-shattering events around him unless they impact on this all-encompassing relationship.
The novel explores truth and lies, both personal and political, as well as a dark and obsessive love. It's powerful, haunting stuff.
Johannes' views are warped, his mind-games disturbing and his self-justification astounding at times. Yet I developed some sympathy for him towards the end of the novel – I won't spoil things by revealing why.
Christine Leunens' writing takes us through the plot fluently with momentary sparks of black humour, and always in the very subjective voice of Johannes. It's remarkable that a female author born in 1964 manages so successfully to immerse readers in the mind-set of a young male Nazi while ensuring we reflect on him and judge him too.
Caging Skies is a huge achievement. The thoughts it has provoked in me will churn around my mind for a long time. But there are potential difficulties with any first-person narrative and particularly one in which the narrator is so disturbed and emotionally removed from the world.
"Power and impact"
Johannes' self-absorption means that he loses track of time and, although he mentions World War II events as they apply to him, it's hard for readers to anchor the story to a timeline and context. And, because we know the other characters only through Johannes' eyes, it's an effort to imagine them three-dimensionally with their own thoughts and fears. The lack of cohesive thought in the last few chapters conveys Johannes' state of mind very well but when I lost the thread my interest waned.
These gaps in the narrative may be frustrating but don't detract significantly from the power and overall impact of Caging Skies. Whether or not you're interested in an unusual take on World War II or, more broadly, in the potential consequences of extremist propaganda, this book is a very good read.
The movie version, JoJo Rabbit, has already been made. With a large and starry cast (including Scarlett Johansson), and its visual context, it will tell Leunens' story in a different way. It will fill some of the gaps in the novel and create others.
But read the book before you see the film to appreciate Leunens' story and the integrity of her writing.
'Caging Skies' is published by John Murray, £19.99