A Profile of Yorkshire Abolitionist Richard Oastler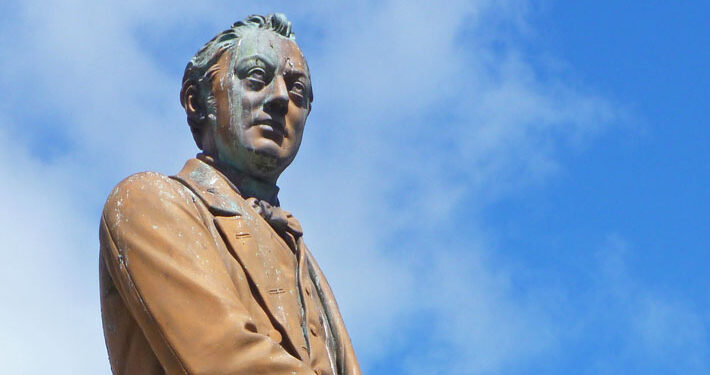 by Gavin Wakefield
In the early stages of the Industrial Revolution in Yorkshire factories sprang up all over the West Riding, drawing in workers from the countryside in search of a better living. It is sobering to realize that conditions on the land for so many people were even worse than those in the factories. For as the factory system developed the appalling working and living conditions of its workers led many people to look for reform and improvements. Among them was Richard Oastler, no longer a well-known name, but prominent in his time and compared by some with William Wilberforce for his importance in challenging negative attitudes and exploitative practices.
Richard Oastler was born in 1789 in St Peter's Square, Leeds, the eighth and last child of Robert and Sarah Oastler. His father had embraced Methodism at the age of sixteen and left his family to go to Thirsk. He happened to meet John Wesley in 1766, and a friendship developed. Over time Robert became a leader in the Methodist community, and Wesley is said to have blessed Richard as a baby during his last visit in 1790.
From the age of nine Oastler attended a Moravian boarding school at Fulneck, near Leeds, where he deepened his Christian faith. When he left at the age of seventeen, he intended to become a barrister, but his father did not approve and for a time he worked with an architect. However, his eyesight was not good enough, and he became a middleman between wholesalers in Leeds and small shopkeepers across the West Riding. Soon he was "respected for his sterling integrity and honour and considered as one whose superior talents for business would shortly raise him to affluence and distinction", according to a later biographer. In 1816 Oastler married Mary Tatham, from another Wesleyan family. They had two children, Sarah and Robert. Sadly both died when infants in 1819.
"Powerful impact"
Further troubles followed in 1820: his business failed and in February he was declared bankrupt. Then his father died in July 1820. As a result, he was able to succeed his father as steward to Thomas Thornhill, the absentee squire of Fixby, just north of Huddersfield. This was a complete change of life from an urban, commercial and Methodist perspective to a rural, landed and Anglican one. He took up traditional rural customs and turned against trade and industry, perhaps in a reaction to the multiple bereavements he and Mary had suffered. Nonetheless, despite nostalgic leanings he was still no social conservative.
At some point Oastler became well known as an abolitionist, supporting Wilberforce's campaign against slavery. However, he knew nothing, he later claimed, of the cruelties in English textile mills when he rode over to Bradford in September 1830 to visit his friend John Wood. According to the story of "Oastler's awakening", Wood told Oastler about the appalling conditions in the Bradford mills. Oastler immediately wrote the letter to the Leeds Mercury on "Yorkshire slavery" that started the factory movement. Although the story is oversimplified his letter did have a powerful impact
In it he claimed:
"thousands of our fellow creatures and fellow subjects, both male and female, the miserable inhabitants of a Yorkshire town . . . are this very moment existing in a state of slavery more horrid than are the victims of that hellish system—"colonial slavery"… thousands of little children, both male and female, but principally female, from seven to fourteen years of age, are daily compelled to labour from six in the morning to seven in the evening… with only thirty-minutes allowed for eating and recreation."
"A rebel and a radical"
Connecting factory reform with the campaign against slavery energised people across the country. In February 1831, John Cam Hobhouse, the radical MP for Westminster, proposed a Bill providing for an eleven-and-a-half-hour day for all textile workers under the age of eighteen. Fighting opposition from mill owners, Hobhouse agreed to limit its provisions to cotton mills. In response Oastler wrote an angry manifesto "to the Working Classes of the West Riding", urging workers to take up the issue. Many short-time committees were formed across Yorkshire, on the pattern of Wesleyan "class meetings", seeking a universal ten-hour day. In the Fixby Hall Compact of June 1831, Oastler and the workers of Huddersfield agreed to work together for the ten-hour day, regardless of party or sect. Though in many ways a paternalistic Tory, Oastler was also a rebel and a radical and in this cause he had found his true calling.
He testified before a parliamentary committee of enquiry and organised marches and meetings where he spoke plainly and rapidly. He was a tall and broad-shouldered man with an uncomplicated view of the world, formed by his upbringing in Methodism. His ability to speak to the crowds led to his nickname of the "Factory King".
After the general election of 1832 (following the passage of the Great Reform Act) Anthony Ashley Cooper, later 7th Earl of Shaftesbury, took up the cause of the ten-hour working day. The battle between reformers and factory owners led to a series of unsatisfactory reforms and confusion in the factory movement. Oastler himself was unhappy with strikes and trade unions and even universal suffrage. However, he was strongly against the new workhouse test in the new Poor Law, believing that caring for the poor was a religious obligation, and he resisted as unchristian the 1834 Poor Law, which set up tough workhouses for the poorest in society.
Proposed changes in government policy to factory reform led Oastler to suggest he would teach children how to sabotage factory machines if the law was not applied. Up to this point his employer, Thomas Thornhill, had accepted his various campaigns but Oastler's advocacy of violence and against the new Poor Law turned Thornhill against him. He was dismissed in 1838, and Thornhill started legal proceedings against him for debt. Oastler could not pay and spent three-and-a-half years in the Fleet Prison in London.
"Further reforms"
While in prison Oastler wrote a weekly newspaper, the Fleet Papers, attacking the Whig government and the Poor Law, and including accounts of his own troubles. This did little to help his cause, and it was only through the efforts of friends and admirers that he was freed in February 1844. His wife died in 1845 and he retired to Guildford with the support of friends. He lived quietly and died in Harrogate in 1861. At his own request he was buried at St Stephen's Church, Kirkstall, near Leeds.
The 1847 Ten Hour Act was extended after his death to children working in all factories, not just the cotton mills. His campaigning had finally borne fruit, and the movement he had done much to energise went on to secure further reforms of the factory system. His fame was such that money was raised nationally for a memorial, and his statue was unveiled by Lord Shaftesbury in front of a crowd of over 100,000 people. It is now in Northgate Square, next to the Oastler Shopping Centre in Bradford.
Taken from 'Saints & Holy Places of Yorkshire: A Pilgrims' Guide to God's Own County' by Gavin Wakefield. Published by Sacristy Press. Available in paperback (£9.99) from www.sacristy.co.uk/bk/593 and on all major e-book platforms. (Copyright © 2020, all rights reserved. Used with permission.)
Top image: A statue of Richard Oastler in Oastler Square, Bradford. By Tim Green from Bradford – Richard Oastler, CC BY 2.0, Wikimedia Commons