Drayton Manor Resort, Staffordshire – Review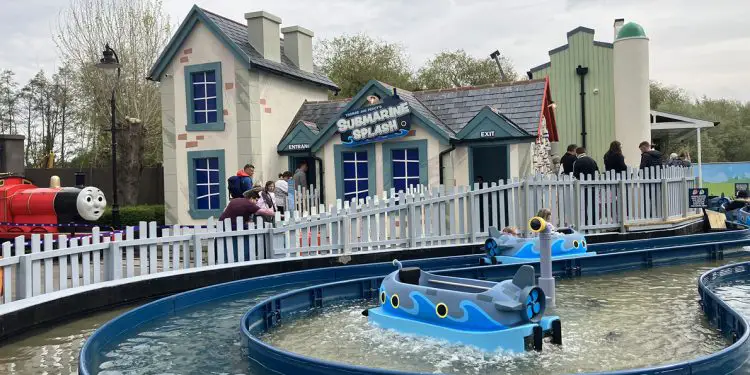 By Dominic Picksley
Most children throughout the land, at some point in their lives, will no doubt have been captivated by the tales of Thomas The Tank Engine and his pals and their adventures on the Island of Sodor.
For many years now, the books by Reverend Wilbert Awdry – and latterly, his son Christopher – along with numerous TV shows and films have delighted millions of people around the world and will continue to do so for time immemorial.
And so where do the young fans head to for an immersive dive into all things Thomas? Drayton Manor Resort, of course, home to the only Thomas Land in Europe, which has just celebrated its 15th anniversary in the park, having welcomed more than 10 million visitors since its opening in 2008.
Not only that, but a brand new ride has just been opened, with Thomas & Percy's Submarine Splash already proving a huge hit with visitors to the Staffordshire theme park.
"We are pleased to be able to expand upon the attractions at Thomas Land," said Julie Freeland, senior director at Mattel. "The arrival of Thomas & Percy's Submarine Splash is an exciting milestone for Thomas Land.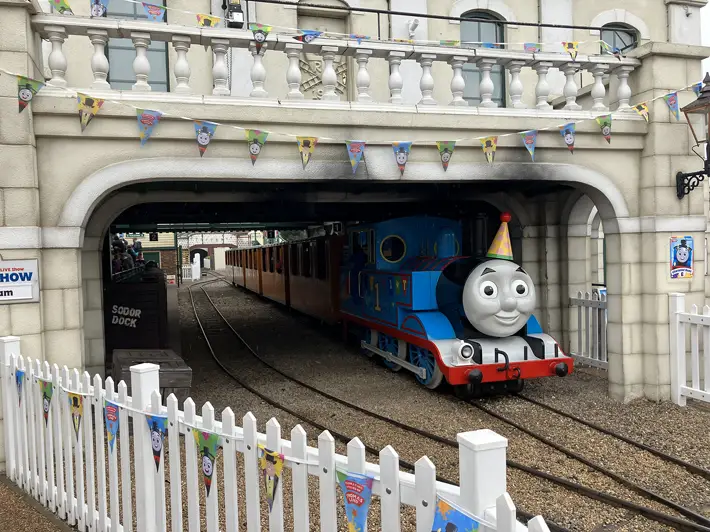 "Thrilling"
"It will provide the opportunity for families to experience a thrilling flume together on an exciting journey through the Island of Sodor."
Described as a 'baby flume, featuring two mini drops', the great little attraction gives youngsters a first glimpse of the splendours of flume rides, without getting too wet – that will come later on Stormforce 10 when they're big enough, in the main park. And believe me, you WILL get wet on that. Very wet.
Visitors will climb aboard at Brendam Docks to help Thomas and Percy deliver the submarine to Vicarstown Museum, with help from Thomas' good friend, Harold the Helicopter.
We were at Drayton Manor a day after it's grand opening, and Submarine Splash was the only ride in the whole place that always had a huge queue, which said everything you needed to know about its popularity and it will surely prove a thrilling addition to an already excellent themed area, with 25 'tot-friendly' rides.
It's a nice gentle attraction, like taking a leisurely ride around a sedate, winding river, with a great view of the other Thomas Land attractions. Heck, you can even plan your next adventure while wending your way round the watery route.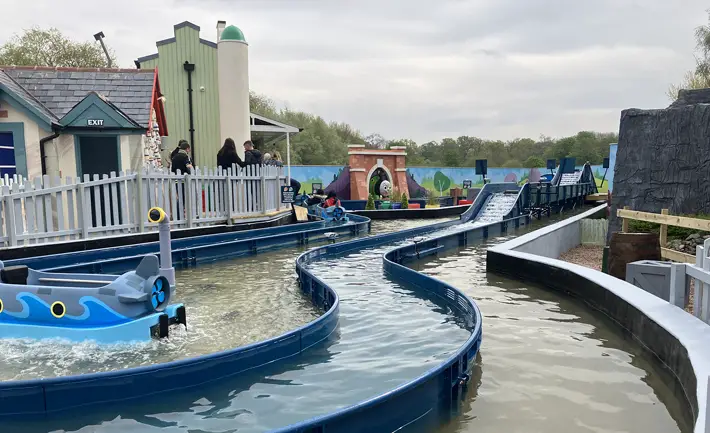 "New rides"
From Cranky's Drop Tower to the Troublesome Trucks Runaway Coaster, from Jeremy Jet's Flying Academy to Toby Tram's Express, along with Thomas the Tank Engine himself, there's so much to see and do, and it's a fabulous place to spend a day. If anything, Thomas Land was busier than the main park itself.
We took our son there in 2011 and back then it was a special place for him and upon his return he took a few minutes reminiscing about his previous experience, trying to remember what rides he went on. It has expanded a bit in the 12 years since and it is great to see Drayton Manor striving to continually improve the park and bring in new rides and themes.
Only last year, they opened Vikings, home to four new rides and attractions – Loki (the UK's first Zamperla Nebulaz), Thor, the thrilling Disk'O Coaster, and a Viking training school – Sleipinir – while the old Buffalo Coaster has been turned into Jomungandr.
My children went on them all and I must admit that Thor was a great experience.
"Zero-gravity"
Adventure Cove features the River Rapids, Wave Swinger, Tidal Towers, the aforementioned Stormforce 10 and Shockwave, which is the only stand-up rollercoaster with a zero-gravity roll. I was 'persuaded' by my son to join him on it late in the day and it was more terrifying than exhilarating!
I drew the line at Maelstrom, a huge, spinning gyro swing, that my daughter went on multiple times, although she did drag me on Air Race, an innocuous looking flat ride, that involves sitting in a little aeroplane, spinning round and round and which constantly goes upside down. I only went on once.
Add to this Accelerator, the Bounty Pirate Ship and Drunken Barrels, and it really does make Drayton Manor a great day out for all the family, with the young ones definitely going to be mesmerised by Thomas Land.
Drayton Manor Resort, Drayton Manor Drive, Near Tamworth, Staffordshire, B78 3TW
draytonmanor.co.uk