The Best Wellness Breaks to De-stress in the UK
Wellness and de-stress include many things; from meditation sessions to calm weekend breaks in the country. Let's admit it: nowadays busy lifestyle interrupts our mental health. And, at the end of the day, we all need just a few minutes to take our wellness break and de-stress from everything we've been through.
We know that it is tough to find a balance between the social commitments and pressures of work in our everyday life. But, shouldn't our mental health be our top priority? Sometimes it is time to switch off from our busy life and escape it all. So, we found the perfect solution. The solution is right in front of us. We don't need to travel across the world to achieve our inner peace. Find your zen and start appreciating the amazing coastal walks, wild swimming, wellness workshops, forest bathing, and the calm nature that UK retreats offer.
Let's dive right into the best wellness retreats for you. We are as eager to go through all UK wellness properties as you are.
What is a Wellness Break?
Wellness holidays finally got tourist attention around the world. Everyone starts seeking their wellness retreat to skip the usual busy daily life. A wellness retreat means finding your perfect peaceful setting instead of busy tourist areas. These breaks might help you de-stress, and improve your overall physical and mental wellbeing.
Different individuals have different ways of becoming a better version of themselves. So, it is up to you to decide whether you are gonna choose some wellness workshops, fitness classes, yoga retreats, cooking workshops, pilates classes, beauty treatments, or other wellness packages. Or it could be something else; I know people who improve their health and de-stress themselves with a cup of afternoon tea and their daily yoga break.
Our Suggestions for Wellness Breaks
Trek it Out
Although the first thing that pop-ups in our heads about wellness are meditation and yoga, however, some people prefer more adventurous options like trekking holidays. Not only this is good for your physical health, but it will also boost your mental balance.
What's best about a trekking holiday is that you will reconnect with nature, and broaden your circle of like-minded people around you. While enjoying the surrounding nature, you will most likely step back, see the big picture, and make your digital detox. Isn't this a great chance to turn off our phones and take our wellness retreat?
Go on a Yoga Retreat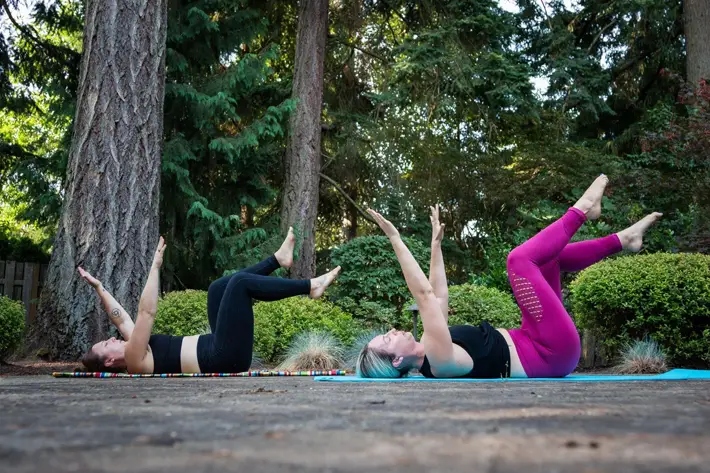 It's no wonder you put your health in the backseat due to your chaotic lifestyle. So, why not try something new? Why not participate in some yoga and meditation sessions? During this journey, you will have the opportunity to connect your mind with your body.
There are plenty of properties that offer meditation retreats, wellness workshops, yoga retreat, or sound healing. It's up to you to find the perfect spot and book your favourite retreat. Even if you can't find a suitable property that offers yoga retreats, book some of the suggested properties and make your own yoga session in the surrounding nature.
We don't assume that you will enjoy your weekend, but besides this, there are other benefits. You'll most likely get a good night's sleep, boost your emotional health, relieve stress, or cure some chronic pain or illness.
Take Spa Treatments
It's perfectly normal to feel drained after a busy working week. So, we can safely say that everyone deserves and needs spa treatment. This is the perfect way to unwind and relax – you owe this to yourself!
Many hotels offer various wellness treatments to their customers due to the high demand. So, there is no doubt that you'll find a property with a wellness center that offers relaxing treatments.
However, to make your decision easier, we have compiled a list of the best UK wellness retreats. As we said, customers nowadays demand more wellness facilities, so some hotels are providing more and more options for wellness retreats. So, you might find everything you want in just one facility.
Let's take a look!
The Gallivant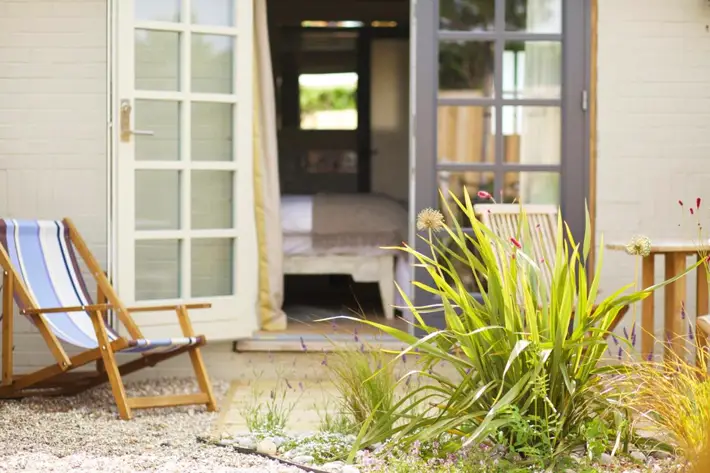 Situated in Rye, The Gallivant is the perfect base for your wellness activities.
The rooms feature hand-made beds with Egyptian cotton linen, fluffy bathrobes, free WiFi and DVD players, flat-screen TV, and luxury toiletries for a comfortable stay. Outdoors, you can enjoy the spacious sun terrace with outdoor seating.
Near this property, you can visit Camber Sands Beach or the picturesque Rye Harbour. On top of this, you can enjoy a full body massage and body scrub, or yoga sessions within the property. Other activities include horse riding, cycling, hiking, windsurfing, fishing, or golf.
Isle of Eriska Hotel Spa & Golf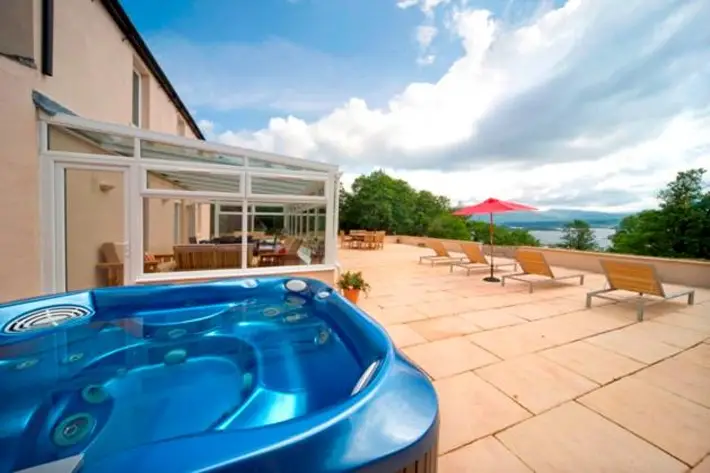 Nestled in Benderloch, Isle of Eriska Hotel Spa & Golf is the perfect escape from the busy city life.
All of the units in this property offer luxurious rooms with the finest bed linen and warm, contemporary décor. You can also head to the Piano Room and Library, and find your perfect spot around the fireplace. Yours is just to order your favourite whiskey, cocktail, or house wine in the bar and enjoy your stay.
Guests can take advantage of the indoor swimming pool, steam room, gym, and sports hall or can enjoy the outdoor hot tub while observing the beautiful view. Also, in a few hours' drive, you can visit Loch Lomond & The Trossachs National Park. To add more, plenty of outdoor activities can be enjoyed in the area, including fishing, cycling, walking, archery, and water sports.
Slaley Hall Hotel, Spa & Golf Resort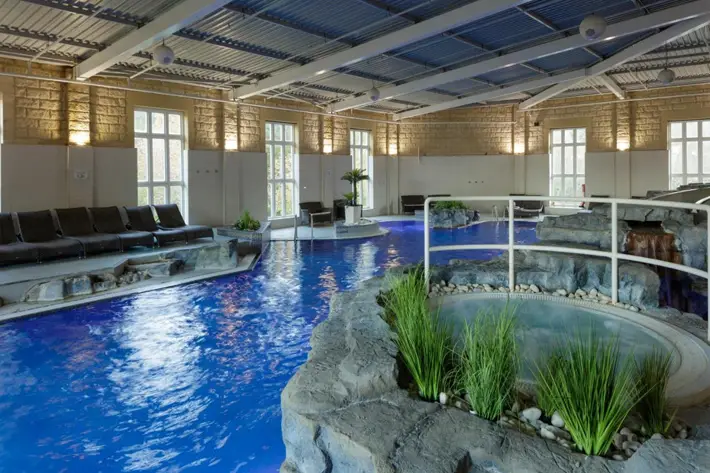 The Slaley Hall Hotel, Spa & Golf Resort is a great choice if you are looking for the perfect spot to de-stress in the UK.
This retreat includes elegantly decorated modern rooms and a seating area, and some of them even have golf course views. Additionally, this hotel offers a beauty spa with different beauty services and a fully equipped gym. Activities such as off-road driving, quad biking, archery, and clay pigeon shooting are available in this area. On top of this, you can bring your furry four-legged friend to this wellness retreat.
Minster Mill Hotel & Spa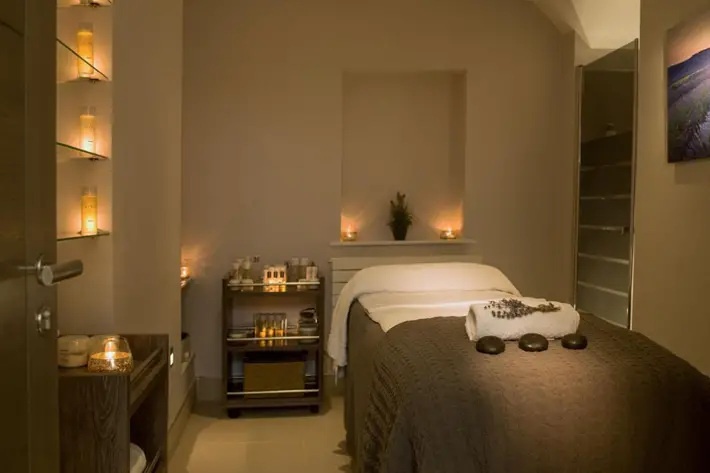 Next on our hand-picked wellness escapes retreats in the UK, we offer you Minster Mill Hotel & Spa in Minster Lovell. This retreat offers many wellness facilities that will suit everyone's needs.
The rooms are equipped with a flat-screen TV, and en-suite bathrooms, and additionally, you can enjoy the spa and wellness center. You can enjoy the three treatment rooms, as well as the indoor heated plunge pool, poolside rock sauna aroma steam room, ice fountain, and tropical rainforest showers.
There is also a stylish bar that serves different alcoholic beverages, or if you are not in the mood for it, you can prepare hot drinks in your room. The restaurant serves various types of foods including traditional British food. Also, you can enjoy fly and coarse fishing on private fishing banks, bicycles, badminton, and tennis.
The Essex Golf & Country Club Hotel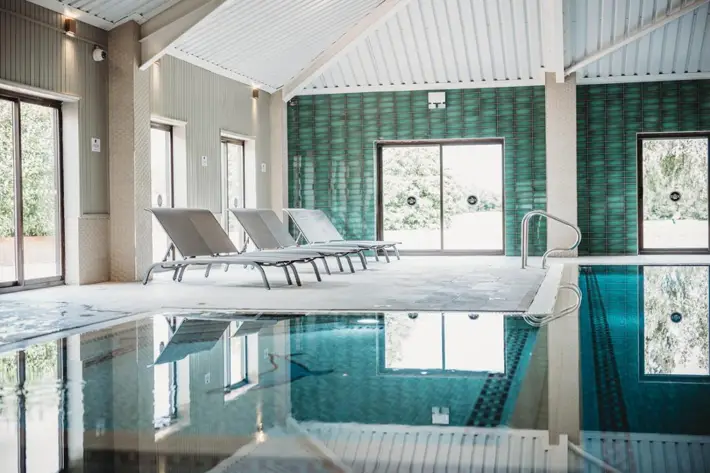 Nestled in Coggeshall, The Essex Golf & Country Club Hotel is a fantastic choice for your wellness retreat.
This property includes stylish rooms, flat-screen TVs, free WiFi, and tea and coffee-making facilities. Also, this hotel offers an 18-hole championship golf course, a 9-hole garden course, and a driving range. Believe it or not, here you can celebrate weddings and other special occasions.
You also have an access to a gym and tennis courts, as well as an indoor pool, spa, sauna, and steam room. Private fitness sessions are also available here, so you can complete your personal training with a professional.
The Spa Chalet, Scarborough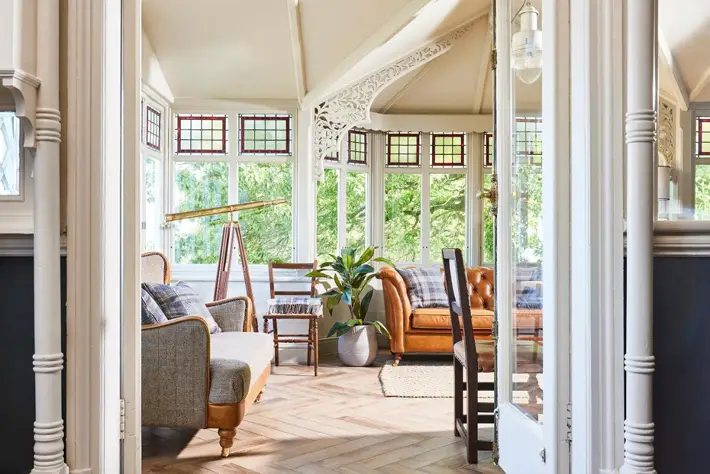 Situated in Scarborough, The Spa Chalet is a great property to de-stress and escape your busy life.
This property includes 5 bedrooms, 5 bathrooms, bed linen, towels, a flat-screen TV with cable channels, a dining area, a fully equipped kitchen, and a balcony with sea views. Many beauty services are available near this area including facial treatments, pedicures, manicures, and full body massages.
Hiking, golf, canoeing, bowling, fishing, and diving are some of the most famous activities around this area.
Trump Turnberry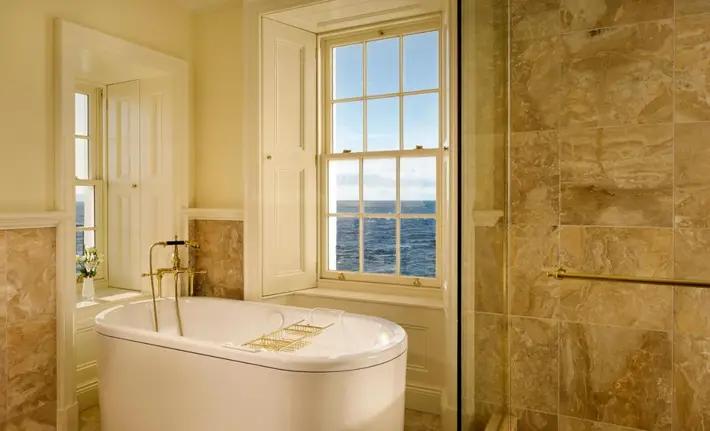 Located on the Ayrshire Coast, Trump Turnberry boasts championship golf and a spa.
The rooms in this property are elegant and spacious and overlook the famous links golf courses, towards the sea beyond. The spa and wellness spot in this property offers many services that can make your wellness experience even better.
Archery, fishing, canoeing, hiking, cycling, golf, and horse riding are some of the most famous activities around this area. Yours is just to relax and enjoy the breathtaking views during your wellness retreat.
Harbour Beach Club & Hotel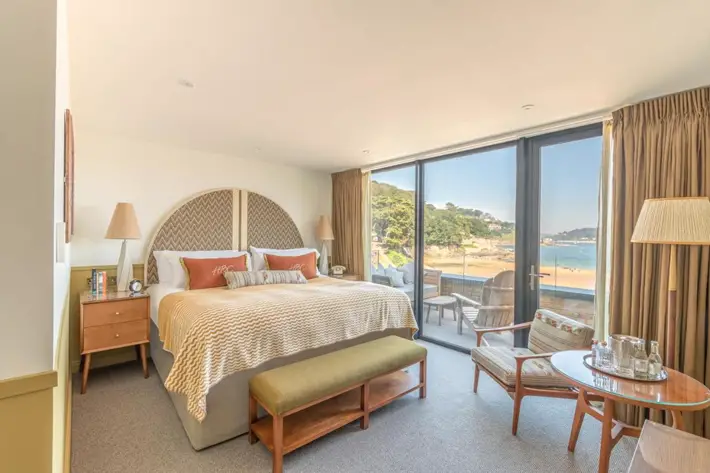 Set in Salcombe, near Salcombe North sands, this hotel boasts a swimming pool and a wellness area.
Harbour Beach Club & Hotel offers rooms that overlook the sea, bathrobes, flat-screen TV, a restaurant, free private parking, a fitness center, and a bar. You can also go to the hotel's fitness area or take spa or wellness services.
Our advice is to head to the nearest beach or take walking tours around the coast.
Fistral Beach Hotel and Spa – Adults Only
Nestled in Newquay, this property offers everything for the perfect trip in the UK where you can relax and de-stress while overlooking the panoramic views of Fistral Bay.
This hotel includes a luxury spa, a sauna, a hot tub, and a beauty salon that offers massages, facials, and body wraps. Fistral Beach Hotel offers beautifully designed rooms and suites for a perfect retreat.
FAQ
What benefits do wellness retreats bring?
You will improve your sleep, boost your mental and physical health, and the best thing is that you will escape from your busy life for a while.
What is the best activity you can do during your wellness retreat?
Depending on what the properties and surrounding area offer, you can choose various activities. Think about what relaxes you the most and you'll have your answer. Some people enjoy hiking, while some enjoy meditation classes, so it's up to you.
Do any of the previously mentioned properties include a yoga studio?
Many of these properties include yoga classes, however, our advice is to contact them and ask them if they have separate yoga studios available.
What is the best property for wellness retreats in the UK?
There is no right or wrong answer to this question. Our advice is to choose the property that suits your needs the most. However, if we have to choose we would say Fistral Beach Hotel and Spa. Since it is adult-only property, you'll most likely have a peaceful holiday.
To Sum Up
Now that we mentioned everything about wellness retreats in the UK – what are you waiting for? Pack your bags and book your favourite retreat with hot tub, spa and wellness centre! This holiday break will not only improve your mood but will also boost your health.