KitSound Reunion Powered Hi-Fi Speakers – Review
KitSound Reunion Powered Hi-Fi Speakers
Gadget Review
by Ryan Madin
Price: £99
Overview: A brilliant way to upgrade your record player's sound capabilities without breaking the bank. The perfect gift for that audiophile loved one!
What KitSound Say:
A pair of powered Hi-Fi Speakers that manage to bring all that was good about the music of the past, with all the modern technology of the present.
Features:
Taking these speakers out of the box, the first thing you notice is the styling. Inspired by the subtly beautiful leather radio cases of the 1950s, the leather-effect wrap combines with a steel mesh grill and chrome feet to make a beautiful set of speakers that you will want in your home. The minimalist styling means that the Reunion Speakers will sit nicely beside most audio set-ups and home decors.
What makes the KitSound Reunion Hi-Fi Speakers such a no hassle option is that there is no need for an additional amp. You can easily upgrade your vinyl player's audio just by connecting the 3.5mm aux and transforming your turntable from small tinny sound to one of depth and warmth. You also have the option to connect your devices to the speakers via Bluetooth or enjoy full stereo sound for your TV by using the RCA cable. This means you have a versatile addition to any home audio system.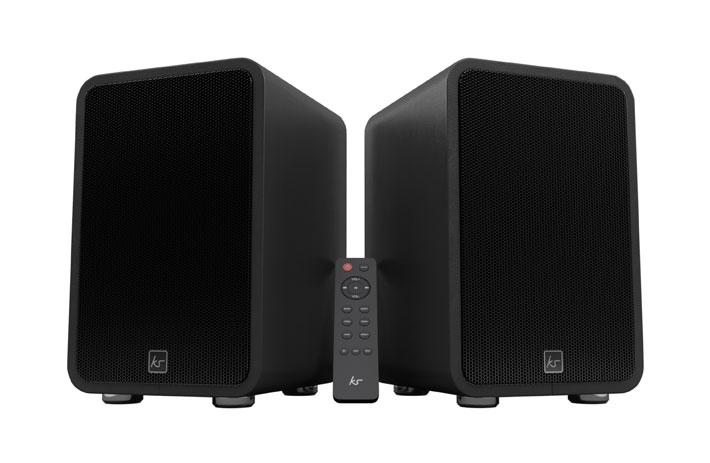 The speakers also feature independent bass and treble adjustments that individually tune the sound of the Reunion that you hear depending on what you like, the genre you're listening to, or what de-vice you're listening from. The two speakers combine their 5 inch drivers to create 40 Watts of en-veloping sound, thanks to the built-in amplifier. A serious boost to those basic record players or your smart phones audio.
Controlling the audio is made simple thanks to the leather-effect wrapped remote control, and there is even the ability to include them in your Smart Home set up. Just connect to an Echo Dot or Google Cast via the aux-in connection and watch your Reunion 'wake up' from standby once you command your connected smart device to play a song, and the music will play through your Reun-ion speakers.
My Experience: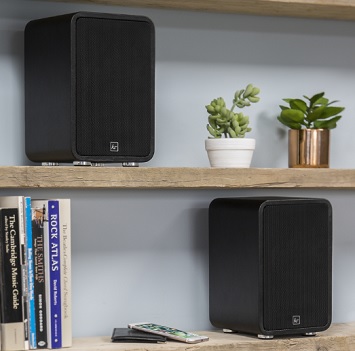 The Reunion Hi-Fi Speakers are a great edition to anyone's record player set up. The ease of set up is key here, as straight out of the box you can pretty much plug in and play. Look, they're not what a hardcore audio lover would go for in their expensive set ups, but for those just getting into vinyl or who maybe have a cheaper record player, they are perfect. They can take the sound quality of a cheaper record player and boost it massively, to really get the best out of your vinyl. The additional ability to be able to use them with Bluetooth devices just adds another level, and for the price these are the perfect accompaniment to that first record player you might be buying your loved one this Christmas.
They look great and will sit nicely with any set up from a TV unit to a record stand, and the leather effect wrap adds a high end feel to the speakers. The sound is brilliant, and it really makes a vast difference to stand alone record player. I have a fairly decent one with in built speakers, which I thought had really good sound quality, but plugging in the Reunion Hi-Fi speakers took the sound up more than a few levels. It can take a little bit of experimenting with the sound customisation, but once you find the right treble and bass it really makes the most of your music, with the ability to adjust simply if needed. I have experimented with a range of musical styles and I've found that once you get the treble right, which to be honest is best as it is out of the box, you can then adjust the bass slightly with the remote depending on the style of music you are listening to.
The Verdict:
If you have a little record player, or you know someone who has just started getting into vinyl, the Reunion Hi-Fi speakers from KitSound are a cost effective way to vastly improve the sound quality of your set up. For under £100 you can have a stylish plug and play speakers system which will work with a number of devises and connectivity options. The sound quality is excellent, they are easy to use, they look gorgeous and they are versatile. The Reunion Hi-Fi Speakers from KitSound are a great gift idea for any music lover and would be a great little boost to a small record player or audio set up.
Reunion Powered Hi-Fi Speakers from Kitsound, RRP £99.99