Tapas Revolution, Sheffield Meadowhall – Restaurant Review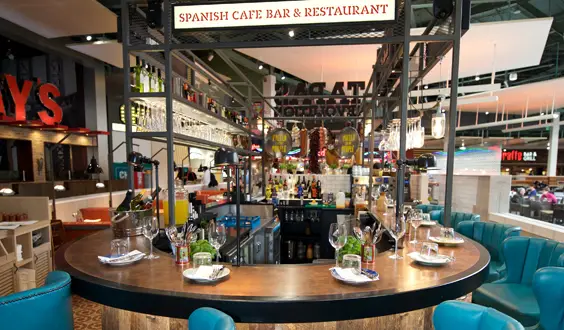 By Richard Jones
I've never really got the concept of tapas. I think it stems from the fact that us Brits tend to eat tapas as a whole meal, rather than, as in Spain, where it's a standing up, or even walkabout, activity.
As I've witnessed on Spanish trips, the initial intent of tapas was – and is – to be a soaker-up of drink, whether it be a breakfast brandy, a lunchtime beer and/or several sherries before dinner proper is served. And that tends to be very, very late.It's small food for small talk. In the UK we have pork scratchings, a packet of Walkers, or nothing at all, to fuel our journey from the pub to either dinner or a late-night kebab.
So I guess the reason I don't get it is a culture thing. But another point is that the food is high impact, rich tasting and even if it's not over-fatty, sweet or salty, tapas can be quite overwhelming. Nevertheless, I appreciate tapas are the embodiment of sharing. Eating from the same plate enhances conversations, encourages adventurous dishes and brings us all closer together.
"Bringing tapas to the people"
Spanish chef Omar Allibhoy, the brains behind restaurant chain Tapas Revolution believes that food, like life, is indeed best when sharing with friends and people you love. Allibhoy has created a buzz on the UK food scene in recent years. His hugely successful cookbook, also called Tapas Revolution, which was the fastest selling Spanish cookbook of the year.
Born in Madrid and trained by the legendary Ferran Adria of El Bulli, Omar arrived in the UK in 2008 to take over the reins at El Pirata Detapas in West London, quickly establishing it as one of London's best tapas restaurants. While there, he was featured on Channel 4's Ramsay's Best Restaurant, and his reputation as the 'Antonio Banderas of cooking' was born.
He opened his first Tapas Revolution in Shepherd's Bush in 2010 and by 2015 the revolution had spread outside of London with new branches opening in Birmingham, Newcastle, Bath and Sheffield. As well as running a successful business, Omar has won several awards and built a career as a TV chef, making appearances on Sunday Brunch, The One Show, This Morning and Masterchef.
Before starting out on his own, Allibhoy decided to put tapas on the map, and set out on his motorbike for a two-week tour of England, cooking for everyone he met along the way. The trip showed Omar that people around the UK loved his simple and easy style of Spanish cooking so he returned with a new determination to keep bringing tapas to the people. Now, thanks to Allibhoy and his chefs, Spanish food no longer has to be the preserve of summer holidays.
"Series of knockout dishes"
And on a cold winter's night in February, my wife Rachel and I, along with our two daughters Isla (nine) and Evelyn (six) are transported to a sun-drenched Andalusian evening at the Meadowhall branch of Tapas Revolution. The Sheffield shopping mecca is perhaps the last place you'd expect to find an authentic and top-class Spanish tapas bar. Most people's experiences of food and drink there involve a McDonald's Happy Meal to refuel the tiring kids, or a muffin with a coffee at Starbuck's or Costa.
However, that seems to be changing. On the top level of the food court there's now a small selection of top-notch restaurants. They are drawing in the punters for something other than retail therapy. The server, a lovely lady from Alicante named Claudia, immediately makes the four of us feel welcome. She also gives us helpful advice on what and how much to order.
The girls eat from the children's menu. The parents, over a bottle of house white, have a series of knockout dishes. All are stylishly served in handsome ceramics. Isla and Evelyn choose deep fried Iberico ham croquettes, beef meatballs in a tomato sauce and toasty bread with tomato topping. Plus, their favourite, the classic chicken and saffron rice dish, paella Valenciana.
"Try a bit of of everything"
Meanwhile, mum and dad opt for six dishes. We have crispy pork belly in sweet and spice sauce, tiger prawns in garlic and chilli oil, patatas bravas, crispy lemon infused chicken wings, potatoes with chorizo and poached egg. Plus there is a pièce de resistance, piquillos peppers stuffed with mushrooms. But the best thing about it the food was that we have a table full of ten deliciously different dishes. We are all able to try a bit of of everything.
To finish, we have churros, horseshoe-shaped Spanish doughnuts tossed in cinnamon sugar, and dipped in hot chocolate sauce. Predictably, this is the girls' favourite course.
I have previously thought of tapas as a bit of a fad. Something that has crept its way over from the Mediterranean. But we have an amazing night as a family. One that centres around eating and sharing a selection of mouthwatering tapas. However, this simplicity left me with the question: what is actually revolutionary about Allibhoy's restaurants?
To us, it just seems like classic Spanish food done amazingly well, served in the right proportions and in a relaxing, friendly setting. Maybe there is something to this whole tapas thing after all.
Tapas Revolution Sheffield, Unit 67, The Oasis, Meadowhall Centre, Sheffield, S9 1EP
Monday to Thursday: 11am – 9pm
Friday and Saturday: 11am – 10pm
Sunday: 11am – 6pm
No reservations