Discovering Sicilian Wine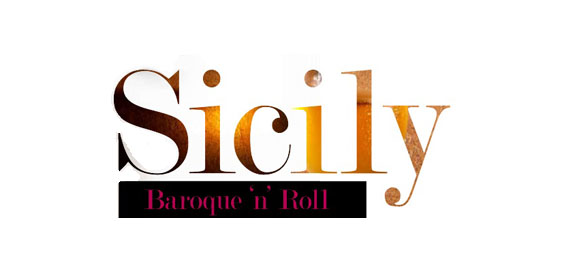 Baroque and Roll
By Paul Howard
Sicily is the largest island in the Mediterranean and it is the cradle of Italian wine. Wine growing was established when the ancient Greeks arrived and formed colonial towns, dating back to the 8th century B.C. at least.
Lying in the middle of the Mediterranean and dominating some crucial seafaring routes, this historic island has been conquered many times by great civilisations, be they Greek, Roman, Norman, Arab, Spanish, English or Italian. The dramatic and fiercely beautiful landscape is dotted with fine architecture from throughout these ages. From ancient Greek temples to Roman villas to Norman cathedrals and Baroque palaces. Every town has a piazza busy with produce, while narrow winding streets bathe in violent sunlight. Churches on every corner offer redemption and a cool refuge. Many towns perch defensively on hilltops. They act as the balconies of Sicily, giving stupendous views over the surrounding countryside. In it are lemon groves, fruit-trees, olives and vines. All this creates a unique and vibrant cultural mosaic in which food and wine occupy centre stage.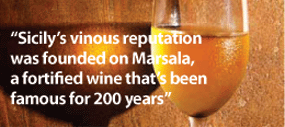 This triangular in shape island is almost all mountainous. This means that many vineyards are established at higher altitudes. In so, they enjoy cool evenings with welcome relief from the blistering summer heat. There are plenty of hillsides that combine perfect aspects to obtain maximum exposure to sunlight with a variety of poor soils that vines love. Add in a long dry growing season and cooling sea breezes and hey presto! – plant a stick here and it will grow.
"Narrow winding streets bathe in violent sunlight"
Sicily's vinous reputation was founded on Marsala, a fortified wine that's been famous for 200 years but today much traduced and often best left for cookery. With the exception of a few glorious sweet wines, everything else made contributed to a vast ocean of basic high-alcohol plonk. Much of that still goes for distillation or ends up as grape concentrate to enrich weedier wines from cooler climates. The volume of wine produced is enormous; it peaked in the 1990s at around 220 million gallons per year, at that time exceeding the entire output of Australia and preserving Sicily's number one status as the biggest Italian regional wine producer. So far, so very ordinary.
Yet Sicily has always had the natural ingredients to make very fine wine. Aided and abetted by modern technology and investment, this potential is now becoming realised. Today Sicily is Italy's "new world" where seemingly anything goes and experimentation is becoming the norm in the flight to quality.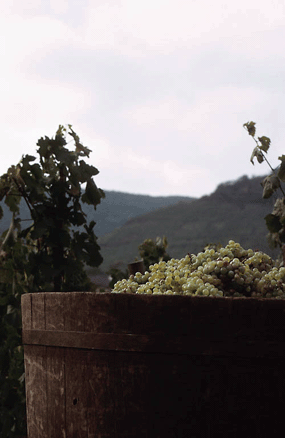 The upturn in fortunes began in the eighties, accelerated through the nineties and continues to this day. A new generation of winemakers looked to quality instead of quantity to sell their wines at better prices. In doing so they achieved startling results. Employing better vineyard sites, training systems and yield reduction techniques produces fewer but better quality grapes. Investment has poured in. Consultants and flying winemakers arrive and build modern wineries with the latest equipment and the inevitable introduction of French oak barriques. It might seem surprising that two-thirds of production remains white wine, but the introduction of modern technology means that the whites have arguably improved the most in recent years. But they have a long way to come.
"A genuine and unique sense of place"
Like many Italian regions, Sicily's blessing is an abundance of red and white native grapes capable of making exceptional wines. The Italians insist on referring to these as autochthonous and they remain Sicily's true glory. The white grapes have unfamiliar names such as inzolia, catarrato, grillo, grecanico, zibibbo and carricante. The reds include nero d'avola, nerello mascalese, frappato and perricone. All can make fine and individual wines that also offer a genuine and unique sense of place. It is simply something that other winemakers can replicate elsewhere – in other words, it is a true taste of Sicily.
While winemakers have drawn on this patrimony for inspiration, they have also been quick to introduce and capitalise on the well-known international grape varieties too. These are found as individual varieties but also blended with native grapes. Almost inevitably, chardonnay and cabernet sauvignon are common, alongside viognier, merlot, syrah and even pinot noir. Other Italian mainland grapes have also been planted, the most successful of which is probably fiano, a native of Campania.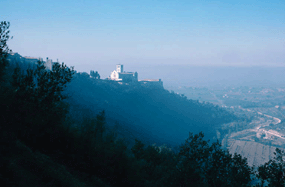 The international wines have garnered considerable acclaim and have hogged the limelight when compared with their native brethren. On the positive side, they have also done much to raise the profile of Sicilian wine. Since Sicily now has the expertise and investment as well as the land and the grapes, it has shrugged off the cheap rustic image of yore. But are Sicily's long traditions, heritage and identity at risk of sacrifice on the altar of Internationalism? Is this another example of inexorable globalisation that leads to everything tasting the same? For the moment at least, I think not. As Sicily has become better known for quality wine there is a growing readiness by wine-lovers to try some of the indigenous grapes and take them to their hearts.
"Many quality wineries offer wide ranges"
Of course there is still plenty of undiscerning plonk, but the greatest Sicilian estates are making wines that in quality terms rival their global counterparts from regions such as the Napa valley in California or the Barossa valley in Australia. Many quality wineries offer wide ranges covering most price points, so the same producer can offer expensive fine wines and far cheaper but delicious entry-level wines. There are plenty to choose from but you won't go far wrong with selections from wineries such as Planeta, Palari, Baglio Hopps, Tasca d'Almerita, Donnafugata, Benanti, Cusumano and Regaleali. More recently, smaller cult wineries have emerged, such as C.O.S., Palari and Tenuta di Trinoro. These are making boutique fine wines that are simply world-beaters.
Here then are five wines from Sicily to discover. They represent some of the best, made by quality-focused wineries; symbols of diversity offering Sicilian character people can now enjoy wherever they are. None are hugely alcoholic, all are great with food – and affordable too.
Come and explore Sicily, there's some glorious drinking to enjoy.
winealchemy.com