Lexus presents Chef's Supper Club – Rudding Park, Harrogate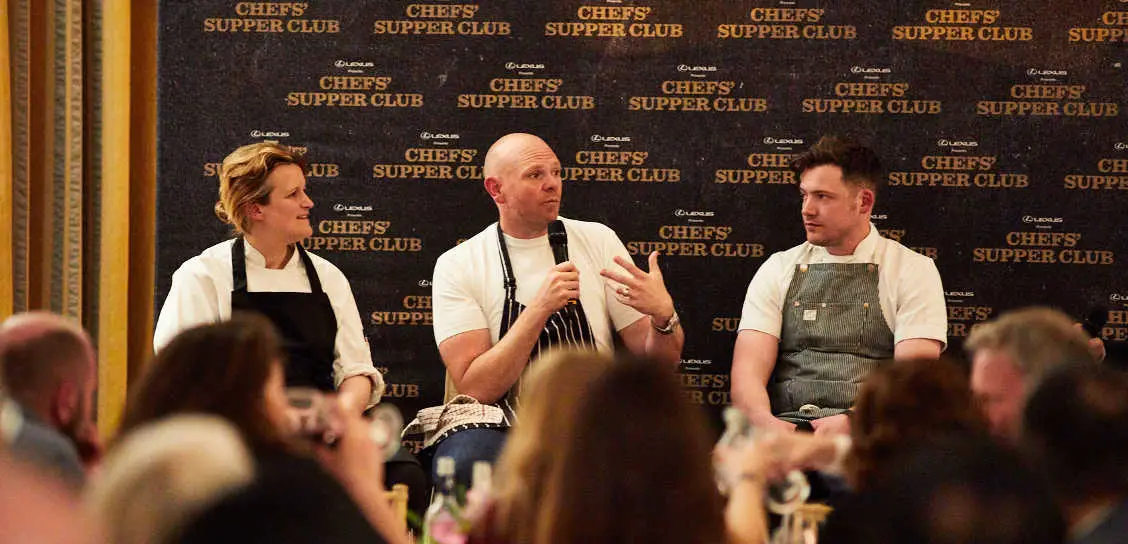 By Steve Crabtree – @stevecrab
Rudding Park is a beautiful, grand hotel, set within 300 acres of landscaped gardens and woodland in Harrogate.
And there's nowhere more appropriate to enjoy a bespoke four course meal, with wine, curated by culinary legends Tom Kerridge, Tommy Banks and Stephanie Moon, as BBC Good Food host a Chefs Supper Club, presented by Lexus.
As we stride up the drive on arrival, we're greeted by a stunning collection of Lexus cars. The LC, RX, RC and NX were looking in fine form. The four of them lit up beautifully against a drizzly and greyish early evening back drop.
We were welcomed inside, and after a small glass of Proscecco, I caught up with Tom Kerridge and spoke to him about the local area, the menu for the evening, and his appreciation of the Lexus.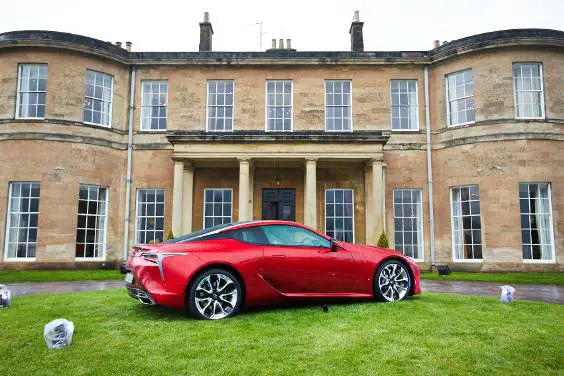 "Great food here"
"I love driving. I'm a big car fan. I probably do 30-35,000 miles a year. But I like cars because they're a great thinking space where you can switch off. We've got three RX's at my place, the Hand and Flower. It's a two Michelin star pub, and it has eleven rooms but only four of the rooms are on site. So, we transport our guests to and from the off-site rooms to the pub before and after they eat, and because they're staying in gorgeous and luxurious rooms, and are served two Michelin star quality food, that journey in the middle has to be a quality ride. And the RX lets us do that."
Kerridge is a regular visitor to Yorkshire, and put together the main course for the supper club:
"I come to North Yorkshire quite a lot. I've filmed the BBC Good Food show which is always good fun, and I've just filmed the latest series of Top Of The Shop for the BBC too. That's filmed in Malhamdale. Yorkshire's an amazing part of the world, the countryside is jaw-droppingly stunning and the people are so, so friendly. There's great food here, great industry and great farming. And tonight we're doing a beautiful spring like dish for main course. Chicken, served with a clanger which is like a steamed and then baked suet. It's usually sweet and savoury, but it's just savoury this evening."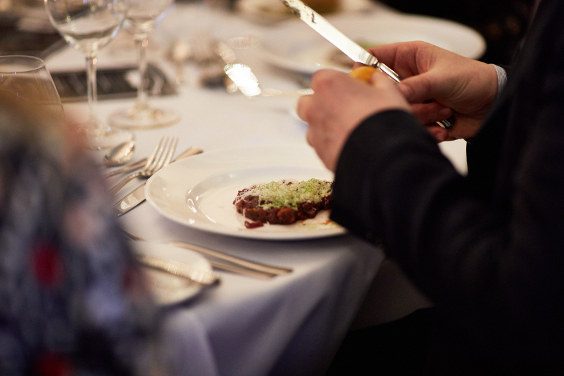 "I don't want to finish it. It's that good"
After taking our seats in the dining hall, the first dish of the night arrives. A Venison tartare, created by Michelin star chef Tommy Banks of The Black Swan at Oldstead. A simple presentation, it carried a subtle but noticeable flavour. It came complete with smoked bone marrow and wild garlic, a combination that worked very well.
And although Banks had taken to the mic and told us he wasn't giving us anything healthy tonight, it was a light and pleasant eat for me. As it was for most of the diners on our table too, but although we all enjoyed the taste, the diced venison came with an acquired texture for some.
Tom Kerridge's main course was a beer and malt glazed chicken with mushroom crunch.  It came accompanied by some of the first English asparagus, wild garlic and a smoked chicken clanger. And each element of the dish was simply perfect. The chicken soft, the clanger was a side journey which had the nicest flavour, and the mystery of the mushroom crunch was revealed to the tastebuds as a glorious surprise. "I don't want to finish it. It's that good" exclaimed car enthusiast Andy, sat to my right. And that summed up the feeling of all eight of us around the table.
"A real treat"
A delightful evening so far, with the dining hall in good spirits and ready for the next course.
It was Stephanie Moon who was in charge of dessert.  A Yorkshire farmer's daughter, she's been closely linked to Rudding Park over the last 18 years. She told me: "It's a real treat to be cooking with the two Tom's. Especially here, because I've cooked for this room many times. What a thrill. This is like my Great British Menu night tonight."
And in the lead up to the supper club, Stephanie had been trying out the Lexus RX too. And she seemed as excited about the car as she does about her dessert:
"I've been lucky enough to be driving round in this large Lexus for the last three weeks, and it's such an amazing drive. Being a chef and going to a lot of places, a large car is a must. Living on a farm, I need something that can handle rougher terrains, I've had lot's of people in it. It's just very smooth.  What I like about it, is it's like you're driving in your own armchair.  I might be driving for three or four hours, and when you get out you still feel great."
And a feel good factor was definitely behind the course that Stephanie had put together. The menu describes the dessert as 'Rhubarb cocktail' and 'Miniature rhubarb and custard treats'. Stephanie said: "Well, I'm a fan of using locally sourced produced, which I know is the thing now. But here at Rudding Park we have an amazing kitchen garden, which is huge. We grow every kind of herb in it, and the Yorkshire rhubarb is grown there. You couldn't get much more local sourced! And tonight's rhubarb was pulled out of the ground this morning."
"Fun-filled dessert"
A gathering of Yorkshire rhubarb treats awaited us for supper club dessert. The excitement kicked off with a rhubarb and custard gin cocktail, topped with candy floss. It reminded me of the rhubarb and custard boiled sweets you could buy as a kid, and it began the rest of the fun-filled dessert sitting very nicely. We were handed a delightful rhubarb and custard steamed ginger pudding, with a white choc rhubarb and custard truffle, served up with a rhubarb and custard cannelloni. Then, in a throwback to my childhood and everyone else's, Stephanie Moon's take on the Fab ice-lolly was also on the plate. With a rhubarb and custard flavour, of course!
There was plenty of dessert, and each bite was fantastic. There was a different level of rhubarb flavour in each element, and I decided to leave the Fab lolly until last.
Alas, as the cheese came for course number four, I was already sated. I ended the night with a lovely coffee, and a definite sense of social and stomach-based satisfaction.
Throughout the evening the chefs mingled with diners, and for all in attendance that was a nice touch. Often you can have a supper club inspired by high-standing chefs, but they're not actually at the event.
Well, tonight BBC Good Food and Lexus did the food industry proud. The Chef's Supper Club delivered an excellent night, with exquisite fare, and three  chefs who you couldn't wish to be more down-to-earth.
Images: David Lindsay