7 Health Benefits of Biltong you Might not Know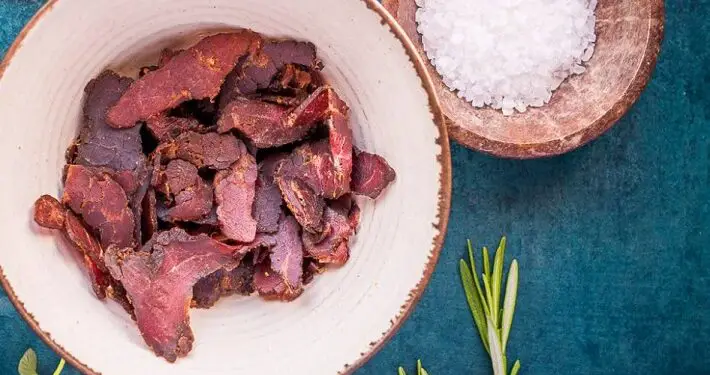 Red meat and other animal meats are all fantastic protein forms that the body relies on to stay healthy and fit. It helps a great deal that Biltong is such a delicious snack and that it is healthy. Here are 7 health benefits of biltong to add to its value and why you should go and invest in some biltong:
1. Great for a snack or for meals
One of the benefits of biltong is its versatility. You can enjoy it on its own, or you can add it to a meal for something filling and healthy to eat. Omelettes with biltong powder are such an excellent biltong recipes to add to your breakfast menu, and everyone in the family will love it. It's a high protein meal that will sustain you for an extended period, and it's jam-packed with vitamins and minerals.
2. Suitable as a snack after workout out
Exercise can strain your muscles, and if you want the muscle memory to remain in good form, you need to feed your body a healthy amount of protein. The vitamin B in red meat helps to rebuild your muscles after exercise and burn down carbohydrates. Iron is another mineral that your body relies on to produce red blood cells for rehabilitation, so the next time you want to go out and grab a quick snack after a workout session, think about adding biltong to the list.
3. Low fat
One 50g serving of biltong contains less than 3% fat. If you have taken to a diet that requires you to skip on the fat or just want to watch what you put into your body, then biltong will help you stay straight and narrow. Lower fats in food also mean less chance of cholesterol, so grab a few bags and add them to your daily snack routine.
4. Excellent for kids
Something that moms always have to worry about is the snacks that they give their kids for school. Snack manufacturers have started adding fructose into so many of the snacks sold for kids, and it can wreak havoc on their immune systems and give them bad gut health. Kids can also be fussy about what they eat and would very likely send the lunch box back with all its contents. Biltong is safe for kids to eat as well, so next time you pack your child's lunch add a few pieces into the box.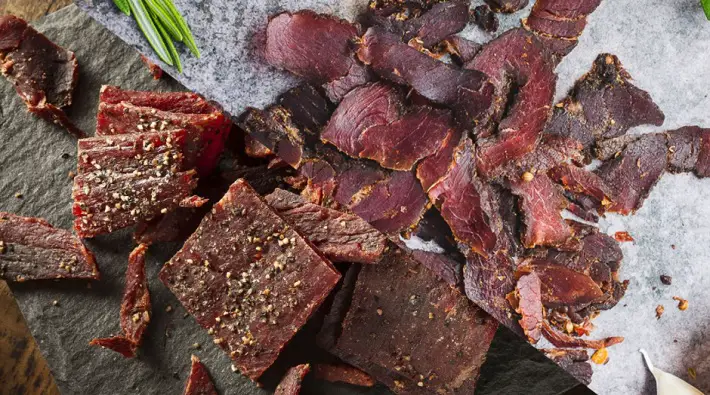 5. No preservatives
Biltong does not include any additional sauces, preservatives or sugars. There are no added GMOs, and the biltong is made from 100% pure meat products. There are vegan varieties, but for those looking for a meat snack that doesn't contain any additives, this should be at the top of the list.
6. Nutrients
● Iron promotes growth and development in the body, assisting with haemoglobin development developed through healthy protein in the blood cells. The protein in red blood cells helps to carry oxygen from the lungs to all parts of the body with myoglobin's assistance, which gives the muscles oxygen.
● Vitamin B12 helps the body's nervous system and blood cells develop into healthy DNA with solid genetic material. Vitamin B12 also helps prevent megaloblastic anaemia that prematurely exhausts people.
● Zinc boosts your immune system and is beneficial for hair and nails' growth and repairing your skin. It fights skin ailments like psoriasis and acne and assists with cell function and cell signalling.
● Creatine improves muscle strength and supports the production of lean muscle mass. Muscle recovery after a workout is vital, and creatine helps to speed up the process. Athletes who take it get a short muscle boost during their activities, boosting their performance for optimum athletic results.
7. Sustenance
If you love outdoor activities, then taking biltong along on a hike or a long walk will be ideal for having a convenient snack that will keep you filled with energy. You want to bring snacks that are filling, and the high protein content in the meat will keep you filled in between the twists and turns of your outdoor adventures. What is even better about taking biltong with you is that it will fill you up without making you feel full. You will be able to go out and enjoy the entire journey without feeling sluggish or tired, and you won't go hungry on your trip either. With biltong being so safe to eat, you can share with the entire family while on an outdoor excursion, the kids will love it for the delicious taste, you will be void of hunger complaints and full of energy to explore as much as you want to.