Introducing: The Vedettes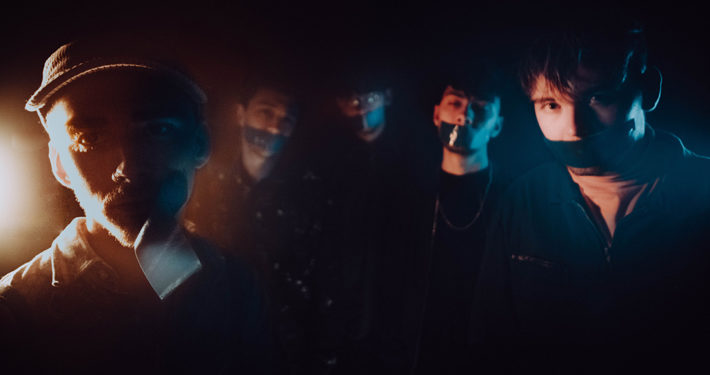 The Revenge of Indie Dance – with added scuzzy riffs and solos – from York…
YOUR NAME: Alfie.
BAND NAME: The Vedettes.
WHAT DO YOU DO/PLAY? Lead guitar.
HOW LONG HAVE YOU BEEN TOGETHER AS A BAND/PLAYING MUSIC? A year and a half.
GIVE US 3 REASONS WHY WE SHOULD TRACK DOWN, LISTEN AND DISCOVER YOUR MUSIC?
1: Free clout – if you get into us before we blow up, you'll be able to brag to all your mates that you liked us before it was cool.
2: We're all going to die anyway. Life is suffering, and soon enough we'll all be dying of superbugs as our overpopulated cities sink beneath the rising waves. Might as well listen to a few of our bangers while you can.
3: We have famously been endorsed by figures such as Bernie Sanders, Drake, the rat from Ratatouille and God.
WHERE DO YOU SOUND BEST – FESTIVAL, CLUB, BEDROOM – OR SOMEWHERE ELSE?
We probably sound best playing in clubs or other live venues, but we've always had the best energy at house parties.
"Catch me starring in Avengers 5"
WHAT WAS YOUR FIRST?
RECORD? Happy People by Peace. Bright yellow vinyl and packaged with a fake £50 note with drummer Boycie's head on it. Lovely.
CD? I think it was Shrunken Heads by Ian Hunter (he was in Mott the Hoople). For a while I was super into '70s rock, and I used to just copy the files off my Dad's CDs, but every now and then I had to fill in the gaps myself. Ever hear the song 'All the Young Dudes'? That's this guy.
DOWNLOAD? The others will kill me for this, but it was Night Visions by Imagine Dragons back in 2013. Little secondary school me adored that album. And you know what? I stand by it.
SO, WHEN IT ALL GOES RIGHT AND YOU'VE GOT A MANSION AND A SUPERMODEL GIRL/BOYFRIEND, WHAT WILL BE YOUR BIGGEST MUSICAL INDULGENCE?
A solid gold double-necked SG. Or maybe I'll cover Metal Machine Music in the BBC Live Lounge.
SO, WHEN IT ALL GOES WRONG AND YOU'VE ACRIMONIOUSLY BROKEN UP CITING HUGE MUSICAL DIFFERENCES, WHAT DO YOU FALL BACK ON?
Well hopefully by this time I'll have taken the David Bowie route into acting via music, so I'll just make a few blockbusters here and there to make ends meet. Catch me starring in Avengers 5, opening 2024.
PLEASE CITE SOME INTER-BAND MUSICAL DIFFERENCES…
Our drummer Michele adores The 1975. I think they're hot trash. Same with Bring Me The Horizon, and The Hunna. Ditto everything emo, or pop punk. The takeaway here is that he's got awful taste.
WHO ARE YORKSHIRE'S FINEST IN CULTURE, SPORT AND MUSIC?
In the interests of dodging the obvious answers like Arctic Monkeys or Pulp, we're all big fans of the York-based Violet Contours. We've been on a few bills together and they always put on a great show. And I'm not a massive sports guy, but I have it on good authority (our bassist James) that Leeds United are the ones to beat.
NAME YOUR SUPERGROUP – WHO'S PLAYING WHAT, WHO'S ON VOCALS AND WHO'S YOUR BEZ?
Just get the Red Hot Chili Peppers, but replace Anthony Kiedis with the Beastie Boys (including a resurrected MCA). And Brian Eno would be Bez.
GO SEE THIS FILM: Withnail and I.
GO READ THIS BOOK: On The Road – Jack Kerouac.
GREAT LOST BAND/ARTIST: David Bowie.
WOULDN'T BE CAUGHT DEAD SUPPORTING: TalkMore. Ew.
LONDON, L.A OR LEEDS?: Leeds.
AND FINALLY… AS YOU LEAVE THE STAGE, WHAT ARE YOUR PARTING WORDS?
'Thank you Royal Albert Hall, you've been wonderful'.
The Vedettes release their third single, 'What Do You Say', on September 27
For more info visit facebook.com/thevedettesband