Introducing: Glass Mountain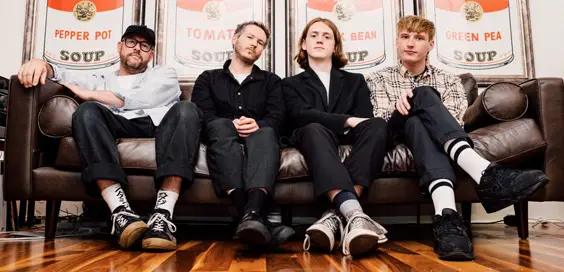 On new Yorkshire label The Boy Who Left Home to Learn Fear Records, a  Hockney-inspired 'beautiful noise' from Bradford…
YOUR NAME: Harry Hanson.
BAND NAME: Glass Mountain.
WHAT DO YOU DO/PLAY? Vocals and Guitar.
HOW LONG HAVE YOU BEEN TOGETHER AS A BAND/PLAYING MUSIC? 3 years.
GIVE US 3 REASONS WHY WE SHOULD TRACK DOWN, LISTEN AND DISCOVER YOUR MUSIC?
Before going in to record the new songs, we worked closely with medical scientists to create a musical product that gives listeners a happier, healthier and longer life.
WHERE DO YOU SOUND BEST – FESTIVAL, CLUB, BEDROOM – OR SOMEWHERE ELSE?
We sound best when it's past your bed time and you know you should sleep but you know one more Glass Mountain tune before bed will send you into a nice deep sleep.
WHAT WAS YOUR FIRST?
RECORD? I'm not sure what my first record purchase was. I remember first getting into buying records and pre-ordering the re-release of Dear by Keaton Henson. I'm super impatient waiting for deliveries. Waiting for that record felt like forever.
CD? Nirvana's Greatest Hits. I bought it from HMV in Leeds when I was out shopping with my Dad. I still remember vividly buying that CD.
DOWNLOAD? According to my Spotify, my earliest download is Coldplay's debut album, Parachutes. One of my favourite albums.
SO, WHEN IT ALL GOES RIGHT AND YOU'VE GOT A MANSION AND A SUPERMODEL GIRL/BOYFRIEND, WHAT WILL BE YOUR BIGGEST MUSICAL INDULGENCE?
Disco ball in the living room.
SO, WHEN IT ALL GOES WRONG AND YOU'VE ACRIMONIOUSLY BROKEN UP CITING HUGE MUSICAL DIFFERENCES, WHAT DO YOU FALL BACK ON?
Dog grooming.
WHO ARE YORKSHIRE'S FINEST IN CULTURE, SPORT AND MUSIC?
Culture: David Hockney.
Sport: Welcome Skate Team and store in Leeds.
Music: Pulp.
NAME YOUR SUPERGROUP – WHO'S PLAYING WHAT, WHO'S ON VOCALS AND WHO'S YOUR BEZ?
Band Name – The Odd Questions.
Damon Albarn – Lead Vocals.
Nancy Whang – Keyboards.
Liam Ogburn – Bass.
Kevin Shields – Guitar.
Roland 909 – Drums.
Bill Murray – Bez/Cowbell.
GO SEE THIS FILM: Mid 90's.
GO READ THIS BOOK: Design as Art – Bruno Munari.
GREAT LOST BAND/ARTIST: Rowland S Howard.
LONDON, LA OR LEEDS?
LA.
AND FINALLY, AS YOU LEAVE THE STAGE, WHAT ARE YOUR PARTING WORDS?
Take care, get home safe.
New single 'Autumn Jam' is out now. For more info visit glassmountainband.com