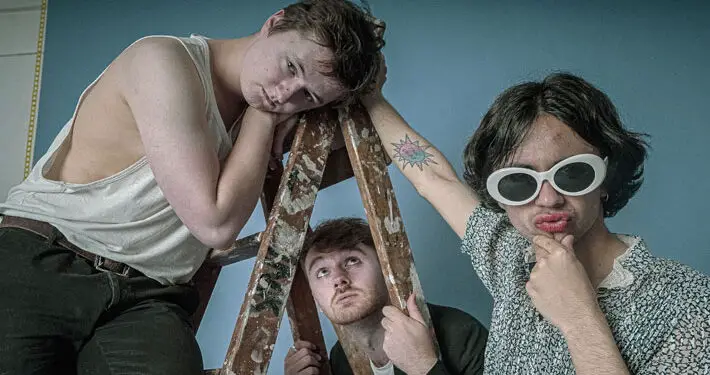 Noise-loving York trio (soon to be quartet) reveal tender side…
YOUR NAME: Lewis Egdell.
BAND NAME: Faux Pas.
WHAT DO YOU DO/PLAY? Guitar.
HOW LONG HAVE YOU BEEN TOGETHER AS A BAND/PLAYING MUSIC? 5 Years.
GIVE US 3 REASONS WHY WE SHOULD TRACK DOWN, LISTEN AND DISCOVER YOUR MUSIC?
We have toured the Northern region consecutively for 5 years, alongside performances at Reading Festival, Leeds Festival, Kendal Calling, Humber Street Sesh, Live At Leeds and Stockton Calling. We have also received constant support from BBC Introducing and had airplay from Radio 1.
We have gained a reputation for an explosive live performance, playing with the likes of LIFE, The Sunshine Underground, Embrace and The Blinders.
As a band we take pride in our ability to constantly evolve as an act. We love to push boundaries with our music and take on new challenges.
WHERE DO YOU SOUND BEST – FESTIVAL, CLUB, BEDROOM – OR SOMEWHERE ELSE?
A sweaty venue. Our impassioned live set captures an audience and leaves them begging for more. The loud and intense performance is Faux Pas at our very best.
WHAT WAS YOUR FIRST…
RECORD? The first vinyl I acquired was Ege Bamayasi by CAN, a gift from my brother a few years back.
CD? Contrastingly, the first CD I bought was Songs For You, Truths For Me by James Morrison… Unbelievably so.
DOWNLOAD? When I first got into downloading music I was big into the likes of SUM 41, Bowling For Soup and similar artists. It was probably one of those, although I don't remember exactly.
SO, WHEN IT ALL GOES RIGHT AND YOU'VE GOT A MANSION AND A SUPERMODEL GIRL/BOYFRIEND, WHAT WILL BE YOUR BIGGEST MUSICAL INDULGENCE?
Pedals. Everyone at Faux Pas loves making the guitar sound as far from a guitar as possible.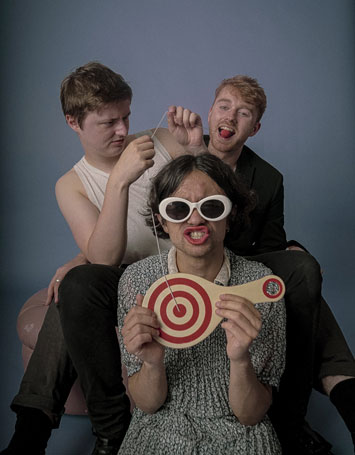 SO, WHEN IT ALL GOES WRONG AND YOU'VE ACRIMONIOUSLY BROKEN UP CITING HUGE MUSICAL DIFFERENCES, WHAT DO YOU FALL BACK ON?
I would open a fast food joint, called 'Batch-O-Nachos', serving my world famous (not quite) nachos.
CITE SOME INTER-BAND MUSICAL DIFFERENCES…
Growing up we all listened to different music, with some preferring metal/ hip-hop/ indie etc. There definitely is some separation but we all listen to such a range of music there is countless overlap. We can all agree that we love noise and passionate artists, what differs is how they are packaged.
WHO ARE YORKSHIRE'S FINEST IN CULTURE, SPORT AND MUSIC?
I couldn't possibly go through a Q&A without mentioning our sisters at Brooders and Bloodhound. Arguably our superior, these two bands really know how to tear up a show and draw in a crowd. They are based in Leeds and Hull respectively and have so much talent and genuine passion for music. EVERYBODY should listen to them.
NAME YOUR SUPERGROUP – WHO'S PLAYING WHAT, WHO'S ON VOCALS AND WHO'S YOUR BEZ?
Drums – Dave Grohl.
Bass – Adam Speare (Brooders).
Guitar – Cory Hanson (Wand).
Guitar/vocals – Josh Homme.
Bez – The drunkest person in the crowd.
GO SEE THIS FILM: Logan.
GO READ THIS BOOK: Lessons I've Learned – Davina McCall.
GREAT LOST BAND/ARTIST: Krill.
WOULDN'T BE CAUGHT DEAD SUPPORTING: Compressorhead.
LONDON, L.A OR LEEDS?: Leeds.
AND FINALLY… AS YOU LEAVE THE STAGE, WHAT ARE YOUR PARTING WORDS?
Live long and prosper.
'Gorilla Man' by Faux Pas is out now