Introducing: Elephant Trees
Made in Leeds, Manchester-based. Bending genres at only 21. Watch this space…
YOUR NAME: Martha Phillips.
BAND NAME: Elephant Trees.
WHAT DO YOU DO/PLAY: Singer-songwriter, play acoustic guitar and bass.
HOW LONG HAVE YOU BEEN TOGETHER AS A BAND?: Since school, so 3 years, but 2 years as Elephant Trees.
GIVE US THREE REASONS WHY WE SHOULD TRACK DOWN, LISTEN AND DISCOVER YOUR MUSIC?
We love what we do and it shows. We are trying to increase visibility of female musicians and the queer community. We sing about mental health and being different and all that being okay. So come join us if you always feel like the outsider looking in…surprise, we all feel like that sometimes.
WHERE DO YOU SOUND BEST – FESTIVAL, CLUB, BEDROOM – OR SOMEWHERE ELSE?
Festivals and big stages or in your ears on a train as you stare out of the window as the world rushes by
WHAT WAS YOUR FIRST…
RECORD? How To Be A Human Being by Glass Animals.
CD? Westlife's first album 😎.
DOWNLOAD? Bruno Mars, Do-wops and Hooligans.
SO, WHEN IT ALL GOES RIGHT AND YOU'VE GOT A MANSION AND A SUPERMODEL GIRL/ BOYFRIEND, WHAT WILL BE YOUR BIGGEST MUSICAL INDULGENCE?
I'd love a grand piano, but generally a room in that mansion with every instrument I'd ever need inside.
SO, WHEN IT ALL GOES WRONG AND YOU'VE ACRIMONIOUSLY BROKEN UP CITING HUGE MUSICAL DIFFERENCES, WHAT DO YOU FALL BACK ON?
NOTHING. ITS RIDE OR DIE! (Or disappear travelling).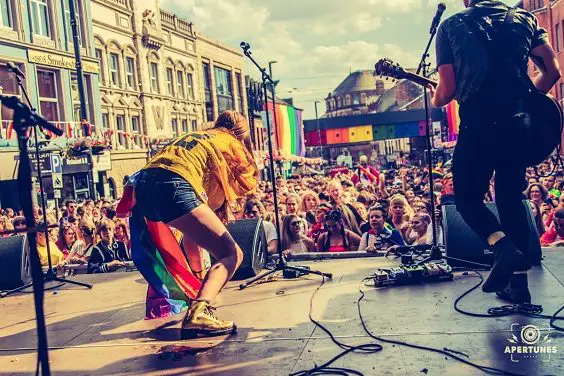 CITE SOME INTER-BAND MUSICAL DIFFERENCES…
Pop punk. Sam (guitarist) and Natasha (our Manager) love pop punk. I do not… cut to playlist wars on the road.
WHO ARE YORKSHIRE'S FINEST IN CULTURE, SPORT AND MUSIC?
At the moment we are in LOVE with Tranqualite – incredible musicians. But when it comes to Yorkshire culture, nobody can top my Grandma and Grandad with their Yorkshire puddings and "oh 'eck's"
NAME YOUR SUPERGROUP – WHO'S PLAYING WHAT AND WHO'S ON VOCALS?
Annie Clarke (St. Vincent) on vocals, Alex Robertshaw (Everything Everything) on guitar, Thom Sonny Green (Alt-J) on drums, Este Haim (Haim) on bass.
GO SEE THIS FILM: High School Musical 1, 2 and 3.
GO READ THIS BOOK: Lexicon by Max Barry.
GREAT LOST BAND/ARTIST: Low Island.
WOULDN'T BE CAUGHT DEAD SUPPORTING: A gig's a gig. I wouldn't turn much down.
LONDON, L.A OR LEEDS?: LEEDS LEEDS LEEDS. Ok, obviously, LA.
AND FINALLY… AS YOU LEAVE THE STAGE, WHAT ARE YOUR PARTING WORDS:
Life is too short to live for a pay cheque.
For more info visit: elephanttrees.co.uk