Introducing: Conor Houston
Sheffield hired hand's solo avant pop…
YOUR NAME: Conor Houston.
HOW LONG HAVE YOU BEEN PLAYING MUSIC? 16 Years. Which is longer than I haven't been. Crikey.
ANY PAST BANDS OR COLLABORATIONS WE SHOULD KNOW ABOUT?
I work a lot as a session guitarist, so I've toured all over the shop. I completed a tour right before lockdown for an American artist called Evan Barlow. I also sing with an orchestra called The Sheffield Beatles Project, and we perform Beatles albums in their entirety.
GIVE US 3 REASONS WHY WE SHOULD TRACK DOWN, LISTEN AND DISCOVER YOUR MUSIC?
I often struggle to find pop/rock music I enjoy, so hopefully my stuff appeals to those with the same problem. Secondly, my blazers are a sight to behold. And finally, I love Alan Partridge.
WHERE DO YOU SOUND BEST – FESTIVAL, CLUB, BEDROOM – OR SOMEWHERE ELSE?
I do well on big stages, but my recordings are a different experience, so it depends what you fancy! I'm also a bit of a human jukebox, so I'm great at all those parties no one's allowed to have at the moment.
WHAT WAS YOUR FIRST…
RECORD? I've never owned any vinyl in my life, how terrible's that? My first cassette was 'Don't Stop Movin'' by S Club 7.
CD? Master of Puppets by Metallica. It's still a favourite.
DOWNLOAD? 'Killing in the Name' by Rage Against the Machine, for the anti-X-Factor campaign. You're welcome, honestly. Just buy me a drink.
SO, WHEN IT ALL GOES RIGHT AND YOU'VE GOT A BOTTOMLESS PIT OF MONEY AND LONG QUEUE OF HANGERS-ON, WHAT WILL BE YOUR BIGGEST MUSICAL INDULGENCE?
I once came across an acoustic guitar from 1932 at the Guitar Center in Hollywood. It was going for $49,999.99, and was in a perspex box, naturally. So it'd be that, assuming it's still there.
SO, WHEN IT ALL GOES WRONG AND YOU'RE LEFT BITTER AND TWISTED AND CURSING THE MUSIC INDUSTRY, WHAT DO YOU FALL BACK ON?
Well I've worked in bars, museums, the NHS and local government, so I'd probably just claim benefits and avoid tax…
WHAT ARE YOUR MUSICAL GUILTY PLEASURES?
I un-ironically love Take That. Melanie C too.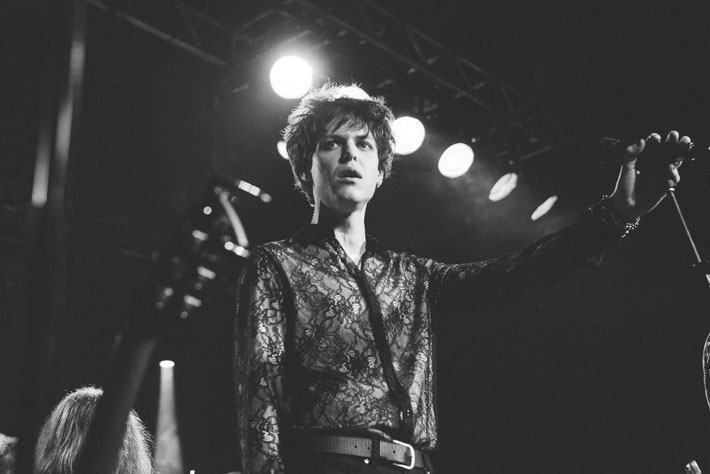 WHO ARE YORKSHIRE'S FINEST IN CULTURE, SPORT AND MUSIC?
Bob Mortimer, Jessica Ennis-Hill and Jarvis Cocker.
NAME YOUR SUPERGROUP – WHO'S PLAYING WHAT, WHO'S ON VOCALS AND WHO'S YOUR BEZ?
Björk at the front. McCartney's on the bass, what a monster. Lars Ulrich on the drums, despite his deteriorating ability. Barry from Eastenders can be Bez. 'Baz', we'll call him.
GO SEE THIS FILM: BlacKkKlansman by Spike Lee.
GO READ THIS BOOK: Reasons to Stay Alive by Matt Haig.
GREAT LOST BAND/ARTIST: Scott Walker.
WOULDN'T BE CAUGHT DEAD SUPPORTING: Zayn.
LONDON, L.A OR LEEDS?: London. LA was a bit too jolly for my liking.
AND FINALLY… AS YOU LEAVE THE STAGE, WHAT ARE YOUR PARTING WORDS?
"I did tell you there'd be no encore."
'Outside The Grocery Store' by Conor Houston will be released on all platforms on Friday 20 November
For more info visit: facebook.com/conorhoustonmusic