Star Wars: The Last Jedi (2017) – Film Review
Director: Rian Johnson
Cast: Mark Hamill, Carrie Fisher, Adam Driver
Certificate: 12A
by Roger Crow
There was a time when the average gap between Star Wars movies was three years. But when Disney took over the franchise in 2012, they planned on releasing at least one sequel or spin-off movie a year. And with producer Kathleen Kennedy in charge, 2015's The Force Awakens proved the franchise was in safe hands.
Now we have the eighth chapter in the saga (ninth if you count the sublime episode 3.5, Rogue One). And with JJ Abrams passing the baton to Looper's Rian Johnson, we're off on another dazzling adventure.
The opening space battle is pure Star Wars. Dizzying, thrilling and genuine cinematic magic accompanied by John Williams' bombastic score. Seconds after the opening crawl, I have a big stupid grin as Rebels fight the bad guys; a familiar face pops up as an evil officer, and the whole thing slots together beautifully.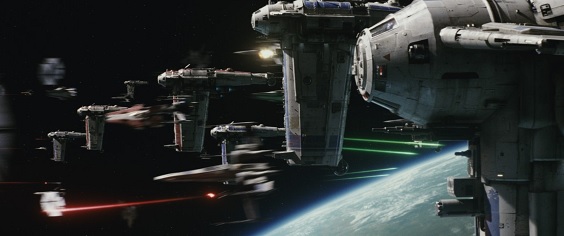 "Flex their acting muscles"
But that space battle is just the alluring doorway to one of the most complex, divisive and bold chapters in the saga. Safe to say The Last Jedi will leave die-hard fans emerging from the theatre processing what they've just seen.
Writer Rian Johnson takes the story to interesting places, although the script could have done with some polish. One scene involving a key character's actions against insurmountable odds definitely needed rejecting at the script stage. Some force-related feats push things too far, and this one scene jumps the shark. Not that it ruins the film. You're just left feeling a bit odd. Like 'What just happened?' (You'll know it when you see it).
The new cast we met in The Force Awakens feel a lot more at home here. Not that they did a bad job in TFA, but it's good to see the likes of John Boyega, Daisy Ridley and Oscar Isaac given a chance to flex their acting muscles.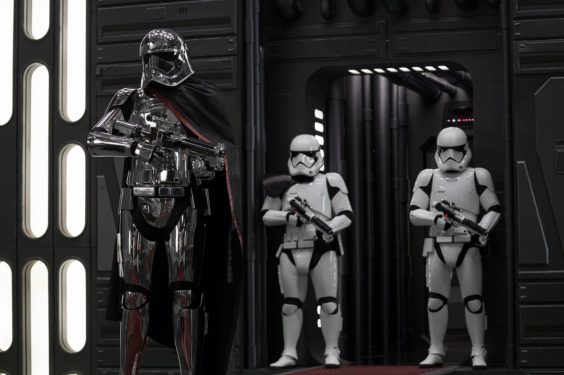 "A treat"
Kelly Marie Tran is fine as newcomer Rose, while Domhnall Gleeson, Gwendoline Christie and (CG) Andy Serkis are once more splendid as the new Imperial bad guys. Franchise newcomers Laura Dern and Benicio Del Toro also add depth to their roles.
Obviously given the passing of Carrie Fisher, the movie feels like a tribute in all the right places, but if the film belongs to anyone it's Mark Hamill. The hermetic Luke Skywalker is now as weathered as the craggy island he calls home. (No Father Ted alas, but comedic alien nuns and a literal throwaway gag add light to the shade, along with the squawking (must-have toy-inspiring) Porgs.
Giving a terrific performance as the hero millions grew up with, to see Luke back in 'action' for the first time since 1983 is a treat fans never thought they'd witness. (There is a caveat to that, though this is a spoiler-free zone, so again, all will become clear). And while old beloved droids like C-3PO and R2-D2 are also back, BB-8 steals the film once more.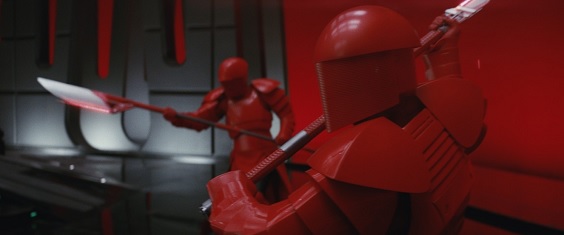 "Compelling"
There are inevitable nods to The Empire Strikes Back, but at times it also feels like the first episode of the revamped Battlestar Galactica, with a touch of The Two Towers' Helm's Deep thrown in for good measure.
There's also a low tech clunkiness to the props. Maybe it's hi-def cameras showing more than film ever used to, but some gadgets and sets feel a bit Blue Peter. Then there is Snoke's lair, a blood red screen which looks striking but temporary, like a stage set. And the Vegas-style Canto Bight features a few too many weird characters in the now obligatory cantina-style scene that adds colour to most SW movies.
As it's the longest of the saga, my oft-repeated comment of 'most movies being 20 minutes too long' is completely on the money. The Last Jedi is still a compelling sci-fi adventure, but kids will be restless in the second act, and their parents nursing aching legs by the finale. (I staggered out of the midnight screening around 3am with hundreds of other bemused, thrilled fans).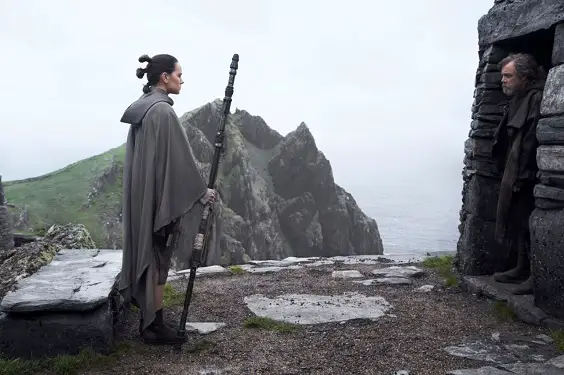 "Ambitious curio"
So, The Last Jedi is a flawed but fascinating chapter which fails to match the dizzy heights of Rogue One (director Gareth Edwards has a cameo), but is still a must see on the big screen.
The 3D is pretty effective, the sound design excellent, and that shot of fighters soaring over salt flats, leaving scarlet scars in the earth is unforgettable.
Who knows what's in store for Episode IX, but with JJ Abrams back at the helm, it should be much tighter than this ambitious curio.
The fact Rian Johnson is already prepping a new trilogy means anything now can and probably will happen in that galaxy far, far away.
8/10
images courtesy of Walt Disney Pictures