Marlene Dietrich at Universal 1940-1942 Box Set – Review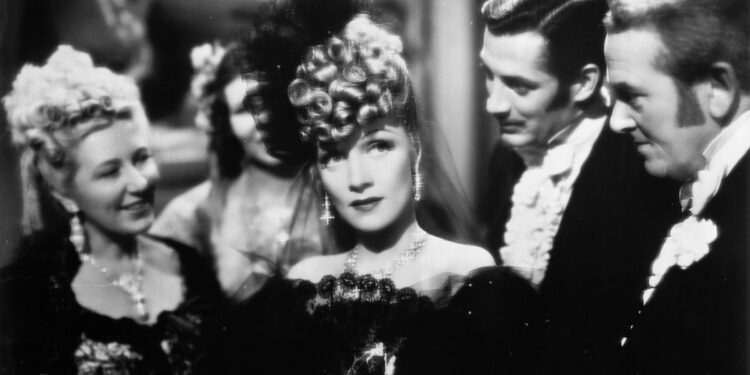 By Sarah Morgan
Almost 30 years since her death at the grand old age of 90, and around 70 years since her heyday as a screen siren ended, Marlene Dietrich is still regarded as one of the greatest film stars of all time.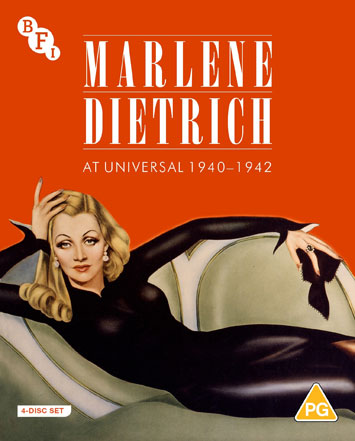 If the four films featured in this boxset are anything to go by, it's easy to see why – the camera loved her, allowing her to overshadow other Hollywood heavyweights, even in the most mundane of productions.
It's incredible to think, then, that the quartet were made following a lull in her acting career; by the mid-1930s, her star had begun to wane, but her success opposite James Stewart in 1939's wonderful Destry Rides Again inspired Universal to sign her up for several more movies.
"Outlandish behaviour"
Sadly Destry isn't included in the boxset, but her next films for the studio are. The first of these was Seven Sinners, which teamed her with John Wayne for the first time (it's rumoured she spotted him dining at the studio and told producer Joe Pasternak: "Mommy wants that for Christmas.")
As in Destry, Dietrich plays a sexy saloon singer. She's been kicked off numerous South Seas islands due to her outlandish behaviour. Nevertheless, she wins the heart of an earnest young Navy officer (Wayne), who is determined to marry her, despite the disapproval of his superiors.
The Flame of New Orleans is a lightweight period comedy in which Dietrich is a gold-digger who comes up with an audacious scheme she hopes will allow her to marry a rich banker while also keeping an old flame happy.
"Mixed bag"
Wayne again co-stars in The Spoilers, a period potboiler somewhat overshadowed by a ludicrous (and very non-PC) scene in which he and Randolph Scott black up. Set during the Alaska gold rush in 1900, it's far from being a classic. Dietrich, as a saloon owner, could have phoned her performance in.
Finally, she's reteamed again with Wayne and Scott for Pittsburgh, a cautionary tale involving a businessman who gets too big for his boots. The film also seems to have been designed to showcase how important manufacturing was to the American war effort.
It's a mixed bag of movies, with Seven Sinners arguably the best of the bunch. Dietrich and Wayne enthusiasts will love the boxset, but it's hard to imagine the selection winning either star any new fans.
Special features:
· High Definition transfers of all four films
· Seven Sinners feature commentary by film historian David Del Valle and screenwriter C Courtney Joyner
· The Flame of New Orleans feature commentary by film historian Lee Gambin and actor and film historian Rutanya Alda
· The Spoilers feature commentary by film historian Toby Roan
· Pittsburgh feature commentary by critic and film historian Pamela Hutchinson
· Music and effects tracks for The Flame of New Orleans, The Spoilers and Pittsburgh
· Galleries
· 60-page book featuring newly commissioned essays by Sarah Wood, Pamela Hutchinson, So Mayer, Ellen Cheshire, Katy McGahan and Phillip Kemp
· Limited to 4,000 copies
Marlene Dietrich at Universal 1940-1942 Box Set is released on Blu-ray by BFI, £39.99