Man Without a Star (1955) – Film Review
Director: King Vidor
Cast: Kirk Douglas, Jeanne Crain, William Campbell
Certificate: PG
By Sarah Morgan
Was there ever a more testosterone-fuelled actor than Kirk Douglas?
Even his old pal Burt Lancaster showed his sensitivity from time to time, but Douglas was always a man's man – tough, uncompromising and completely unable to suffer fools.
"Entertaining"
In 1955, he was at the peak of his cinematic powers, although the four films he released that year – The Racers, Ulysses, The Indian Fighter and Man Without a Star – are largely forgotten today. But there's a chance to get acquainted with the latter due to a new Blu-ray edition.
Douglas plays Dempsey Rae, a drifter who works as a cowboy whenever he rocks up in a new town. He has a reputation as a skilled employee, one who works and plays hard, but won't stick around if things aren't to his liking. We also learn early on that Dempsey has a sentimental side when he takes young, aimless Jeff Jimson (William Campbell) under his wing.
The pair find jobs at a ranch owned by – shock, horror – a woman. Even more stunning is the fact that Reed Bowman (Jeanne Crain) has brought some of her fancy eastern ways with her, including an inside bathroom, something which stuns the rough and ready blokes she employs.
Dempsey is immediately smitten by Ms Reed, and on realising it, she uses his feelings to her advantage – until he discovers she's planning to expand her empire by ruining those of her neighbours, and by introducing the dangerous and destructive barbed wire to her land.
It might sound odd to build an entire western around the evil of sharp-pronged fencing equipment, but somehow director King Vidor manages it – and it's pretty entertaining too.
With a running time of just under 90 minutes, the tale whips along at quite a pace and is never boring, mixing in plenty of action and a smattering of comedy – there's even a musical interlude in which Douglas sings, dances and plays the banjo! It's also surprisingly suggestive for a film from this era.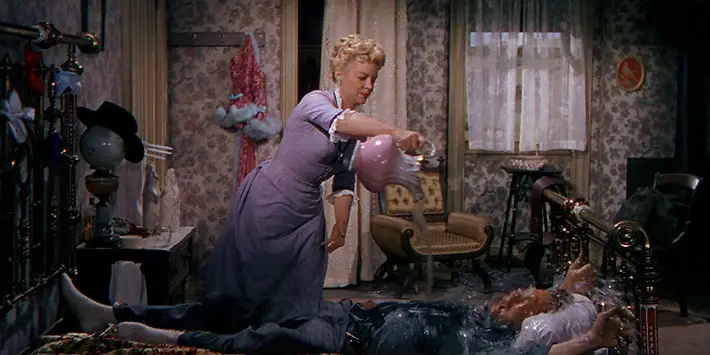 "Tough and ruthless"
Crain is a strong co-star, playing a character who's an early advocate of feminism, even if her determination to prove she's just as tough and ruthless as the guys could land her in trouble. Campbell is likeable as the naive Jeff, and there are plenty of familiar weathered western faces to look out for in supporting roles, including Richard Boone, Jay C Flippen and Sheb Wooley.
But this is Douglas' film – without his star quality, it would simply fall flat.
Although no masterpiece, fans of the genre and its star will love the film, and there's plenty to enjoy here for casual observers who are looking for an entertaining diversion. There's a smattering of special features too, including an audio commentary from Barry Forshaw and Kim Newman.
SPECIAL FEATURES:
● 1080p presentation on Blu-ray
● Uncompressed original mono audio
● Optional English SDH
● Brand new audio commentary with writers Barry Forshaw and Kim Newman
● Brand new interview with film scholar Neil Sinyard
● Trailer
● A collector's booklet featuring a new essay on the film by film writer Rich Johnson, and a new piece by critic Richard Combs about the Western films of King Vidor
Man Without a Star is released on Blu-ray by Eureka, £19.99