King of Hearts (1966) – Film Review
Directors: Philippe de Broca
Cast: Alan Bates, Geneviève Bujold, Pierre Brasseur
Certificate: 12
by Sarah Morgan
The 1960s was an exciting decade, a time when people across all creative field felt that they could experiment and express their wildest dreams.
As a result, many amazing works were created, not least in the world of film, where the likes of Easy Rider, 2001: A Space Odyssey, Performance and all manner of other movies broke new ground and launched the careers of up-and-coming stars, writers and directors.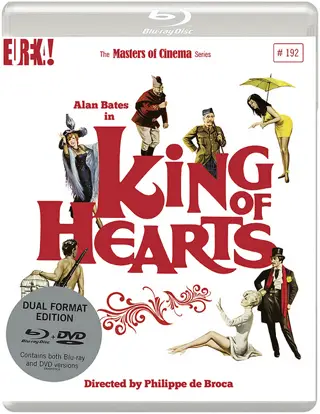 It's also one of my favourite decades for movies; you can almost sense the excitement of those on set as they enjoyed the freedom to break from the confines of the immediate post-war years. As a result, I feel I have a high threshold when it comes to dealing with some of the more, shall we say, frivolous aspects of film-making during this period.
"Truly baffling"
But every now and then something comes along that I find truly baffling – and King of Hearts is one such project.
Alan Bates, a sturdy and reliable British leading man who had already made his name in kitchen sink dramas, takes the lead role of Charles Plumpick, a Scottish soldier serving in the Signal Corps during the First World War.
His ability to speak fluent French prompts his commanding officer to send him to a small village where, it's believed, the retreating German army has planted a bomb.
What Plumpick is unaware of is the fact that the town's residents have abandoned it, and that the only people still living there are lunatics who have escaped from the nearby asylum. He takes them to be eccentrics and accepts their decision to crown him the King of Hearts. Amid the ensuing chaos, he must find the bomb and disarm it before tragedy strikes.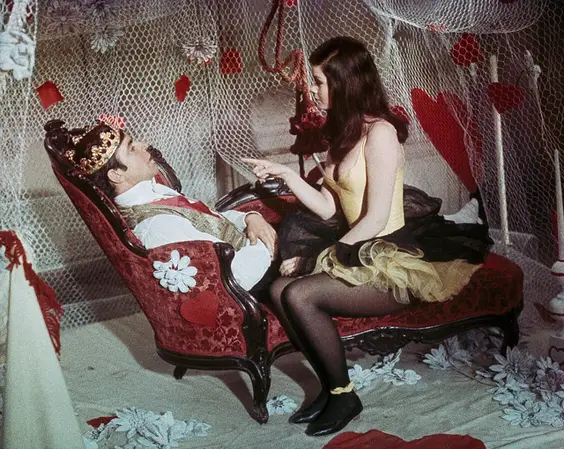 "Madcap and zany"
Written like that, the film sounds perfectly acceptable, but it's actually far more crazy than the lunatics it depicts. It's difficult to understand what director Philipe de Broca was aiming for – a madcap and zany offering, or a production with something deep and meaningful to say about the nature of war.
The result is somewhat haphazard, with Bates looking as if he'd rather be anywhere else. The only other recognisable cast member is a very young Geneviève Bujold as his love interest.
Interestingly, when it was finally released in the US during the early 1970s, it was shown alongside the short films Bambi Meets Godzilla and Thank You Mask Man. If only they had appeared in the special features because they sound far more intriguing than King of Hearts itself.
3/10