Demons (1985) & Demons 2 (1986) – Film Reviews
Director: Lamberto Bava
Cast: Natasha Hovey, Urbano Barberini, Bobby Rhodes
Certificate: 18
by Sarah Morgan
The names Bava and Argento are synonymous with Italian horror movies. Dario Argento has worked within the crime genre too, but is perhaps best known for chillers such as Suspiria, Deep Red and Tenebrae.
Mario Bava, meanwhile, made such classics as Black Sunday, Black Sabbath and The Whip and the Body; his work is said to have influenced the likes of Martin Scorsese, Tim Burton, Quentin Tarantino and Argento himself.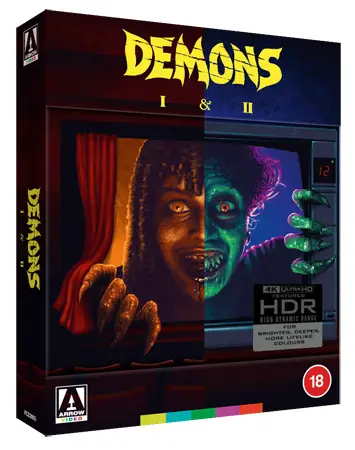 Sadly, by the time the first Demons movie was released, Bava had passed away. His son Lamberto, however, was continuing the family tradition of working in the movie industry that had begun with Mario's father Eugenio, a cameraman and special effects expert during the silent era.
"Bloodthirsty"
Argento and Lamberto first collaborated on the aforementioned Tenebrae, with the latter acting as the former's assistant. For Demons and Demons 2, Lamberto took on directing duties, with Argento as producer.
The first film was a huge success in Italy, beating genre favourite A Nightmare on Elm Street at the box office when they were both released in 1985. Little wonder a sequel soon went into production.
The opener takes place in a newly refurbished cinema. Unfortunately audience members get more than they bargained for after a young woman is scratched by a mysterious mask in the lobby; the subsequent infection turns her into a bloodthirsty demon. Everyone she attacks is also infected; only a young couple make it out alive, but their fate isn't a cheery one.
The second is set in a swanky high rise apartment block. This time the demons escape via a TV screen, take over the bodies of several residents, and run amok. The non-infected struggle to escape because their supposedly hi-tech building has sealed them all inside during a power-cut.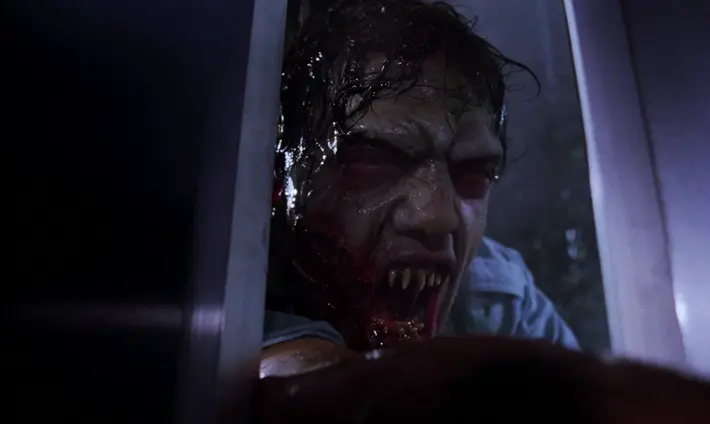 "Enjoyable nonsense"
Neither movie is a classic, but they're enjoyable nonsense that stand up reasonably well when compared to other horror movies from the same period. They're slick, contain a ludicrous amount of gore and are nicely directed by Bava Jnr, who is clearly a chip off the old block.
They're not hugely original, however (there's even a chest-bursting incident straight out of Alien), and some of the acting leaves a lot to be desired (although Argento's daughter, Asia, then aged 10, has an eye-catching role in the second). And why the villains aren't described as zombies rather than demons is a mystery, because that's exactly what they are.
Still, if you can overlook such issues, you're in for a lot of fun.
LIMITED EDITION CONTENTS:
• Brand new 4K restoration of both films by Arrow Films from the original camera negatives
• 4K (2160p) UHD Blu-ray™ presentations of both films in Dolby Vision (HDR10 compatible)
• Limited edition packaging featuring newly commissioned artwork by Adam Rabalais
• Limited edition 60-page booklet featuring new writing by Roberto Curti, Rachael Nisbet and Alexandra Heller-Nicholas
• Double-sided fold-out poster
• Exclusive mystery sneak preview movie ticket (admits one to the Metropol Theatre)
DISC 1 (4K ULTRA-HD BLU-RAY) – DEMONS:
• Two versions of the film: the full-length original cut in Italian and English, and the slightly trimmed US cut, featuring alternate dubbing and sound effects
• Brand new lossless English and Italian 5.1 audio tracks on the original cut
• Original lossless English and Italian 2.0 stereo audio tracks on the original cut
• Original lossless English 1.0 mono audio track on the US cut
• Newly translated English subtitles for the Italian soundtrack
• Optional English subtitles for the deaf and hard of hearing for both English soundtracks
• New audio commentary by critics Kat Ellinger and Heather Drain, co-hosts of the Hell's Bells podcast
• Archival audio commentary by director Lamberto Bava and special makeup effects artist Sergio Stivaletti, moderated by journalist Loris Curci
• Archival audio commentary by Lamberto Bava, Sergio Stivaletti, composer Claudio Simonetti and actress Geretta Geretta
• Produced by Dario Argento, a new visual essay by author and critic Michael Mackenzie exploring the legendary filmmaker's career as a producer
• Dario's Demon Days, an archival interview with writer/producer Dario Argento
• Defining an Era in Music, an archival interview with Claudio Simonetti
• Splatter Spaghetti Style, an archival interview with long-time Argento collaborator Luigi Cozzi
• Italian theatrical trailer
• International English theatrical trailer
• US theatrical trailer
DISC 2 (4K ULTRA-HD BLU-RAY) – DEMONS 2:
• Brand new lossless English and Italian 5.1 audio tracks
• Original lossless English and Italian 2.0 stereo audio tracks
• Newly translated English subtitles for the Italian soundtrack
• Optional English subtitles for the deaf and hard of hearing for the English soundtrack
• New audio commentary by critic Travis Crawford
• Archival audio commentary by director Lamberto Bava and special makeup effects artist Sergio Stivaletti, moderated by journalist Loris Curci
• Together and Apart, a new visual essay on space and technology in Demons and Demons 2 by author and critic Alexandra Heller-Nicholas
• Creating Creature Carnage, an archival interview with Sergio Stivaletti
• Bava to Bava, an archival interview with Luigi Cozzi on the history of Italian horror
• Italian theatrical trailer
• English theatrical trailer
Demons
and Demons 2 is released on Blu-ray by Arrow, £49.99