Debra Stephenson: Night of 100 Voices – Live Review – Hull City Hall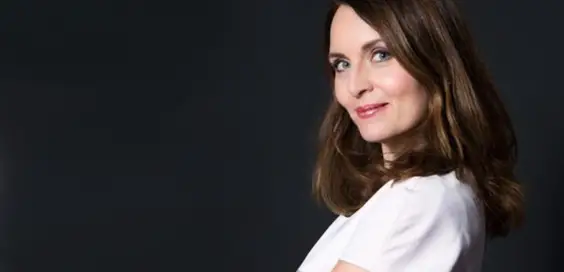 By Roger Crow, November 2018
I've long been a fan of Debra Stephenson, the multi-talented actress, singer and mimic. You'll either know her from Coronation Street, Bad Girls or more recently ITV's The Imitation Game. So when she returns to home turf to do a new one-woman show in Hull, I'm fascinated to see how it plays out.
It's around 7.30pm when the gig kicks off, and the fact there's no warm-up act is brave. The premise is simple: a two-act show with a mix of impressions and music. With a terrific band behind her, Debra starts ticking off the old favourites, and with no props, it's uncanny how at times her face morphs into Cilla, Lulu or Celine Dion. That's obviously the point, but to see it without the aid of TV lighting or special effects is remarkable. And the hit rate is incredible. I'm won over by anyone who can do an accurate Kate Bush, while her Shakira and Tina Turner are rib-tickling.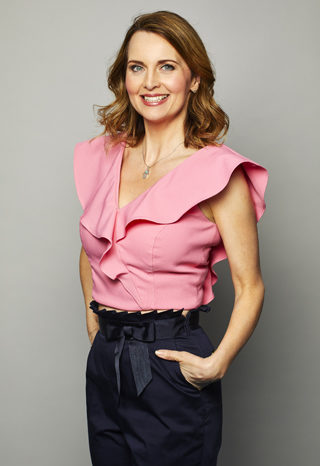 When she asks if anyone likes Cher, there's an over the top "YES!" from a drunken reveller. There always seems to be at least one at City Hall, sadly. Ninety nine per cent of the time they just show themselves up, but the randomness just leaves me in hysterics. It's been one of those days where I wished I'd stayed in bed until arriving at the gig, but this booze-fuelled ad-lib from the audience obliterates all those Friday blues.
"Achingly funny"
However, it is of course Ms Stephenson who does all of the heavy lifting. She pops down into the audience a few times, and at one point even I get to offer my dulcet tones to Carpenters classic 'Close to You'. Sadly there's little chance of me becoming an overnight celebrity based on that performance, but that star-audience interaction works a treat with the masses.
A game of Blankety Blank (with 'Jo Brand') is also a hoot, as are a few James Bond impressions from the crowd. The latter in the second half of course a perfect segue into a 007 medley. Inevitably we get the legend that is Shirley Bassey and a wondrous Adele take-off.
Her Alex Jones and Stacey Solomon are achingly funny, while Lorraine Kelly may as well have possessed the star of the show for the brief time 'she' was on stage.
There's no doubt that Debra has a phenomenal voice. She proves it towards the end of the gig when she belts out a spine-tingling rendition of The Greatest Showman's 'Never Enough' in her own voice.
"Captivating presence"
As the whole of the second half is movie-themed, I'm in my element, though in a stunning sparkly dress, she missed a trick not giving her take on Jessica Rabbit. Some impressions shows can fall flat if the material isn't up to scratch and many of the gags are wonderfully on point. Some are so good they fly over the heads of the audience, but I'd rather see a performer deliver material that says "Keep up" rather than spoon-feed the crowd.
Great female impressionists are few and far between these days, and one that can pull off a show on this scale and for a couple of hours deserves to be applauded. I don't think Debra Stephenson realises just how good she is, and it doesn't hurt that she looks like a million pounds. She has a captivating presence that ensures she dominates the stage for every second she's on it.
As laughter is the best medicine, I'd recommend any future shows for those feeling fed up or under the weather.
She's currently hard at work filming my favourite BBC daytime soap, and when those episodes air in the new year, I'm guessing like this show and at least one punter in need of cheering up at the darkest time of year, she's just what the 'Doctors' ordered.