Treasured Islands by Peter Naldrett – Review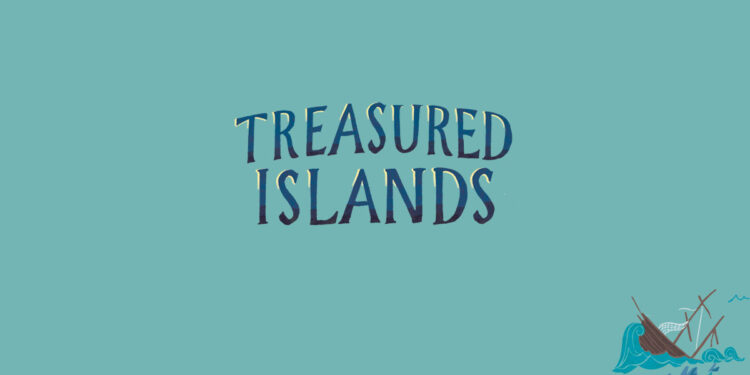 By David Schuster
Treasured Islands by Peter Naldrett is a sumptuous feast of pictures and facts, to be dipped into whenever you feel the need to escape and discover new and exciting destinations around our coasts, even without moving off the sofa.
The book is a gazetteer of more than 200 of these exciting destinations around Britain, with sections grouped geographically, Scotland, England, Wales etc. Refreshingly, the whole of Ireland is included, not just Northern Ireland. Each gets no more than four pages, all with a standard engaging format: There's a wealth of beautiful photographs, a table of key facts; location, grid reference, population and size. This also includes brief details of how to get there and where, if possible, to stay.
As well as this prosaic information, there are one or more descriptive paragraphs which highlight unusual and intriguing aspects of each place. These are a delight to read and often make you want to pack for a visit immediately. Thus, we find that Housay (a tiny member of the Shetland group, with a population of 500) has the smallest cinema in Scotland, accommodating only 20 people on seats acquired from the Odeon in Manchester. Other gems that caught my fancy are that Colonsay hosts one of the most remote book festivals in the world, that tiny Tanera Mòr is thought to be the inspiration for cult horror film The Wicker Man and that Spurn, off Yorkshire's east coast, is Britain's newest island; the road along Spurn Point having been washed away by storms in 2013.
Additionally, many of the populated isles have a 'Why I love…' quotation from a resident. For example, Inishmore (one of the Aran cluster, off the west of Ireland) "Coming to the islands is like stepping back in time to old Ireland, where time slows down and being among local people, enjoying a pint of Guinness and listening to traditional music becomes the order of the day."
"Tiny otherworldly places"
The book's format creates a couple of anomalies, for example the inclusion of the Faroes. Being 200 miles remote from Scotland and not accessible by direct transport from the UK, this is quite a stretch. It also begs the question why, if the Isles of Scilly are included, aren't others off the coast of France and the Netherlands? However, the Faroes are so interesting that I'm prepared to forgive the author this, treating it rather as a bonus. The 'less than four pages' constraint also means that the larger are necessarily skimmed over; Skye at 1,655 km2 gets three pages, whilst tiny Eilean Bàn, famous mostly as a 'stepping-stone' for the Skye bridge link, gets a full page. That said, these are minor grumbles in a volume that has given me immense pleasure.
Within the generous 320 pages there are old favourite haunts of mine; Arran, off the west of Scotland, which, with its dramatic peak of Goat Fell, wooded ravines and the atmospheric standing stones of Machrie Moor, rightly deserves its title of 'Scotland in miniature'. Then there's Lindisfarne, the Holy Island of Northumbria. This is approached by an exciting drive across a tidal road that has caught out so many unwary travellers that there's an escape tower above the treacherous waters. Also, memorably, Caldey in Wales, where my wife and I were pursued by bees, having bought some of the potent lavender perfume famously produced by the monks who live there.
I love the British islands, and have visited many, but there are lots here to tempt even the most seasoned thalassophile. A few that I have made a mental note to visit are; Piel which, despite having less than a dozen people living there, boasts a pub, a castle and a 'king'! Carbery's Hundred Isles, off the far south-west or Ireland has a whole cluster that has whetted my appetite, including Cape Clear, Heir and Sherkin. There are too many to name them all, but Northey's Castaway event, with overnight camping, music and a beer tent is at the top of my personal list. Who could resist that?
If you love the beauty, history and evocative sense of these tiny otherworldly places, then Treasured Islands is a book you shouldn't be without.
'Treasured Islands' by Peter Naldrett is published by Bloomsbury, £18.99 paperback