Steel City Readers by Mary Grover – Review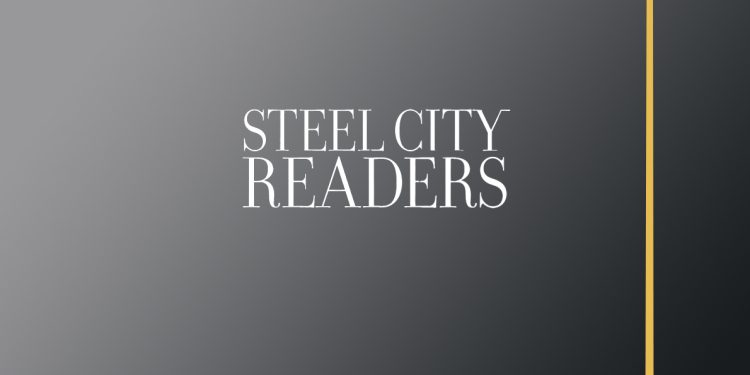 By Clare Jenkins
When Sheffield's Firth Park branch library opened in 1930, Jack Walker, one of its first librarians, recalled: "When the children came out of school, there were hundreds waiting. The doors opened outwards and I had to force my way out of the main door." The police had to be called in to control the crowds.
Nearly 100 years later, the political magazine Tribune reckons that around 800 libraries have closed over the past decade – a fifth of the UK's total. According to the 2023 World Book Day website, half a million children in the UK don't own a single book and: "Reading for pleasure is at its lowest levels in 18 years; fewer than one in two children aged 8 to 18 said they enjoyed reading in 2022, the lowest level since 2005. This is even lower for children growing up in poverty."
Does it matter? Children, after all, have plenty of other things to occupy them: TikTok videos, Instagram, Snapchat, WhatsApp… Yet, the WBD website continues, "Reading for pleasure … is the single biggest indicator of a child's future success – more than their family circumstances, their parents' educational background or their income."
If you still need proof of the lifelong value of book-reading, read Mary Grover's illuminating book Steel City Readers. The culmination of a ten-year oral-history-cum-literary project, it demonstrates the importance of reading, its use as a get-out-of-poverty tool, and the way in which it can expand horizons, enabling us to understand other lives, other worlds. It all adds up to an absorbing literary social history of Sheffield from the mid-1920s to the 1950s.
Dr Grover is a former Sheffield College tutor and Sheffield Hallam University lecturer. She's also a specialist in 20th Century popular fiction, having done her PhD on Warwick Deeping, one of a series of authors deemed irredeemably 'middlebrow' – C.S. Forester, John Galsworthy, Gilbert Frankau, Mazo de la Roche, Howard Spring, Ruby M. Ayres, Ethel M. Dell…
The Reading Sheffield project arose from her anger about literary and intellectual snobs who dismiss what 'ordinary' people read: Mills and Boon romances, Agatha Christie crime stories, the pacey, racy 'airport novels' of, say, Danielle Steel or Jeffrey Archer. Gradually, though, as she and her team of interviewers talked to more than 50 Sheffielders born between 1919 and 1946, she realised that most of them had little interest in definitions of high-, middle- or low-brow fiction. They simply read – and, through reading, they "opened up intellectual and imaginative spaces that seemed for a time all their own".
Take Mary Wilkinson, whose father was a printer and whose mother left school at 12 and worked on a market stall. In the late 1930s, Mary joined the craze for 'Confessions Books', journals where young people listed their own, and their friends', favourite songs, dance bands, film stars and authors. Mary read around six novels a month at the time, including those by John Buchan, P.G. Wodehouse and Edgar Wallace, and others featuring 'Bulldog Drummond' and master criminal Fu Manchu. But as war approached, she also read biographies of Mussolini, Rasputin, T.E. Lawrence and Lenin, as well as Mystics and Magicians in Tibet by "the spiritualist opera singer and explorer" Alexandra David-Neel.
"Our Sheffield readers," writes Grover, "never anticipated any interest in the literary building blocks of their lives… but it is clear from their conversations with us that they, like Mary, took great delight in becoming the authors of their own literary narratives."
They were helped in this by the provision of municipal libraries, and those librarians who believed children should be allowed to choose their own books from open-access shelves, rather than being directed towards 'improving' tomes.
As a child and teenager, interviewee Judith G (some participants withheld surnames) spent many Saturday afternoons at Sheffield's grand Art Deco Central Library, "because it was nice and it was warm and you could stay there until they closed at five o'clock. I used to read and read."
"Explore"
The libraries provided space to escape into other worlds for children from homes where not all adults could see the benefit of such an activity. Doreen Gill's stepmother was one of those: "If I picked up a book to read, she'd say, 'Put that down and come and help me do so-and-so. You're wasting your time and my time.'" Other interviewees remembered relatives saying, "Doesn't that child do anything? She's always got her nose in a book."
Frank Burgin, on the other hand, was actively encouraged to read by his father, a Mosborough miner. "Oh, I used to get all the time, 'Look, lad, you've got to have some book larnin' else you'll get nowhere'. He didn't know what I'd got to learn – he knew that I'd got to be learning it from books."
From the age of three, Frank was given books as Christmas presents. "I always saw books as an absolute treasure trove of all sorts of wonderful things."
While doing an engineering apprenticeship, he was sent on a course in Warwickshire. One evening, all the apprentices had to present a book to the other lads. "It was all done to make us think," he told his interviewer. "It certainly woke up things in me that I didn't know were there. I think it also made me think that perhaps there might be life beyond knocking very precise spots off big lumps of metal…"
And there was: he went on to gain a PhD in materials science and become a senior lecturer at Sheffield Hallam University.
Steel City Readers is a celebration of all things literary. It covers Sunday School books, prizegiving books, encyclopaedias and comics (Dandy, The Beano, Bunty, Girls' Crystal).
Fred Jones was sent to the city's Poor Law hospital when he contracted tuberculosis. "That's where I learned to read, through comics – just picking comics up and listening to others read. Once I got it, I've never put a book down."
As well as paying tribute to those librarians who encouraged children to explore for themselves, Steel City Readers praises those teachers who started their own small private libraries to help their pupils, and parents who bought Ladybird Books and box sets of Dickens. This, in the face of husband-and-wife literary critics F.R. and Q.D. Leavis arguing "that Dickens was not worthy of his 'classic' status". Queenie Leavis warned snootily that "the peculiarity of Dickens… is that… emotionally he is not only uneducated but also immature".
Grover will have none of this: "I started this project angry," she writes. "Angry that people of my educational background had conspired throughout the twentieth century to undermine the confidence of men and women to read what and how they wanted… I now see that, if there was a conspiracy to humiliate the reader of popular fiction, then for these Sheffield readers this conspiracy failed… By far the majority were frankly puzzled when asked if there was any book that they might have been embarrassed to be seen reading. This majority were, to use the northerner J.B. Priestley's term, 'broadbrow': they had wide reading tastes."
At a time when libraries are struggling to survive, this book is, as Grover says, of her interviewees, "a testament to the transformative power of books".
'Steel City Readers: Reading for Pleasure in Sheffield, 1925-1955′ by Mary Grover is published by Liverpool University Press