In the Reign of King John by Dan Jones – Review
By Sandra Callard
This latest tome by historian Dan Jones, In the Reign of King John, is a fun book. It is also interesting, compelling and surprising – and it makes you smile as this astute writer offers a complete understanding of a lesser-known king and the dramatic events during 12 months of his 17 year reign.
King John was the younger brother of the famous and heroic fighter of the Crusades, Richard I, who was given the appendage of the Lionheart. Richard ascended the throne in 1189, spent hardly any time at all in England, and died ten years later from a wound which became gangrenous, inflicted as he laid siege to a castle in Chalus, France. John had all but ruled England in Richard's place while the king was away on his seemingly endless crusading, and Richard's death propelled John into the role he had awaited eagerly for ten years.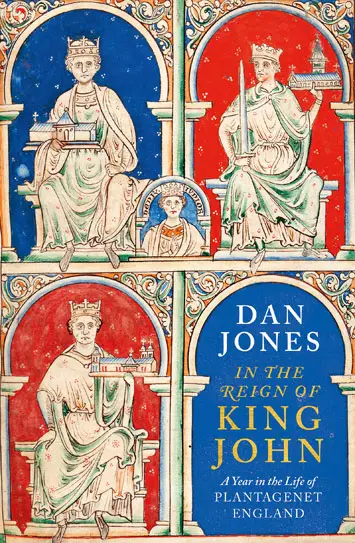 Dan Jones' book follows the major incidents which took place in England in the year of 1215, the most well-known of which is the emergence of the Magna Carta, a document forced upon King John by the powerful barons. This, amongst other things, promised justice to all free men in England. Free men made up only a small and selective number in England compared to the huge number of villains, tenant-workers and serfs who were tied to a Lord, and it was in fact cancelled by the Pope some short time after, but it lit a fuse that slowly and continuously burned.
"Fusion of great scholarship very simply executed"
King John is, perhaps, overshadowed by the likes of the flamboyant Henry VIII or the battle-winning Edward I, but Dan Jones has developed a novel way of presenting history. Assuming that Magna Carta is maybe the only thing that most people know about King John, closely followed by the fact of him losing his jewels in The Wash, Jones' clever and innovative way of bringing the king to the fore, and bringing the whole incredible year of 1215 to light, is just the thing to highlight the grasping but highly intelligent King John.
We can all admire a writer's meticulous research or his knowledge of his subject, and Jones has all that in spades, but his writing also offers an attractive fusion of great scholarship being very simply executed, with appealing jots of humorous tongue-in-cheek observances that bring Plantagenet England to life. It is obvious also that he loves his subject, and his small asides regarding the characters seem to reveal a kind of camaraderie that he enjoys with the personalities he writes about.
The Appendix 1 of In the Reign of King John contains a 16 page translation of the text of Magna Carta and is a beautiful book to handle and to read. It also contains an array of the most spectacular illustrations I have seen in a long time. The numerous copies of extant original pictures depicting such diverse themes as a working castle kitchen, a huge stone-throwing trebuchet weapon, the killing and dismembering of Simon de Montfort and a stunning picture of King John enthroned, are fascinating.
Section 40 of the translation contains the shortest and the best known of all of the sixty-three clauses within the Magna Carta and it comes with quite a jolt to see it. "To no one will we sell, to no one will we deny or delay, right or justice." Fantastic read!
'In the Reign of King John: A Year in the Life of Plantagenet England' by Dan Jones is published by Head of Zeus, £8.99 paperback