On Streisand: An Opinionated Guide by Ethan Mordden – Review By Rachael Popow
If you want strong opinions on musicals, Ethan Mordden is undoubtedly your man. He's written numerous books on the subject, including a guide to Stephen Sondheim and the entertaining When Broadway Went to Hollywood.
Those books concentrated on composers, but now he's tackling one of the genre's biggest and best-loved stars in On Streisand: An Opinionated Guide.
A timeline and introduction offer an overview of Barbra Streisand's life and work, but after that Mordden forgoes the biographical approach to instead concentrate on four different aspects of her career – theatre, television, recordings and movies.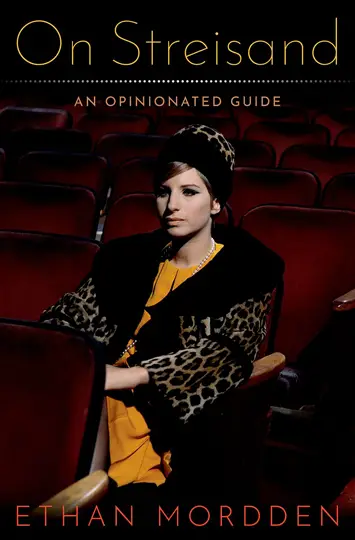 She may not be known as a small-screen star, but the television section is particularly fascinating in its descriptions of some of her TV specials, from the very 1960s-sounding Colour Me Barbra to The Belle of Fourteenth Street, which the author believes baffled audiences by trying to revive long-forgotten vaudeville traditions and co-starred a sort-of-singing, not-really-dancing Jason Robards. (Mordden suggests it was so bad that Columbia Records decided against releasing the album that was expected to accompany it).
"Zippy and often witty"
The other sections cover ground that is probably better known to Streisand fans, but at least Mordden puts an unexpected spin on it rather than following critical consensus. He suggests the Broadway production Funny Girl wasn't quite the unalloyed triumph of Streisand legend – in his opinion, the film did a better job of showing the tension between Fanny Brice's showbiz success and personal insecurities. He also suggests that the leading lady's way of coping with the physical demands of such a long run was to rarely give it her all on stage.
The writer is also not a fan of her movie What's Up, Doc?, which was a big hit at the time and definitely still has its admirers, but he does stick up for her casting in Hello, Dolly! Received wisdom may have it that at 27, she was too young to play a widowed matchmaker worried that the parade was about to pass her by, but he believes that no one else could have done it better.
In fact, you get the sense that Mordden would rather Streisand had made more musicals in general. It's not that he doesn't think she's a talented actress, it's just that he feels there are others who are just as good when it comes to dramatic roles, but no one else who can sing like her.
You may or may not think he has a point, but that's the joy of this entertaining, zippy and often witty guide. And if you disagree, you can't say the title didn't warn you.
'On Streisand: An Opinionated Guide by Ethan Mordden' is published by Oxford University Press, £16.99 hardback