The Cathedral of the Dales – The History of St Michael's Church, Kirkby Malham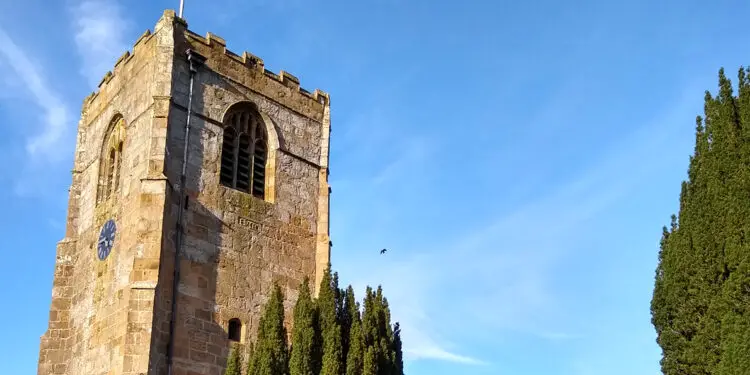 By Louise Bryning
There's an extra special reason to visit the 'Cathedral of the Dales' in Kirkby Malham this summer.
For St Michael's Church is hosting a special exhibition to mark a century since the death of Walter Morrison whose support helped to save it from ruin.
This Grade 1 listed church, which can trace its history possibly back to the 7th Century, was completely rebuilt in the 15th Century but by the mid-1800s, it was in danger of collapsing. It was discovered that the pillars were standing on sand and rubbish, and the roof timbers were decaying.
So in stepped local MP, businessman, social reformer and philanthropist, Walter Morrison who, by virtue of having inherited the Malham Tarn Estate, was patron of St Michael's.
"Discarded"
In 1879, he paid for more than half of the urgent repairs to the original features insisting that the church's essential character was retained and not given a Victorian makeover. And that's why parishioners and visitors can still admire features including the Jacobean high box pews and an unusual Norman font, even though at one point in its life, it had been discarded and used as a pig trough.
St Michael's also boasts stained glass windows depicting the Northern saints. Of historic interest too is the memorial to John Lambert in the Lady Chapel. Born at Calton Hall, he was a general in the Parliamentary Army of the North during the English Civil War and a major figure during the Commonwealth period.
Acclaimed church architects, Paley and Austen were commissioned to oversee the restoration which took two years to complete. Among their previous projects was St Peter's RC Cathedral in Lancaster where the firm was based.
Walter Morrison also paid for the renovation and extension of St Michael's vicarage which was originally built in 1622.
"Beautifully lit"
Walter Morrison died in Devon in December 1921 and, as he had requested, his body was transported 300 miles to Kirkby Malham for his funeral, which was attended by hundreds of people.
He is remembered inside the church with a memorial pew and panelling in the Sanctuary. He is buried in the churchyard under a simple headstone.
Just recently, St Michael's has seen more improvements thanks to support from the Heritage Lottery Fund, grants from the Headley Trust and North Craven Heritage Trust and the generosity of local people and visitors.
Radiators, initially installed 112 years ago, have been replaced and more added so that for the first time in living memory, the church is warm for winter use and new energy efficient LED lights mean the building is now beautifully lit.
An ancient priest's door, originally in the Lady Chapel, is now displayed in the doorway known as the Devil's Door as it was always left open during baptisms to let the Holy Spirit drive out any evil spirits. A beautiful new door has been made to replace it.
"Full glory"
The church can be seen in its full glory when it hosts the exhibition on July 3, August 14-15 and September 18-19.
St Michael's is one of five historic buildings in Craven which is holding exhibitions as part of the Walter Morrison Festival. The others take place at Giggleswick School Chapel, Malham Chapel, Kirkby Malham Parish Hall and Skipton Library.
From October 8-December 23, all exhibitions come together at The Folly in Settle.
The Walter Morrison Festival has been organised by the Museum of North Craven Life at The Folly, Malhamdale Local History Group, Kirkby Malham Parish Church, Kirkby Malham Parish Hall, Craven Museum, Malham Chapel, Giggleswick School, North Yorkshire County Council Policy, Partnerships and Communities (Libraries and Record Office), and Kirkby Malham School.
The Festival, funded by Arts Council England, the Coulthurst Trust and the Craven Trust also includes talks, a schools programme and new walking route.
For more information, visit: thefolly.org.uk