The Harry Potter Forbidden Forest Experience – Review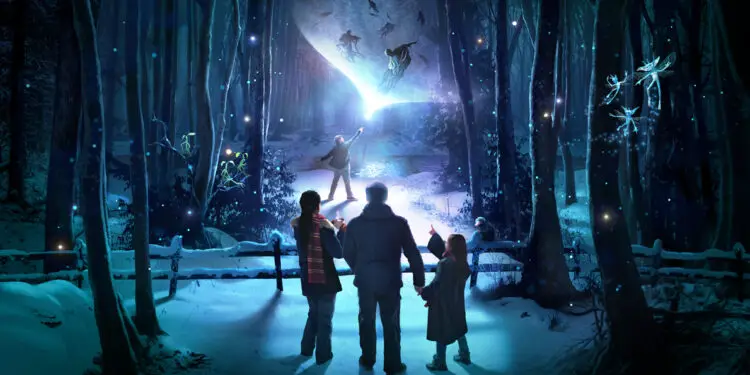 By Richard Jones
Home to mysterious curses, strange creatures and the site of an iconic confrontation between Harry and Voldemort, the Forbidden Forest is one of the most important and fascinating locations in Potter mythology.
Author JK Rowling has stated that the mysterious woodland is her favourite part of the Hogwarts grounds, which could explain why Harry and his friends find themselves there in every book, except Half-Blood Prince.
As its name suggests, the Forbidden Forest was strictly off limits to Hogwarts youngsters – unless they had detention or were taking part in Care of Magical Creatures lessons.
"As ever, I would like to remind you all that the Forest in the grounds is out-of-bounds to students," says Albus Dumbledore in the Goblet of Fire.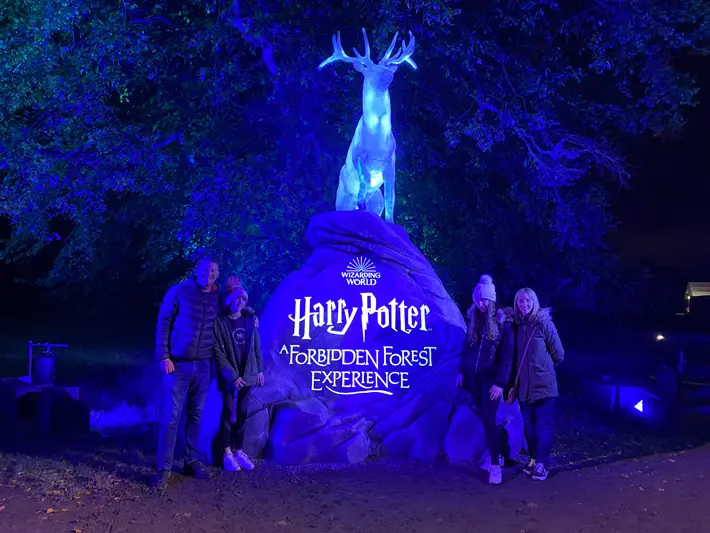 "Fantastic beasts"
Nevertheless, just in time for Halloween, my two 'students', Isla 14 and Evelyn 10, chose to defy the legendary Professor's orders and follow the footsteps of Harry, Ron and Hermione deep into the 'Dark Forest'.
We were at Arley Hall & Gardens in Cheshire, the site of Warner Bros' all-new Harry Potter Forbidden Forest Experience.
Travelling along a luminescent pathway, we relived classic moments from the book and movie franchises, as well as meeting fantastic beasts from JK Rowling's wizarding world, all painstakingly created by award-winning theatrical designers.
The beautiful Arley Hall has been a prolific filming location in the past for TV shows, having been used for Coronation Street wedding scenes, doubling as Tommy Shelby's estate in Peaky Blinders and featuring in Cold Feet, and it is now the perfect setting for on one of the most famous woodlands in popular culture.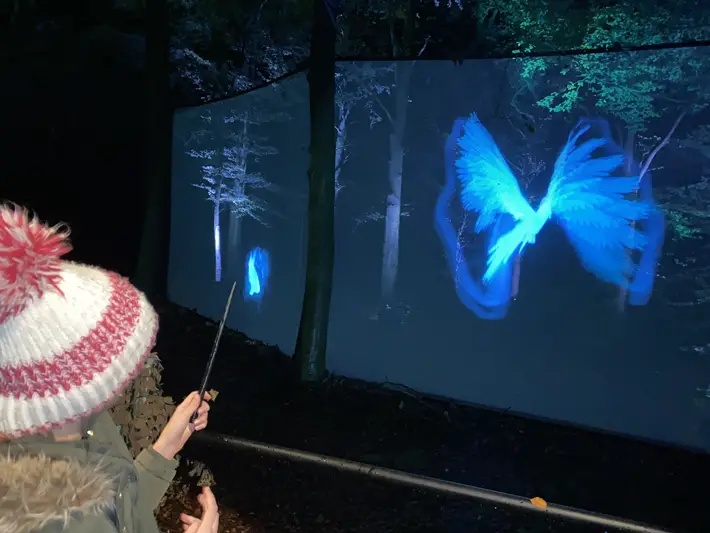 "Multi-coloured trees"
The attention to detail in the Forbidden Forest Experience tour is mesmerising, and after a pep talk and a Lumos spell or two from the guides, the four of us made our way through the twinkling lights and into the Forest.
The journey is around 3-4km in length and took us just under an hour, although you can probably stretch it out for longer depending on how many stop-offs you want to for refreshments (there is a butter beer stall halfway round), and to take photographs.
Speaking of photos, the first real Insta-worthy shot arrived just a couple of minutes into the tour when we met beloved half-giant and Care of Magical Creatures professor Rubeus Hagrid, lantern in hand, with boarhound Fang at his side, welcoming us through the Hogwarts gates.
Then as you continue, among the imposing multi-coloured trees, is a full-size model of Buckbeak and we took the opportunity to bow to the majestic hippogriff.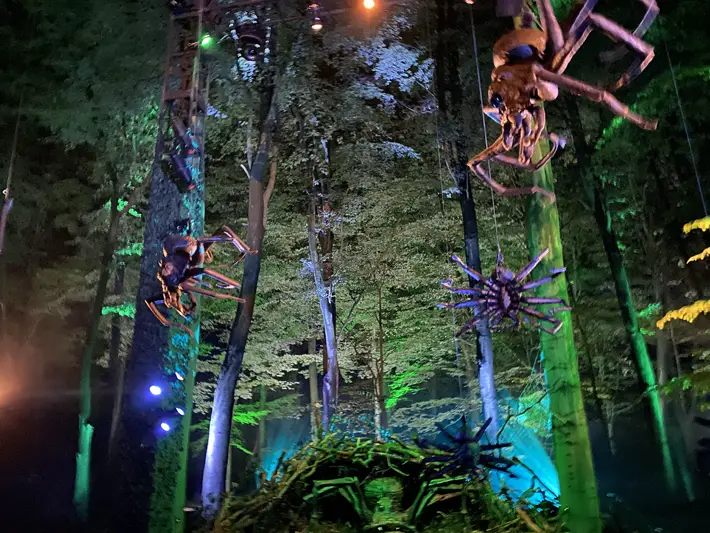 "Hog roasts"
After seeing centaurs, unicorns and Nifflers, watching Ron's flying Ford Anglia and making a Patronus appear with a wand, a warning came for all visitors who were afraid of spiders.
We had a couple of arachnophobes in our group, but they braved it and eventually came face-to-face with Aragog, the Acromantula.
Emerging from his dark lair, the enormous spider appeared during its own segment, along with spiderlings from his family dangling down from the treetops.
The climax of the Forbidden Forest tour comes with a spectacular light show over the lake, and once you've finished roaming the forest, it is time to head into the Village Square.
Here, guests can enjoy delicious Potter-themed hog roasts, pies, fudge, mulled wine and hot chocolate from the enchanting stalls.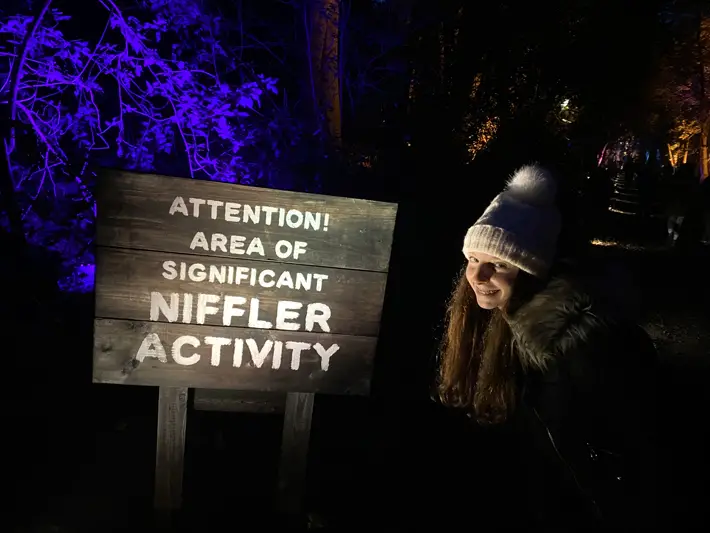 "Magical"
There is a sizeable on-site emporium shop filled with Harry Potter and Fantastic Beasts themed goodies to take home.
The woodland trail experience is running until December and is a must for Potter fans.
So wrap up warm, wear sensible shoes (it can get a bit muddy) and take your credit card with you to buy some delicious (albeit expensive) food and drink.
For any avid Potter fans out there, you may be asking if we managed to locate the resurrection stone which was last seen slipping from Harry's hand in the final book.
'No,' is the answer – the fabled Hallow remains in the Forbidden Forest, perhaps buried by a centaur hoof, and ready for another mischievous student to find, among the hundreds of other magical items.
Richard Jones and his family were guests at the Harry Potter: A Forbidden Forest Experience in Arley Hall & Gardens, Arley. The experience runs until December 15 with tickets available from £19 per person (off-peak) and £29 (peak).
For more information, please go to: hpforbiddenforestexperience.com