48 Hours in Belfast – Travel Review
By Roger Crow
So, you have a couple of days in Northern Ireland. Where do you stay and eat; what do you HAVE to see, and where can you take the best selfies?
Okay, first things first. How do you get there?
I took a flight from Manchester to George Best Belfast City Airport – around 40 minutes. You barely have time to adjust to the altitude before you're landing again. Perfect for those getting back into air travel after a couple of years away.
Where to stay?
Obviously there's plenty of hostelries, but I had a couple of nights at the Europa Hotel (Great Victoria Street, Belfast BT2 7AP).
Bassey, Beckham, Best and Bieber have all had rooms there in the past, so you know you're in a decent residence.
A taxi from the airport to the hotel took around 20 mins. Check-in was fast and efficient, and within a few minutes I was unpacking.
My room had a comfy bed, automatic blind, and a great TV. The shower was also terrific, despite zero shelves for the shower gel or shampoo. There was also a minimal amount of wardrobe space and strangely no drawers. It mattered little. A spotless room with a comfy bed and decent beverage-making facilities was all right be me.
Breakfast wasn't bad: a help-yourself buffet, including the usual mix of assorted eggs, bacon, beans, mushrooms and cereals helped kick start the day. Good service too.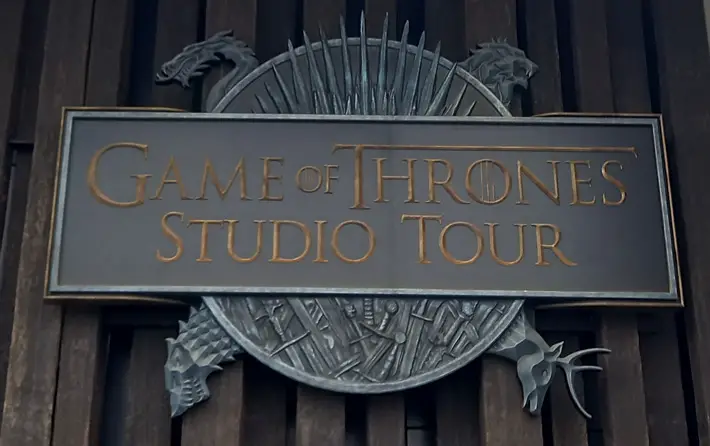 What to see?
The Glass of Thrones tour is a must, whether you're a fan of Game of Thrones or not. Six free-standing stained glass windows scattered around the area where Titanic was designed and built, all featuring key scenes from the hit TV series. It costs nothing, so that's a bonus for those watching the pennies.
The brand new Game of Thrones Studio tour, which opened in early February (2022), is also essential viewing. From the Europa Hotel, you'll have to trek around 45 mins to the Banbridge site by car or coach, but it's worth every mile.
As a fan who sat through all eight series, it was fabulous seeing the sets and costumes from the TV series. Yes, you exit through the gift shop, so it may prove costly, as my bag full of GoT stuff proved.
And while the show may have been for a 15-18 cert audience, the attraction is for the whole family. It's an odd one, especially as some kids will no doubt want to watch the show, but the wealth of creativity and interactive bits are guaranteed to fire everyone's imaginations.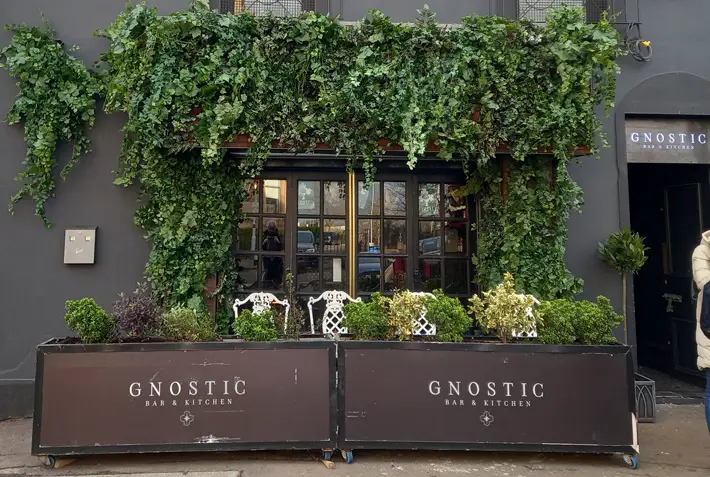 Where to Eat
Gnostic Bar and Kitchen (13 Corporation Square, Belfast, BT1 3AJ)
A relatively small but perfectly formed eatery. They craft great sliders, (aka mini hamburgers if you're none the wiser). Beautifully cooked, incredibly tasty and great service too.
There's also terrific food and service at Deane's Meat Locker (28-40 Howard Street, Belfast BT1 6PF). I had a delicious pork chop and veg, and the local beer is splendid.
Ox (1 Oxford Street, Belfast BT1 3LA) is recommended for fine dining. I enjoyed several courses over a few hours, including carrot, pine nut, Louth Neagh eel Gougere, Coolattin cheddar and beer canapés. Yes, quite the mouthful. Rounded off with a delicious passion fruit pastille and fennel pollen gaufrette, I was in my element.
The service and food is excellent. It's also about a mile from the Europa Hotel, so good for burning off a few calories before bed.
I adore fish and chips, and will never forget my dinner at Titanic Hotel Drawing Office (6 Queens Road, Belfast BT3 9DT).
The Titanic Hotel Belfast is located in the Harland & Wolff Headquarters. Aside from being a stunning area, this is where the iconic vessel was designed. So while waiting for your food to arrive, it's highly recommended that you have a good look around at the photos and drawings which put one of the greatest ships ever built in context.
Of course if you want to do that properly, then the following is highly recommended before you head home…
Titanic Belfast (Olympic Way, Queen's Road, Belfast BT3 9EP)
Wandering around Belfast, it's impossible to avoid the fact the place has such a rich construction history.
In recent years of course it's been the production home of the aforementioned Game of Thrones, the biggest TV fantasy saga ever made.
However, the Titanic Belfast experience is in a league of its own.
Now a decade old, this £97m attraction relates the story of the famous ocean liner. The iconic building (shaped like the bows of a ship) is made up of nine galleries over four floors.
It was a compelling experience "travelling" from Edwardian 'Boomtown Belfast', learning about the lives of the workers who built the ship, and the passengers and crew who made the fateful voyage) to the present day. Footage of where the wreck lies on the ocean floor proved endlessly fascinating.
Every element of that ship is examined in a glorious tribute to the designers, engineers, craftspeople and others who made the impossible possible.
There's a fascinating ride which takes you on a journey around the ship's construction, and assorted interactive elements give you an idea of what the carpets were like for example. Even if you had no interest in the vessel beforehand, by the end of the tour, you'll be an expert.
As a first-time visitor to Northern Ireland, it proved a hugely rewarding experience. Terrific people, amazing food, and the sort of must-see sights that will live with you a lifetime.
The fact it's remarkably easy to get to is a major bonus.
I wouldn't need much of an excuse to return one day.