Seychelles – Travel Review
By Kevin Pilley
We swooned simultaneously. Under the wind-bent palm trees, on the deserted white sand beach by the azure-turquoise-cerulean-aquamarine-cobalt or whatever tint of blue you desire sea, we felt like honeymooners.
Or that we were auditioning for an ad for Bounty or tropical coconut milk shampoo.
How did Robinson Crusoe ever cope without an express pedicure service? How did Man Friday manage without aloe vera and cucumber after sun gel? And how did the Swiss Family Robinson do without a Jacuzzi for so long?
Gratification is the latest travel buzzword. No more "Maybe one day". Now is the time to travel. Less, but much much better and far more luxuriously.
Our once-in-a-lifetime. money-sort-of-no object trip to the Seychelles was meant to be a Covid-delayed significant birthday present and semi-significant wedding anniversary celebration.
Neither of us expected to return with a new addition to the family or as a member of the Mile High Club.
We achieved the last feat at 30000 feet when we flew Business Class with Qatar Airways from Heathrow to Mahe via Doha. It's the first time, as a married couple, we have stood at a bar in a plane, slept in a flat bed in a plane, had a seat which gave lower back massage, drunk Champagne and had Chablis and corn-fed chicken with mousselline, airborne served on linen napery.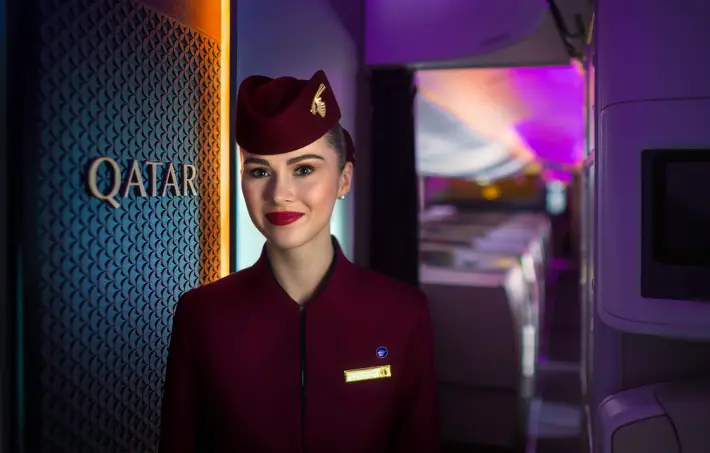 "Exotic credentials"
With stopovers there and back, we spent a day and a half in a Qatar Airways paradise. It was aerial heaven. With terrestrial heaven as the destination.
The new family member is a piece of Seychellois cabbage coral I adopted to do my bit for degraded oceans and active reef rehabilitation. My wife invested in some aquatic cauliflower. The Hilton Northolme Resort & Spa Hotel (top image) on Mahe has a coral nursery and artificial reef to help in the fight against bleaching, coastal development, anchor damage and the Crown of Thorns starfish. You can sponsor cuttings.
Post-Covid, paradise is open again and entry formalities are fairly relaxed. Paradise is now called a bio-diversity hotspot. And can be booked on-line and enjoyed on a half or full board basis.
The Garden of Eden has been variously located in Iran, Kuwait, Jackson, Missouri ( according to Mormons), Armenia, Florida and even Bedfordshire, according to the Devonian prophetess of the Victorian Panacea Club, Joanne Southcott.
But, despite the lack of snakes, fig trees, apples and cherubims, the Seychelles has all the requisite exotic credentials when it comes to flora, fauna and unspoilt beauty to support its claim to be terrestrial heaven.
Earthly paradise is also a No Drone Zone.
We stayed for the first part of our dual- Hilton hotel "holiday-of-a-lifetime" on Silhouette Island, a thirty-minute enclosed boat ride from Mahe. Once, it took eight men six hours to paddle supplies to the French-owned cinnamon plantation.
"Unspoilt"
A thousand miles from anywhere, based in a luxury 23 degree A/C villa with pool we paddled and swam, honed our tropical hammock skills and tried out the Hilton Labriz Spa and Resort's four restaurants including contemporary Creole, Asian/Indian fusion, Italian and lots of seafood catch of the days.
Paradise is octopus curry and smoked marlin omelette and vanilla tea for breakfast. It is a lounger on a 2.5km beach where you can unwind, unclutter your mind, put everything into perspective and, watching the ghost crabs, blue pigeons, three metre long flying fox fruit bats and sipping your cocktail through a sustainable practises pasta straw, mull certain big, burning questions that you have never had the time or been in the right place to mull.
Like how did the Swiss Family Robinson ever cope without a monsoon shower, Jacuzzi and complimentary Crabtree and Evelyn toiletries (including loofah) let alone a spa? How did Robinson Crusoe ever manage without Factor 30 sunblock and after sun gel. And how did he manage to get to sleep with all that sand in his sheets?
We went coastal trolling which is the cheaper and lazier version of big game fishing. The crew do all the hard work and helped my wife catch a yellowfin tuna and me a dorado. The hotel barbecued the former in front of us on La Prasse's 2.5km beach and sashimi-ed my contribution.
"Unspoilt" is an overworked word. But around every unspoilt bread and jackfruit tree in the Seychelles, where the east Somali sea meets the west Indian Ocean, you expect to discover a blue lagoon and waterfall and meet a film crew.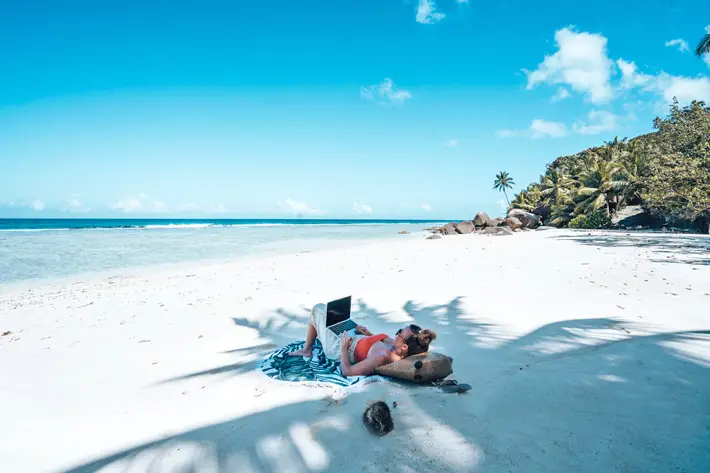 "Fabulous environment"
Labriz is a family resort but there is enough room and restaurants to make it feel adults only. It filters and bottles its own waterfall water which it claims to be purest in the world and, like all Hilton hotels, is big on energy-saving. Even Man Friday would have been made very conscious of his carbon footprint. If you could have kept him out of the kids' cartoon cinema.
We went for undisturbed walks among the Takamaka (Alexcandrian laurel), thief and stilted palms, beef woods, fish poison trees (the flamboyant flowers are used as lures), Indian almonds and mulberries. Every day we walked the length of the 2.5km beach. You would never know the hotel was running at full occupancy.
We didnt see a wolf snake or any poisonous giant millipedes or nasty stonefish or any forest scorpions. The scariest thing we saw was a Russian couple, but they proved harmless. The sea was hot and snorkelling was like putting your head in an aquarium.
Silhouette, named after Louis XV's finance minister and comprising 93% National Park as well as encircled by a protected marine park, is the place to acclimatize yourself to the heat, humidity and fabulous environment as well as out of the world prices (£12 for a G&T) and learn how to say "very hot but beautiful" (trecho ma zoli) in Creole. Before island-hopping by ferry and plane.
Walking is one of two ways of finding the best and least crowded beaches in the Seychelles. Being shipwrecked and washed up on one is the other.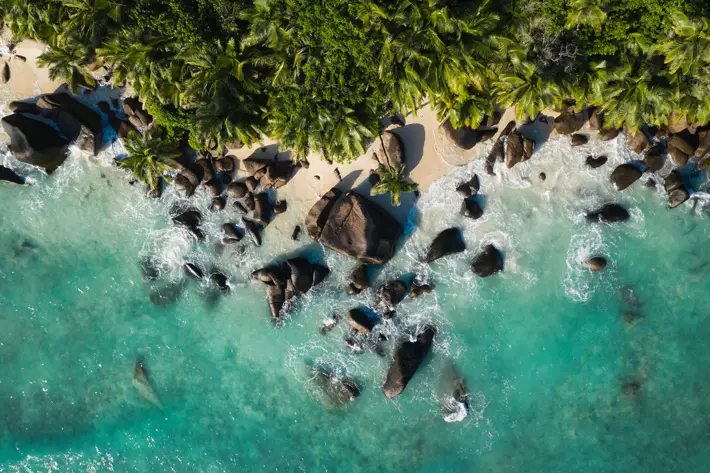 "Floating aperitifs"
As well as the beaches, for those who prefer to spend their holidays upright and active rather than horizontal , the 115-island earthly paradise also has fifteen hiking trails. With the exception of the short but vertiginous Nid Aigle on La Digue, the six mile high altitude Mare aux Cochons and Silhouette's seven-hour Grande Barbe, most are fairly easy. But must be taken slowly.
These includes Praslin's 50-acre UNESCO heritage site at the Valle du Mai primeval forest which has one to three hour trails on which you realise the biggest nuts in the world belong to Seychellois females. Coco de mer seeds can weigh 25kg.
From black parrots, bulbuls, dancing snails which vibrate when touched, tiny leaf frogs, skinks, chameleons which look like they are wearing lipstick, there is much to take in. You quickly perfect an impersonation of a native gecko with independently moving eyes.
From Praslin, we got a ferry across to La Digue (named after the ship that discovered it) so my wife could achieve her ambition of me photographing her patting and feeding a giant tortoise.
We had five days to explore Mahe – L'Isle d'Abundonce – and stayed at the adults-only, seafront Hilton Northolme.
The oldest and smallest of Hilton Worldwide's five-star resorts, the high-end luxury stilted hillside villas are where Ian Fleming wrote one of the short stories, "The Hildebrand Rarity". It is also where we celebrated what we wanted to celebrate with floating aperitifs and caviar vol au vents canapes in our private Infinity Pool. On Silhouette, our room boy had run a surprise hibiscus petal bath!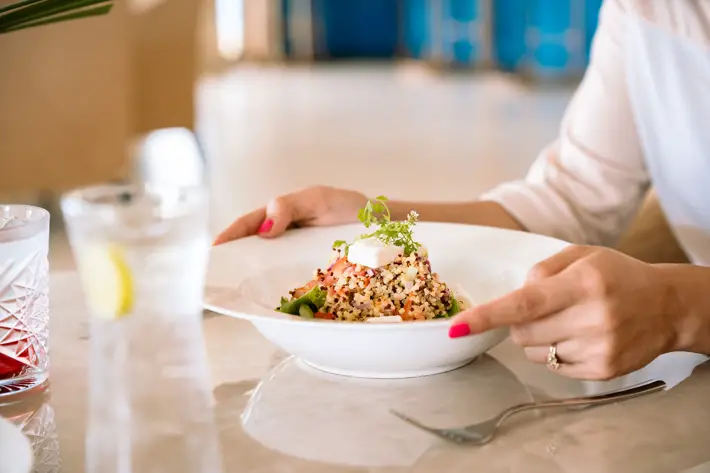 "Deserted beach"
Silhouette with its five peaks – Mount Dauban, Pot A Eau (with its carnivorous pitcher plants), Mont Congat, Gratte Fesse and Mont Cocos Marrons (named after runaway slaves) – sits on the horizon and is ever-present to current and former wage slaves enjoying the Oceanside Bar, gin deck, two restaurants and one cannonball tree at Northolme.
On the Seychelles, you never forget you are only 300 miles from the equator. Every day is a paradise of pleasure in the garden of the gods. Driving anyway you pass flamboyants, patchouli, bougainvillea and frangipane as well as mahogany and silk trees.
Mahe, with its mini-1903 Big Ben clock, is the world's smallest capital. It boasts perhaps the best walk in the Seychelles on the coastal footpath on the edge of Morne National park to Anse (beach) Major. It is only two miles but took us two hours. Because it was hot. And we are old. And we aren't proud of our body mass indexes!
Refreshing us with soursop and cocoplums picked from overhanging bushes, our guide Julienne and her taxi driver husband Robert pointed out bonnet carre firework plants. Beneath, snorkellers studied the local nudibranches.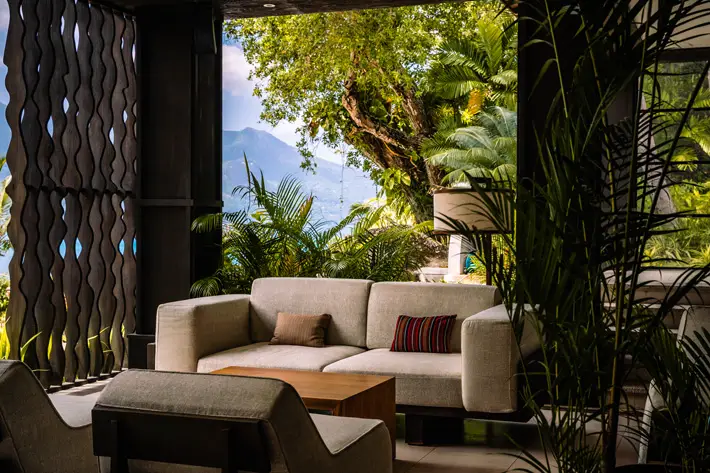 "Glinting, pounding sea"
After an hour negotiating the granite glacis boulders we arrived at the deserted beach and a shack selling coconuts for £2. Still four times cheaper than a hotel G&T. Even Robinson Crusoe would have happily paid. If he had any hard cash on him.
We collapsed on the soft white sand beside the glinting, pounding sea. Tricoloured blue fruit doves circled above. The coconut milk went down well.
Heaven is available on-line and entry formalities are relaxed.
Happiness can be found on Anse Major beach in the Seychelles. It's the name of the water taxi cab which takes you back to Beau Vallon beach. And Happy Hour.
Audley Travel offers tailor-made trips to the Seychelles. A 14-night trip with seven nights at Hilton Seychelles Labriz Resort & Spa and seven nights at Hilton Seychelles Northolme Resort & Spa, both on a B&B basis, costs from £3,490 per person (based on two sharing). The price includes flights with Qatar Airways and transfers. 01993 838515 / www.audleytravel.com/the-seychelles
Walking Guide : Whatapp 2482710414
Julienne.Madeleine@yahoo.co.uk
www.qatarairways. Lead in price London – Seychelles return via Doha is Economy £643, and Business £2,915.