An Interview with Actor, Andrew Dunn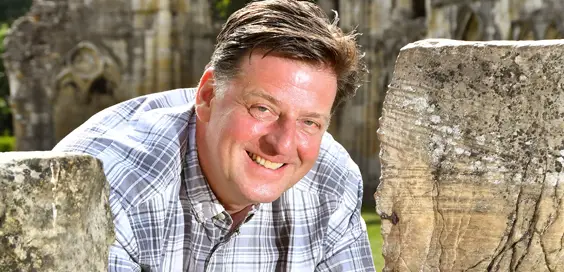 Andrew Dunn rose to fame as part of the cast of Dinnerladies. He talks to Roger Crow about the UK tour of The Full Monty, working on acclaimed play The Culture, and that Victoria Wood sitcom still beloved by millions…
What is it about The Full Monty that touches a chord with so many?
Well, they're underdogs who fight their way through and win out in the end. When you're in the theatre, the audience are following that story and they really get into to it. By the end they're really willing the lads to do the Full Monty. There's just a real feelgood factor to it. Simon Beaufoy, the writer, has said he's quite amazed that he's written this piece of feelgood theatre when the actual subject matter is quite depressing.
It does play well around the world, but there is something very Yorkshire about it. Would you agree?
Definitely. It's the humour of it, but it's a northern humour. When times are hard and desperate, the humour comes out. The banter between the main characters. It's all dark, northern humour.
You play Gerald, Tom Wilkinson's character in the film. Do you ever bump into him?
No, he's always in America making films. You don't see him much in this country.
"You develop your own character"
I guess you make the part your own.
You do. It is virtually the same script as the film, obviously adapted to the stage. This is my third tour, and the more you do it the more you develop your own character, and your own way of doing things, but it's still very similar to what happened in the film.
The show is now directed by Corrie veteran Rupert Hill, who you've worked with before.
Yes, Rupert was in the first tour playing the character of Guy. He's come back as director so it should be quite interesting. I think he's got his own ideas, so there might be slight changes, but I'm sure it'll be just as good.
You're based in York?
Yes, I've lived here for 21 years.
So not too far a commute to the theatre.
No, but it's the first time I'll have performed at the Opera House. All the other stuff I've done is at York Theatre Royal. So yeah, looking forward to it.
And you're taking it round the country?
Yes, we start at Cheltenham in September and we finish at Sheffield in May. In Yorkshire we're doing Hull New Theatre. We did that on the first tour but it's since been done out, and we're doing Leeds Grand again at some point.
"It's quite incredible how it keeps going"
I loved The Culture play at the start of the year. Was that quite a challenge to work on?
Yeah, it was actually. It was a brand new play and he (James Graham) was having to constantly rewrite and readjust, and it was quite a complex play. Amelia Donkor, who played the girl, how she learned all that jargon, I've no idea. It was quite a challenge. And also because of James Graham's reputation as one of the best new writers going, political writers as well, it was a slight change of direction for him, so I think he was probably a bit nervous of how it all turned out. It went down really well in Hull. I think London critics came up and they didn't particularly like it, but they were having a go at James more than the actual piece. Generally the northerners loved it.
Dinnerladies is as funny now as when it first aired. Do you think Victoria Wood future-proofed it so it would play as well in a few decades' time?
I don't know. It's quite incredible how it keeps going and is still liked. It's probably helped by the fact it's continually on Gold, and different generations keep coming along, but it seems to have lasted the test of time. The humour's still there, and the pathos and everything. I don't know whether Victoria deliberately thought about the future. It's just the way she wrote things, but it is quite amazing how it's lasted, and you get stopped in the street and people still quote lines at me. It's 20 years since it was made but it's quite incredible how it's hit a nerve for certain parts of the population. And long may it go on.
It was nice to see you in Corrie a few years ago. Would you like to go back to the Street one day?
Possibly. It's a hard one that because it's all down to storylines. I was in it for six months, but they sort of ran out of storylines, so I was not really needed. It would be nice to go in and do a good short burst with a good storyline. With any of the soaps it would be good to do that. It's just down to luck and see if the writers write anything good I suppose.