Tips and Ideas for Your New Decking
The winter months are drawing their long awaited close and people around the country are preparing for warm summer evenings of relaxation in the garden. However, you may be thinking that your outside space is in need of some attention and repair. What can you do to transform your garden into a beautiful haven for calm reflection and upbeat entertainment?
One of the best ways to add a social space to your garden is to add a deck. This extends your living space into the tranquil surroundings of your garden and with the right ideas and additions, you can create a space for both socialising and relaxing. Particularly if you have a sloping garden, decking areas are a great way to create usable levels and turn a once impractical space into a beautiful dining spot or lounge area. In the article to follow we will discuss just three tips and ideas for your new decking so you can get the most out of your space.
1) Materials.
One of the first practical things to consider when thinking about the designs of your decking space is the material you will use for the project. There are many different options when it comes to the materials for decking, both in the aesthetic and structural aspects of the project. Make sure you do your research as you find which materials make the best joists, and which ones are easy to maintain and look after during damp winters. You want to make good, informed decisions about the materials you use so as to ensure the structural integrity and longevity of your decking. Rather than having guests chairs fall through to the ground below, use solid materials such as 3×2 treated timber and you'll make sure to build a space that will last for years to come.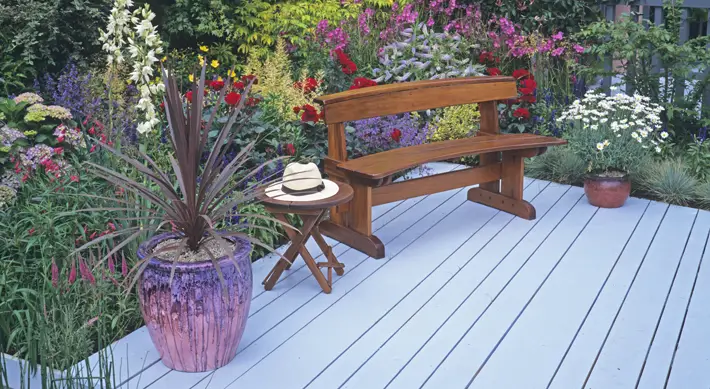 2) Plants.
It is your garden after all, so you want to think about the plants you will include in your decking ideas. To soften the harshness and sharp edges of your decking, add natural plants and flowers to connect your social space to the rest of the garden. You can even add some small trees to provide shade if your decking will be in an area that gets a lot of direct sun. Even if you only have a limited amount of space, you can add natural softness by using potted plants and herbs, or baskets of flowers to add colour and life. Surround yourself with fresh greenery and pleasant scents and you'll create a little paradise you can't bear to be away from.
3) Ambience.
Use various decorations to create a cosy setting. A glorious firepit will add a cosy central element to your decking, a place to gather around when the sun goes down and the air gets a little chillier. Add layers of décor with rugs, throws and scatter cushions to create something aesthetically pleasing and welcoming to guests. Candle and fairy lights add the perfect little touch of ambience with a soft glowing illuminance to brighten up the space and make you feel calm and relaxed. With the smell of scented candles in the air and the sound of a warming fire crackling nearby, a glass of wine in hand and the twinkling of the open sky above you, you will want to spend every summer evening in your little bit of paradise.
Hopefully these suggestions have got you thinking not just about the practicalities of your new decking but how to bring it to life with the right decoration and design. You can look forward to a beautiful summer of fun afternoons and relaxing evenings on your garden decking!