8 Different Styles Of Blinds And How To Match Them To The Style Of Your Home
One of the most crucial factors to consider when searching for a home is the type of windows that a property has. Ideally, these openings must allow ample natural light to come inside the room, but protect you from the outside elements as well.
Once the window has been put up, however, its structure and frame are relatively permanent, unless you want to do major renovations. An excellent way to spruce up your home is to purchase blinds to add a pop of colour, as well as intricate designs to an otherwise boring-looking space. Aside from their aesthetic benefits, blinds can also provide you with instant privacy. You have full control over whom you allow to take a peek inside your home and when they can do it.
If you're in the process of shopping for blinds, here are ten different styles that you can consider to complement the style of your home:
1. Vertical
Vertical blinds are, as the name implies, characterized by vertical slats that run through a track system. This mechanism allows you to open or close the blinds. You can choose various hard materials for the slats, such as wood, plastic, or metal.
Window blinds are relatively versatile in terms of design since you can choose from a variety of materials to match your home's style. For instance, metal and steel blinds pair well with modern and contemporary interior designs. On the other hand, you might want to opt for wooden blinds to bring a rustic vibe to your residence.
Vertical blinds are ideal to use on large glass doors and windows for your patio and backyard. This is because you can check the length of the slats to ensure that they cover the entire area.
2. Roman
Roman shades still employ a tracking system. However, instead of slats, the covering is typically made from fabric and other materials, like jute or seagrass. However, this can give you more options, design-wise.
This type of window blind is characterized by its mechanism of folding into itself when raised. One thing that you should remember when considering Roman shades is that they may take up the top portion of your windows and can hamper your outside view. Nonetheless, you can choose this variant for windows that you generally keep closed and incorporate its design into the aesthetics of your rooms.
If you favour a retro look for your home, you can find some of the best designs in sites like Orla Kiely. The Irish designer offers basically everything, from a colourful Multi-Stem Tomato design to an understated Scribble Cool Grey for a minimalist yet funky visual.
3. Venetian
The Venetian style is what comes into people's minds when they think about blinds. It has horizontal slats that are suspended between cords or fabric. Its mechanism allows you to tilt each plank up to 180 degrees to enable the opening and closing motion.
You can use this type of blinds in any room in your home. There's also a wide range of materials and designs to choose from, so you won't have any problems with matching or complementing your property's style.
For Scandinavian-inspired homes, wooden Venetian blinds are the way to go to incorporate natural elements. You can opt for an all-white colour scheme as well for a clean look.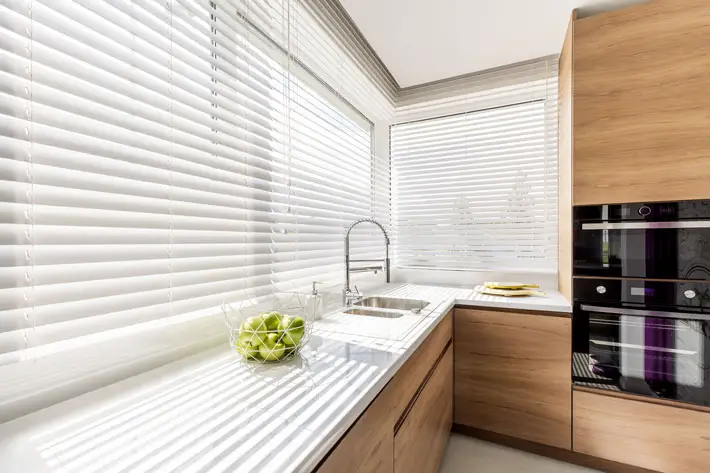 4. Panel
Panel blinds operate in the same way as vertical blinds. Their primary difference, however, is that the former has fewer yet thicker and wider slats. They can look like curtains, which makes them great for large windows and doors, especially sliding doors.
Soft fabrics are typically used for panel blinds. This means that it's easier to print designs, which gives you more options. They're also easy to clean, economical, and ergonomic.
Blinds can make your home a hospitable space by allowing you to express yourself through the designs and imagery that you choose. This touch of personalization can make your residence interesting and truly your own.
5. Pleated
This type of shade is characterized by a piece of material that's folded to form an accordion-like pattern. It's through this that the pleated blind can be raised or lowered.
When let down, pleated blinds don't allow any light to pass through since there aren't any gaps between the slats. You can place this type of shade in rooms where you don't want anyone to peep through when in use, such as the bathroom.
Pleated blinds are usually made from fabric or paper, which softens the look of your windows. You can pair it to steel bar windows to add a touch of elegance to the frames.
6. Cellular
Cellular shades look similar to pleated blinds. They are also made from the same kinds of fabrics. However, this type has a three-dimensional design with its honeycomb shape. This way, aside from looking good, it also has the function of holding on to trapped air to aid in insulating the window.
Since they boost insulation in your rooms, cellular shades are often installed in bedrooms and living areas. They can help keep these spaces warmer during wintertime.
7. Roller
Roller blinds offer a clean and sleek look to your windows. Instead of slats that rotate or tilt, this type is made up of fabric that's wrapped around a pole. It comes with a string that enables you to roll the blinds up or down, depending on the type of coverage that you want.
Modern and minimalist homes will benefit from roller blinds as the shades can be hidden from plain view when you want to roll them up.
8. Tie-Up
Tie-up shades give you the benefit of a blind and curtain. It can be made up of fabric, like lace and sheer materials that offer privacy, while still allowing natural light to come in. This kind of blind can be secured with ribbons or strings in the middle. It's ideal if you want a touch of daintiness and chicness in your home.
Conclusion
When designing your home, window blinds can provide you with style and functionality. These decorative furnishings come in a variety of designs, while protecting your privacy at the same time.